Penge-based micropublisher Colossive Press have been providing us with a positive feast of eclectic zine and book publishing for a few years now. A Wolfgang Crowe's Fractures is their first "traditional" comics output, though I would argue that a number of their acclaimed Colossive Cartographies series have already made the step from graphic narrative to sequential art. This potent piece of storytelling brings together graphic medicine and memoir but a warning before reading further that, given its themes, it contains uncompromising depictions of homophobic abuse, homophobic violence, and also reference to a suicide attempt.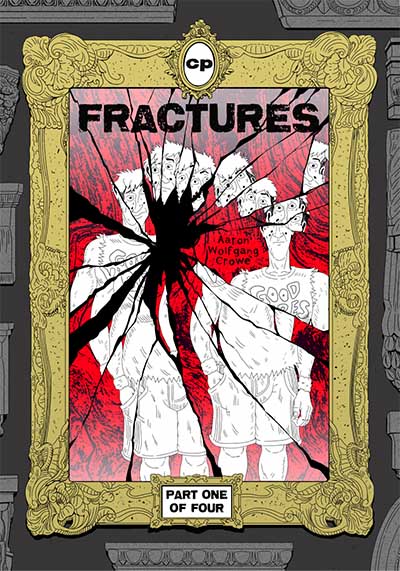 At the heart of this first of four issues of Fractures is an account of a brutal attack Crowe suffered at the hands of a homophobe while working in his family's shop. Crowe begins Book One some time after this event, allowing the reader to see its repercussions from the outset. Its toll on him has unsurprisingly been devastating, affecting both his mental health and his academic studies. When we initially meet him he's going through an appeal process; his mental health being evaluated after failing his university course as he hopes for the opportunity to take the final exam he hadn't been able to turn up to.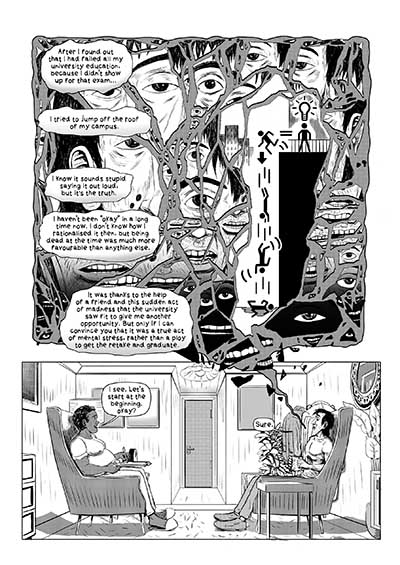 What follows is the beginning of a retrospective revisiting of the assault and, one imagines, a further exploration of its aftermath in subsequent issues. Given the subject matter it seems facile to say that this is not an easy read but it's important to underline just how harrowing it is. Crowe takes us back to a couple of days when a returning customer's behaviour spilled over from unpleasant belligerence to unrestrained bigotry, eventually manifesting in a savage and drawn-out attack.
Crowe's approach is to mix a kind of hyper-realism (events rooted in a recognisable world but employing an occasionally exaggerated style of visual characterisation) with a line in graphic metaphor that can take over the action for extended sequences. It's a highly effective technique with the "fantasy" scenarios heightening the emotional intensity of Crowe's pages in Fractures as, for example, he finds himself literally submerged in the past in the early assessment scenes, or when the very structure of page and panels fractures during the depiction of the assault. Strong and vitally important work from an artist and project I suspect we will all be hearing about a lot more in the months to come.
A Wolfgang Crowe (W/A) • Colossive Press, £8.00
Review by Andy Oliver