THOUGHT BUBBLE 2022! Last year for Thought Bubble Joe Stone and Matthew Dooley, those two much respected gentlemen of the UK indie comics scene, collaborated on a split format, reversible comic called (unsurprisingly) Split. For 2022's TB the duo have returned to that source of inspiration and have produced another flip book, this time with the one-vowel titular deviation Splat.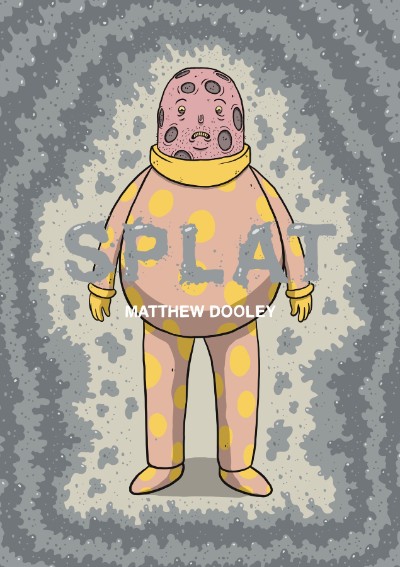 As one would expect from two such accomplished masters of visual humour Splat more than lives up to its thematic predecessor. Dooley's dry, existential humour has, of course, gained some deserved wider acclaim since his award-winning graphic novel Flake – a tale of warring seaside resort ice cream van owners – was published by Jonathan Cape in 2020. Dooley's half of Splat begins with a conversational piece where two pigeons reflect on the art of targeted fecal attacks on the human population. More than simply scatological slapstick its humour is more rooted in the casual anthropomorphism of its avian protagonists; the Splat element obviously embodied in the results of the pigeons' malice.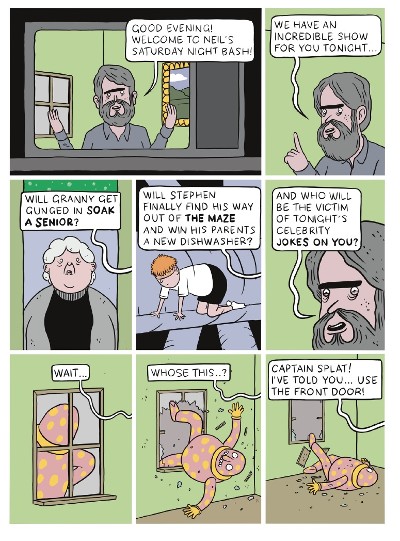 Those who follow Dooley's work will be aware of his occasional parodic use of 1990s BBC television light entertainment character Mr. Blobby – a destructive, out of control, spotted humanoid character in an unlikely rubber costume who crashed through the sets of Saturday night TV shows with reckless abandon throughout that decade. His second story features a not very subtle Blobby stand-in in the form of one Captain Splat, whose screen career takes a nosedive when he's sacked from his supporting role in a popular show. While its bitingly satirical take on the BBC's Noel's House Party probably won't travel beyond a certain geographical and age-related demographic it's nevertheless a wonderful piece of dark humour with one specifically brilliant recurring visual gag.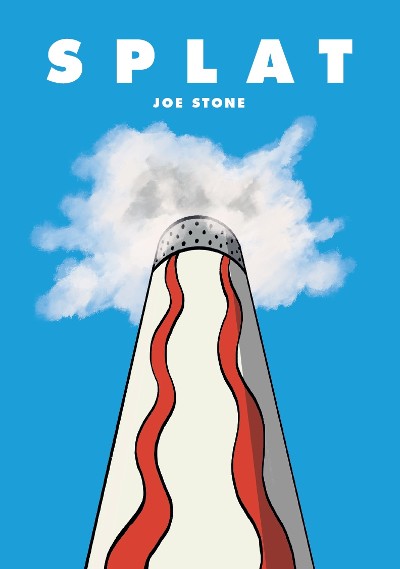 Flipping the book over we have Joe Stone's contributions, himself no stranger to the art of bleak comedy. Stone's work over the last couple of years has been characterised by his continuing interrogation of the language of comics, and his work in Splat is no exception. His story of a discontented man determined to prove that modern art is worthless uses monochromatic backgrounds with the only vivid colours on show representing paint. Tightly paced and building up to an unseen and inventive punchline it's further evidence of Stone's constant exploration of those things that comics can do that no other form can.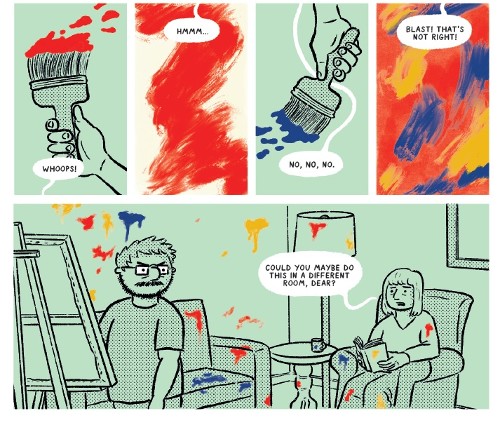 It's his second story here – detailing the misadventures of Danni Danger the Human Cannonball – that really stands out. The thematic emphasis may be an obvious one but what is so impressive is the structure and presentation of the piece. Danni's performance at a stunt show as she's shot into the heavens in front of an awe-inspired audience uses vast expanses of blue as her tiny form carries across double-page spreads. Juxtaposed onto the scene are the perspectives of those watching, while Danni's sense of movement is portrayed by cutaway depictions of separate parts of her body in flight. It's a spectacular visual arrangement of elements to create both a sense of space and majesty, and again perfectly paced in its build-up to the strip's denouement.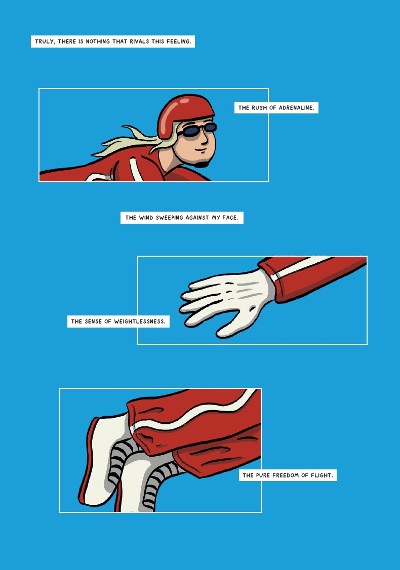 Thought Bubble will, as every year, be full of excellent debut books but if you love comics that exploit the pure mechanics of the form (and are also very, very funny as well) Splat is an absolute cert in Harrogate this weekend.
Joe Stone & Matthew Dooley • (W/A) Self-published
Joe Stone and Matthew Dooley are at Table 138 in the ComiXology Hall at Thought Bubble 2022
Review by Andy Oliver