If you were in London at the end of last year you may well have taken the opportunity to visit the exhibition of Olivier Kugler's graphic reportage at Rich Mix depicting in his very distinctive style the plight of Syrian refugees. It acted as something of a precursor to the collection of the acclaimed artist and journalist's work by Myriad Editions in Escaping Wars and Waves this July. Another high profile release in what is proving to be a very prestigious year for Myriad. The full details of the book are in the Myriad press release below.
COMICS JOURNALIST'S WORK DOCUMENTING SYRIAN REFUGEES NOMINATED FOR EUROPEAN DESIGN AWARD ON EVE OF UK PUBLICATION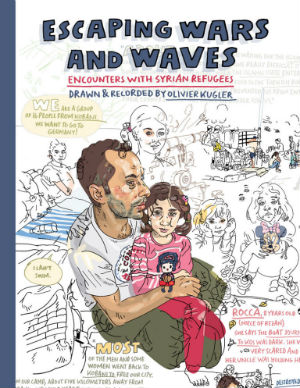 Olivier Kugler's series of brilliant drawings of refugees from Syria establishes this award-winning artist as one of the most important graphic reporters of our day.
Collected here for the first time, the drawings in Escaping Wars and Waves document the lives of individuals and families Kugler met in Iraqi Kurdistan, the tourist island of Kos, and the jungle camp at Calais, mostly on commission for Médecins Sans Frontières. Kugler's work has been widely exhibited and published, by The Guardian, Harper's and the European press. The German language edition of ESCAPING WARS AND WAVES (Edition Moderne, 2017) has been nominated for the European Design Awards 2018 to be revealed on 2 June.
'Olivier Kugler is an extraordinarily skilled journalist and cartoonist who is taking comics journalism to a new level. These potent profiles from the migration front lines will leave an indelible impression on your brain and heart.'—Joe Sacco
As well as his work with Médecins Sans Frontières, Kugler recorded the experiences of refugees in London, Birmingham and Simmozheim, the small village in Germany where he grew up. The stories he tells are often tragic but also uplifting, testimony to both human senselessness and resilience. Based on many interviews, thousands of reference photos, and an acute observation of the objects, locations and conversations making up our daily lives, the effects of what he records will be felt for decades to come.
An exhibition of Kugler's drawings will be held at the Print House Gallery, Dalston, London, to coincide with the publication of ESCAPING WARS AND WAVES.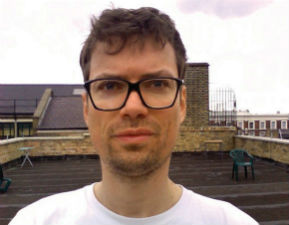 'Kugler is the contemporary face of reportage illustration, the art of going to a place where there's a news story, looking hard, asking questions and coming back with the drawings.'
—John Walters, Eye Magazine
'Proactive, attentive, sensitive.. confronting and communicating experiences and realities, self-effacing Kugler prioritises giving his interviewees their voice.'—Paul Gravett, Art Review
Olivier Kugler studied Visual Communication in Germany and illustration at the School of Visual Arts, New York. He is a reportage illustrator based in London. He grew up in Germany and now lives in Dalston, East London. His work has been supported by a grant from Arts Council England.