ELCAF FORTNIGHT!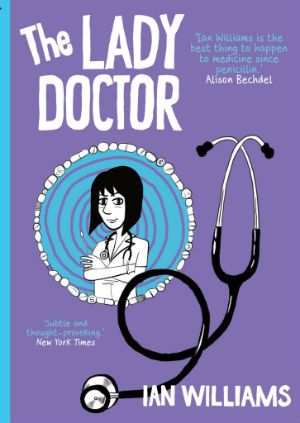 Five years ago here at Broken Frontier I described The Bad Doctor – the debut graphic novel of practising GP Ian Williams – as "graphic medicine with true heart." That book introduced us to the world of the small rural practice of Llangandida  Health Centre; one that we return to in the pages of Williams' follow-up The Lady Doctor. It's the workplace of the protagonist of the first book Dr. Iwan James, his self-serving partner Dr. Robert Smith and fellow GP Dr. Lois Pritchard, with the focus of this sequel shifting to the latter character.
Approaching middle age and single, Lois works both with Iwan and Robert, and also a couple of days a week at the nearby Genitourinary Medicine clinic (a source for a number of colourful encounters throughout the story). Drinking to dangerous levels and prone to impaired judgement socially while under the influence, Lois's world is thrown into further disarray when her mother re-enters her life after decades away in desperate need of a liver transplant…
As with The Bad Doctor, The Lady Doctor follows a similar storytelling structure; a main narrative line exploring its protagonist's life and the past that shaped her, surrounded by set pieces that provide sometimes comedic, sometimes dramatic vignettes of patient interaction. Lois's story is now at the forefront with the other familiar characters orbiting her narrative. But what remains the same is Williams' dry humour, keenly observed characterisation and undertstated but stinging social commentary.
In Lois Pritchard we have another very human, very flawed character who nonetheless engages the audience's sympathies from the outset. Early sequences underline the differences in how patients can interact with her as opposed to her male colleagues but, like Iwan before her, Lois also finds herself dealing with a familiar catalogue of the bizarre and the confrontational. Encounters with an aggressive patient with an addiction to prescription drugs are a running theme but odder moments include a man with Pinocchio's face tattooed around his genitalia and a disastrous date when saving a fellow diner's life results in her finding herself covered in the woman's excrement. The humour, as ever from Williams, is as dark and awkward as it is bleakly funny.
The Lady Doctor is a book of self-discovery as Lois comes to terms not just with who she is and who she has become but with the forces that shaped her too. There's also an underlying anger here as well, though, as the strains of life on the GP frontlines are portrayed with a raw honesty and the spectre of the gradual destruction of the NHS looms large throughout. Social commentary is an integral part of Williams' work, effectively wrapped up here in the trappings of everyday, slice-of-life storytelling.
In terms of craft, Williams' cartooning feels  more expressive and fluid in The Lady Doctor than ever and he also effectively plays with visual tools to emphasise mood. Lois's memories of her mother take on a vague and indistinct form; concepts of time are toyed with in multi-panelled accounts of days at the practice; and representational map scenes create the illusion of characters moving through the geography of the area. One key section late on, though, where Williams abandons his restricted colour palette in a full colour segment represents personal epiphany with an almost meta flourish. It is paticularly impressive in bringing the recurring motifs of the book to a satisfying denouement.
Whether Williams has plans to revisit these characters remains to be seen but a third book focusing on the obnoxious Robert Smith and giving greater insights into what makes him tick seems a must to round out the trilogy. In the meantime The Lady Doctor is another insightful exploration of the realities of working in the medical profession made all the more affecting by the fragile humanity it encapsulates.
Ian Williams (W/A) • Myriad Editions/Penn State University Press, £14.99/$24.95
Review by Andy Oliver
Myriad Editions/New Internationalist will be exhibiting at ELCAF.
For more on ELCAF 2019 visit the festival site here and follow them on Twitter here.