News, today, from Brighton-based publisher Myriad Editions about a new signing for 2015's schedule of graphic novels – Will Volley's The Opportunity is set in the cutthroat world of those door-stepping salesman chancers we all love to loathe, and marks another intriguing choice from the publisher who brought us the eclectic likes of The Black Project by Gareth Brookes, Hannah Eaton's Naming Monsters, Woodrow Phoenix's Rumble Strip, and Darryl Cunningham's upcoming Supercrash: How to Hijack the Global Economy (launching at The Lakes this weekend and at a Comica Festival event in November).
The full press release and details are below.
###
DOOR-TO-DOOR SALESMAN IS TRAGIC HERO OF DEBUT GRAPHIC NOVEL SIGNING BY MYRIAD
Myriad has acquired world rights for THE OPPORTUNITY by William Volley, an exciting debut graphic novel that casts a ruthless spotlight on the unforgiving world of door-to-door salesmen. It will be published in November 2015.
'First thing I'm going to buy when I get my own office is a Porsche Boxster…'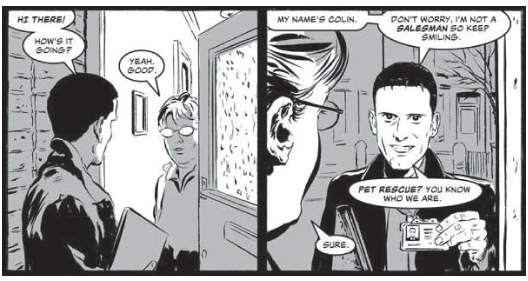 Colin is an ambitious door-to-door salesman on the verge of 'making it' as the regional manager of his own sales office. And the future is looking good…
But when the terms of his promotion change without warning, Colin and his team find themselves with just five days to achieve a new sales target – and to prevent his rival, Paul, from being promoted in his stead. Colin has to keep his disgruntled team from 'negging out' while a gang of ruthless debt collectors are getting ever closer. Of course, everything is going to be fine, more than fine, in fact… but meanwhile, he runs out of coins in the phone box and the boss isn't taking his calls.
As Colin's grasp on reality dissolves, we see how the relentless focus on positive thinking – in the face of exploitative management, pay and conditions – leads to delusion, vulnerability, failure and, finally, human tragedy.
Myriad Creative Director, Corinne Pearlman, who bought world rights directly from the author, says: 'This is a modern-day Death of a Salesman, transferred to the rain-lashed estates of Hastings. It is darkly disturbing, immensely stylish and compelling. The Opportunity is sure to become a classic of graphic noir.'
Will Volley studied illustration at the University of Brighton before working as a storyboard artist in London. His graphic short story 'The Seagull' was published in the anthology Negative Burn by Image Comics and he drew the award-winning graphic novel adaptation of Shakespeare's Romeo and Juliet for Classical Comics. He is about to move back to Brighton.
Myriad is an independent publisher of fiction and graphic books based in Brighton, with a graphics list that has quickly become established as one of the most characterful and thought-provoking in the UK.