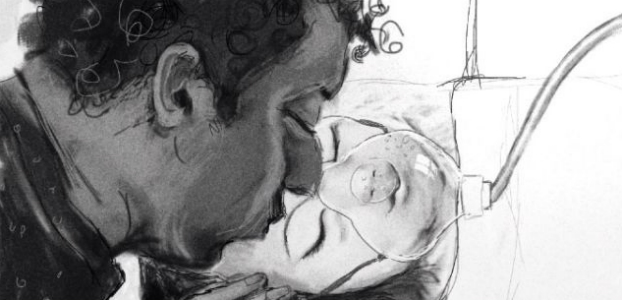 MYRIAD WEEK!
The pure humanity of Hole in the Heart so ably emphasises the inherent joy of the mother-daughter bond.
As with yesterday's first Myriad Week review, Henny Beaumont's Hole in the Heart: Bringing Up Beth is another book that was shortlisted for the Myriad First Graphic Novel Competition (which I should add here I was on the judging panel for). While the winner of that competition – Jade Sarson's For the Love of God, Marie! – may have seemed atypical Myriad fare in terms of both subject matter and presentation, Beaumont's Hole in the Heart is perhaps far closer to the perception of the publisher as being a purveyor of powerfully affecting graphic memoir.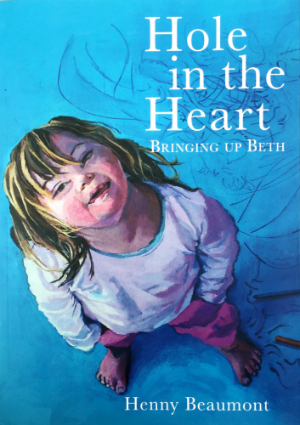 Hole in the Heart begins with one pivotal moment for Henny Beaumont's family that will change their lives forever. The news that alters everything is that newborn Beth, the third child of Henny and husband Steve, may have Down's Syndrome. It's a revelation that immediately foreshadows the attitudes and reactions they will encounter in the years to come, as embodied in the awkward reticence and then casual insensitivity of the medical staff involved. But it's also one that will force them to question and consider their own reactions to the newest member of their family.
When I gave my thoughts on Hole in the Heart three years ago at the Myriad First Graphic Novel Competition announcement panel event at the British Library there was one aspect of Beaumont's (then) work-in-progress that I immediately pointed to as its greatest strength. She has a distinctive ability not just to convey emotional states to the reader through single images but to positively overwhelm them with the experiences she is depicting on the page. Her total and uncompromising storytelling honesty is a vital part of that process.
That's very much in evidence in the early pages of Hole in the Heart as the on-page impact of that diagnosis immediately moves her depiction of events away from a darkly stark realism and plunges them into a nightmarish sequence of visual metaphor – a sinister, gargantuan doctor looming over them ominously, photo-negative style pages echoing the way in which their lives have just been forever turned around, and moments of sheer, isolated, silent devastation.
From these initial scenes Beaumont invites us into her world and the realities over the years of bringing up a child with Down's Syndrome. This ranges from the cold empathy-free declaration from a health professional that Henny will supposedly "be comforted to know that your daughter is likely to die before you" to the clumsy responses of friends and strangers towards Beth, and through to schools that are either unsympathetic or utterly inappropriate in their imagined "inclusivity" (a "special assembly" featuring the only two disabled students is a particularly cringeworthy moment).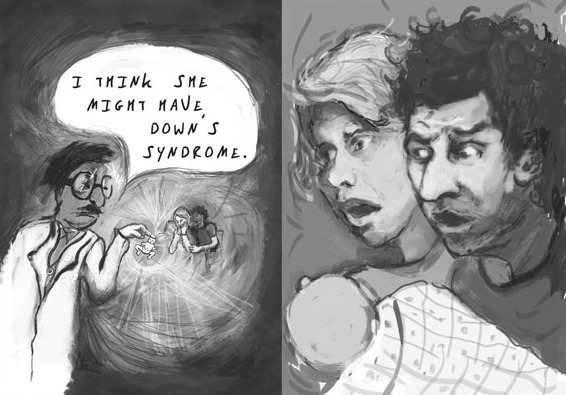 And, of course, there are also the challenges that Beth's own behaviour can throw up as she struggles to relate to the world around her. Beaumont's openness and honesty never shy away from that, with a sequence in the swimming baths involving her trying to tempt Beth out of the pool with the lure of "spicy crisps" being a particularly memorable depiction of her occasional exasperation.
Throughout, it's that combination of emotional candour and dramatic visual symbolism that succeeds so effectively in communicating Henny and Steve's frustrations and their determination to challenge the systems and institutions that seem either unaware or unwilling to make the reasonable adjustments that Beth is due. It's a thought-provoking catalogue of the patronising, the unhelpfulness and even the contempt they experience across the years.
While at times Hole in the Heart: Bringing Up Beth does feel more like a loosely structured collection of autobio vignettes than a rigidly composed narrative, that same sequential rawness is also a fundamental part of its intrinsic power. In turns heartrending, angry, poignant, questioning and confrontational, it's the pure humanity of Hole in the Heart that so ably emphasises the inherent joy of the mother-daughter bond.
Henny Beaumont (W/A) • Myriad Editions, £16.99
You can buy A Hole in the Heart: Bringing Up Beth online here.