Welcome to Myriad Week at Broken Frontier!
Over the next five days we'll be putting a very special emphasis on a publisher that has been much featured at BF over the years as we run a series of interviews, reviews and spotlight features on the creators and graphic novels of the ever eclectic Myriad Editions.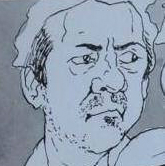 We kick off later today with an interview with Myriad Creative Director Corinne Pearlman – the inspirational driving force behind their graphics line – and a review of 2014 Myriad First Graphic Novel Competition winner (and Broken Frontier Award-nominated) For the Love of God, Marie! by the fantastically talented Jade Sarson. Look for more in-depth conversation with some Myriad movers and shakers across the week and make sure to keep an eye on the #MyriadWeek hashtag on Twitter.
So why Myriad Week? Aside from the easy response that a return to our popular "event weeks" was high on my agenda when I became BF's new owner in January that question has a twofold answer.
Firstly, Myriad have put out some of the most thought-provoking, experimental and finely crafted graphic novels that we have had the pleasure to review here at BF over the last several years – from the powerful humanity and unlikely humour of Nicola Streeten's account of losing a child in Billy, Me & You to the mordant wit of Gareth Brookes's embroidered and linocut tale of a teenager who makes his girlfriends out of household objects in The Black Project, through to Una's deeply affecting dissection of the causes and effect of gender violence in Becoming Unbecoming and the remarkably confident graphic novel debut of Jade Sarson in the beautifully life-affirming drama of For the Love of God, Marie!. And who can forget the groundbreaking graphic journalism of Darryl Cunningham?
It is, quite frankly, a remarkable body of work.
2014 Myriad First Graphic Novel Competition judges Woodrow Phoenix, Corinne Pearlman, Nicola Streeten, Meg Rosoff and Andy Oliver on stage at the British Library
But excellent comics is only part of the equation that adds up to Myriad Week. This is also a celebration of a publisher whose philosophy mirrors our own here at Broken Frontier. Three years ago I had the pleasure of being one of the judges on the 2014 Myriad First Graphic Novel Competition (the one that Jade Sarson won and that featured such familiar names as Wallis Eates, Jessica Martin, Henny Beaumont, Robert Wells and Francesca Cassavetti as finalists) and had the privilege of observing Myriad's genuine commitment to championing new creative voices and nurturing up-and-coming artists from a firsthand perspective.
That ethos is one that you'll see constantly praised by their creators in the interviews we run this week. Their dedication to developing emerging talent has seen self-publishers like Paula Knight, Ian Williams, Gareth Brookes and Jade Sarson being brought to expanded audiences and it's no surprise they've been a constant presence in our annual Broken Frontier Awards over the last few years with a 2013 Best Graphic Novel win for The Black Project and a 2014 Best Writer (Independent) win for Darryl Cunningham.
As graphic novelist and former Myriad First Graphic Novel Competition judge Hannah Berry (Livestock, Adamtine) said to me at BF here last year "[Myriad's] dedication, enthusiasm and integrity are boundless, and they are a solid inspiration to everyone within a fifty mile radius of their work. I bloody love Myriad."
So do we at Broken Frontier. And trust me, if you've never encountered their books before, so will you by the end of this week's coverage…
– Andy Oliver, Broken Frontier Editor-in-Chief, April 24th, 2017
This week's 'Andy Oliver cartoon' is by Aneurin Wright, the creator behind the Myriad Editions graphic novel Things to Do in a Retirement Home Trailer Park… When You're 29 and Unemployed. You can visit his site here and follow him on Twitter here. 
For regular updates on all things small press and Broken Frontier follow Andy Oliver on Twitter here.