It would perhaps be of some tiny comfort if we could say that when Darryl Cunningham's Putin's Russia: The Rise of a Dictator was published by Myriad Editions in the Autumn of 2021 no one could have foreseen the impending invasion of Ukraine. But in a stark coda to his latest carefully communicated piece of graphic journalism Cunningham leaves the reader in no doubt that the dictator's unpredictable ambitions were a serious threat to global stability. Indeed, with a grim synchronicity the North American edition of the book debuted via Drawn & Quarterly on the eve of Russia's attack on Ukraine. A development that underlined Cunningham's prescience in the most chilling fashion.
With a noted track record in investigative comics work Daryl Cunningham has already proved his credentials in books like Supercrash: How to Hijack the Global Economy, Science Tales and Billionaires: The Lives of the Rich and Powerful, among others. Putin's Russia takes us through its subject's formative years, his quiet rise into positions of influence, his early involvement in political corruption and his ascendancy to President. From there the book shifts dramatically in its implications, not simply a bitingly critical biography but also a dissection of Putin's malevolent influence on international democracy, and the far-reaching threat of his policies and interventions.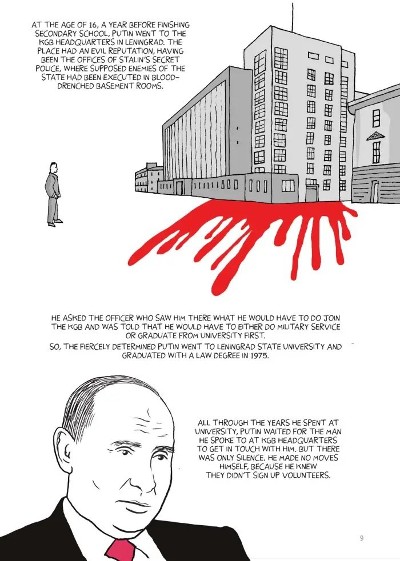 Cunningham's comics journalism works on three important principles. It's clearly meticulously researched (a huge bibliography is included at the end of Putin's Russia); he draws together those explorations into the topic into a narrative that is both coherent and absorbing; and, as mentioned many times before at Broken Frontier, he has an incredible propensity for taking complex subjects and explaining them with an illuminating clarity. Putin's Russia is a breath-takingly incisive exposure of the Putin crime cartel, Putin's gradual dissolution of democratic reforms, the motives behind involvement in wars elsewhere, assassinations, and the nurturing of Donald Trump as a Russian asset.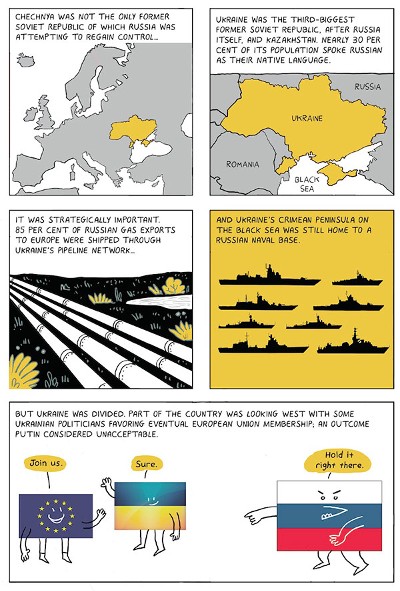 One of the immediate takeaways from the book is how the West has underestimated the realities of Putin's presidency; bizarrely treating him like a statesman when he should have been acknowledged as a brutal crimelord and effectively enabling his years of tyranny. It's a sobering read, and often a terrifying one as the breadth of his influence and its effects on billions becomes more and more apparent.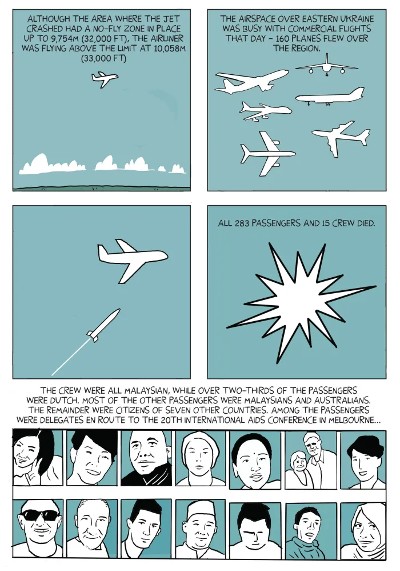 Unlike some of his previous books Putin's Russia: The Rise of a Dictator steps back from Cunningham's usual representational cartooning style for a more realistic approach. It does combine moments of quirkier, informal sequences and his usual eye for visual metaphor (itself an always excellent visual shorthand for conveying information on a more instinctual level) but the focus here is on more distinctive likenesses and a selective use of colour so not to distract from the detailed explanations of events.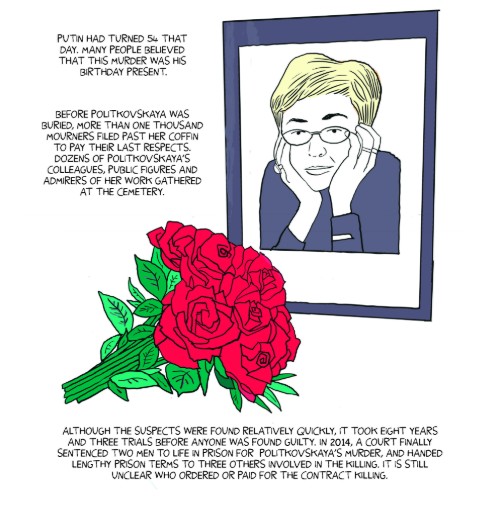 For anyone wanting to understand more about the catalyst for the events of the last six months this is an invaluable and indispensable read. Once again Darryl Cunningham has condensed a project years in the making into something entirely accessible. Another remarkable book from a truly remarkable creator.
Darryl Cunningham (W/A) • Myriad Editions/Drawn & Quarterly, £16.99/$29.95
Bu online here (UK) and here (North America)
Review by Andy Oliver