Back in 2012, Paula Knight was one of the shortlisted creators for the very first Myriad Editions First Graphic Novel Competition and – like a number of the finalists from that year's entries including winner Gareth Brookes (The Black Project), Hannah Eaton (Naming Monsters) and Ian Williams (The Bad Doctor) – she went on to see her book picked up by the Brighton-based outfit. The Facts of Life will be published by Myriad in 2016.
Knight's work falls firmly in the category of graphic medicine dealing with the issues surrounding childlessness, our definitions of "family", fertility and miscarriage. Of the two longer-form titles she has self-published Spooky Womb is a single narrative minicomic which she describes as "a spin-off from my longer work in progress The Facts of Life" while X Utero: A Cluster of Comics represents a collection of similarly themed shorts created between 2011 and 2013.
The cover to X Utero (left), Spooky Womb (centre), plus a sample page from Spooky Womb (right)
Spooky Womb, Knight's 8-page "true-ish uterine tale" takes place in a timeframe after her on-page avatar's 30th birthday. In the years that follow she begins to be haunted by an anthropomorphised incarnation of her reproductive system whose comical manifestations, and urgings that time is running down, become more intense and insistent as the months go by. It's not a subtle metaphor, perhaps, but it is a highly effective one with Knight adopting a carefully balanced synthesis of mischievous humour and thoughtful poignancy throughout – a kind of one-woman double act that engenders audience empathy through the attribution of feelings and consciousness to the titular 'Spooky Womb'. Knight's engaging cartooning and, in particular, her comedic pacing make this a memorable introduction to that aforementioned upcoming graphic novel.
X Utero: A Cluster of Comics comprises ten individual comics entries that vary in length from just one panel to three pages. What's immediately noticeable about the succinct but always resonant strips on offer here is Knight's deft incorporation of pertinent physical objects like photos and hospital reports into her comics. 'I'm Female!' (above left), for example, places comics panels over her cytogenetic test results while 'Mother, or Not?' traces her genetic heritage through a mix of illustration and family album photographs. It's a technique that grounds the stories in a stark and inescapable actuality; a reminder that there is an essential humanity and reality to the very personal experiences being shared with the reader here.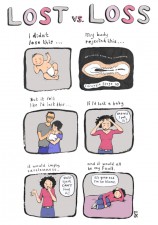 One of Knight's stated aims in this compilation is to explore the terms used when talking about miscarriage – how small variations in interpretation can change context and effect. Three stories here – 'Lost or Loss' (right), 'Failed', and 'It Wasn't Meant to Be' all do this to varying degrees, analysing the inadvertant emotional brutality that can be embodied in the duality of language. Like all of her material in this comic the message is concise but heartfelt… to the point in terms of exposition yet still providing the reader much to reflect on afterwards. 'Childless or Childfree?' is another example of Knight's combination of physicality and metaphor with the core question being asked and answered through a mix of sketches and photos of actual labels (above right).
If there's one overriding impression of Knight as comics craftswoman that the reader takes away from these minicomics then it's her ability to constantly play with the form both in terms of presentation and tone, with a notable aptitude for evocative symbolism on show throughout her work. Another excellent piece of advocacy for the power of the medium in sharing personal experience between creator and reader, these two offerings imply that The Facts of Life is a graphic novel we should all be looking out for expectantly in 2016.
For more on Paula Knight's work visit her site here. You can follow Paula on Twitter here. Her comics are available on her online store here. And The Facts of Life will be published by Myriad Editions in 2016.
For regular updates on all things small press follow Andy Oliver on Twitter here.