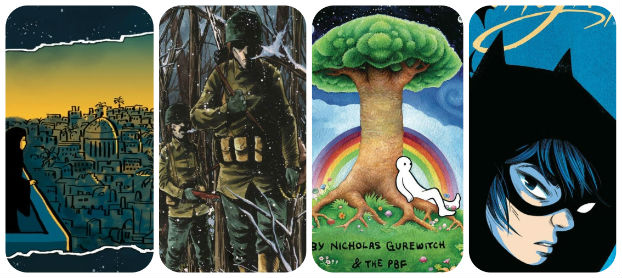 It's Wednesday, and you know what that means: a fresh load of comics and graphic novels! With so many publications hitting your local comics store, comics event or digital storefront, the BF team are here to lead you through the woods with our weekly staff picks. Satisfaction guaranteed!
Comic of the Week
The Wolf of Baghdad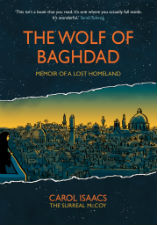 Carol Isaacs, aka The Surreal McCoy, is a cartoonist whose work has appeared in the New Yorker, Spectator and the Sunday Times. Her debut graphic novel The Wolf of Baghdad, from Myriad Editions, combines history, graphic memoir and a kind of magic realism in this haunting tale of "an author homesick for a home she has never visited."
Once, around a third of the population of Baghdad was Jewish. But as the 1940s moved into the 1950s almost all of Iraq's Jews had disappeared, having either been expelled, killed or having fled. This largely "silent" narrative, juxtaposed with the words of Isaacs' family, sees her exploring the environs of the city through the ghosts of those former inhabitants. Haunting and quietly powerful, you can look for a full review of this book at BF very soon.
Carol Isaacs/The Surreal McCoy • Myriad Editions, £16.99
– Andy Oliver
Year of the Rabbit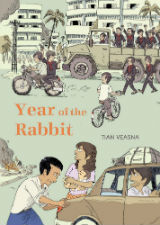 A few years ago I was lucky enough to visit Cambodia. And it didn't take long to sense that beneath the apparent serenity of its gentle people, the country still bore the scars of the years spent under the Khmer Rouge, whose deranged and brutal regime led to the death of up to two million people.
Cartoonist Tian Veasna was born in Cambodia just three days after the Khmer Rouge seized power in 1975. as his family set forth on the chaotic mass exodus from the capital, Phnom Penh. Year of the Rabbit is based on first-hand accounts, told from the perspective of his parents and other close relatives. Stripped of money and material possessions, Veasna's family found themselves exiled, along with thousands of others, to the barren countryside, where food was scarce and brutal violence a constant threat.
Over nearly 400 pages, Year of the Rabbit shows the reality of life in the work camps, where Veasna's family bartered for goods, where children were instructed to spy on their parents and where reading was damning evidence of being a class traitor. Constantly on the edge of annihilation, they realised there was only one hope: they had to escape Cambodia and become refugees.
With every fresh atrocity that erupts upon the world, the horrors of Cambodia's "killing fields" are pushed further down the wider global consciousness. Year of the Rabbit, Tian Veasna's first book, is a deeply personal tribute to the resilience of his family and a timely reminder of the dangers of ideology and the importance of hanging on to our humanity.
Tea Vaesna (W/A) • Drawn & Quarterly, $29.95
– Tom Murphy
Shadow of the Batgirl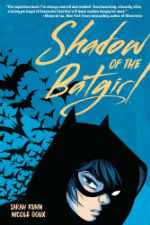 Following the success of Teen Titans: Raven (written by Kami Garcia and illustrated by Gabriel Picolo) and Batman: Nightwalker (adapted by Stuart Moore from the prose novel by Marie Lu, illustrated by Chris Wildgoose), Shadow of the Batgirl is the latest release from the DC Ink (young readers) line.
Teenage assassin Cassandra Cain isn't exactly Batgirl material—yet. But Batgirl has been missing from Gotham City for years, and if Cass can overcome an identity crisis of epic proportions she may be able to defy her destiny and take up the mantle of a hero. Unsure whether or not she has what it takes, she embarks on a personal research project to learn everything possible about Batgirl. When Cassandra's father threatens the world, she'll have to step out of the shadows and overcome her greatest obstacle—that little voice in her head that tells her she can never be a hero.
Writer Sarah Kuhn (Heroine Complex, I Love You So Mochi) and artist Nicole Goux (Star Trek: Waypoint Special #1) are reimagining Cassandra Cain for a whole new audience of readers. Bat-fans of all reading levels will enjoy their edgy take on this grossly underused character as she overcomes the odds to find and embrace her unique identity.
Sarah Kuhn (W), Nicole Goux (A) • DC Comics, $16.99
– Karen O'Brien
The Perry Bible Fellowship Almanack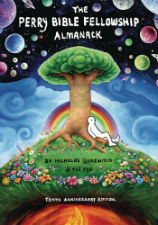 Returning to print in this edition celebrating ten years of The Perry Bible Fellowship Almanack, this will surely be a much sought after treasure for fans of Nicholas Gurewitch's newspaper strip/webcomic.
First starting life in a university newspaper The Perry Bible Fellowship Almanack's dark, surreal and offbeat humour has made it an enduring cult favourite. This Dark Horse edition contains every published strip plus lots of never before seen material. An early contender for best collection of classic material in 2020.
Nicholas Gurewitch (W/A) ) • Dark Horse Comics, $24.99
– Andy Oliver
A Letter to Jo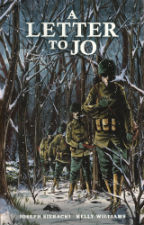 A Letter to Jo is a poignant memoir recounting the bravery and humanity of World War II soldier who does his duty and longs for home. I can't improve on its official description, so here it is:
"As Leonard fights on the front lines of World War II, memories of Josephine and home help keep him alive. As Josephine contends with life, family, and work in Cleveland, letters from Leonard sustain her. But official censorship forces him to leave out much of the most significant action he sees.
"Finally, with the war coming to an end, Leonard is able to tell his full story. In a quietly beautiful letter to Josephine, Leonard writes of the loneliness he felt, the camaraderie he experienced, and the terrible violence he witnessed.
"Now, Josephine and Leonard's grandson, Joseph Sieracki, has carefully researched the battles Leonard describes and expanded the letter into a moving tale of a young man's fears and bravery far from home. Brought to heart-wrenching life by the paintbrushes of Kelly Williams (Creepy, Eerie), A Letter to Jo is at once a tender love story and a harrowing battlefield memoir."
Joseph Sieracki (W), Kelly Williams (A) • IDW Publishing/Top Shelf Productions, $19.99
– Karen O'Brien