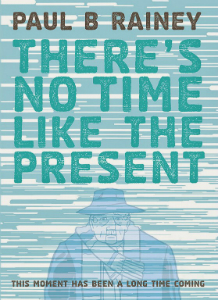 In 'Covers Album' each Wednesday we ask comics creators, publishers and commentators to pick three of their favourite comic covers …but with a small twist. One must be chosen for aesthetic reasons, one for inspirational reasons and one for pure nostalgia!
This week it's the turn of that pivotal presence on the UK small press scene, Paul B. Rainey. A cartoonist with the deftest of satirical touches, Paul has been self-publishing since 1990s with his long-running sci-fi fantasy There's No Time Like the Present being deservedly collected by Escape Books a couple of years back. He was a contributor to the Broken Frontier Small Press Yearbook and is responsible for such brilliantly titled comics as Thunder Brother: Soap Division and Tales to Diminish.
Paul has also been published in seminal UK humour anthology Viz and been featured in ILYA's The Mammoth Book of Cult Comics. You can visit his site and online store here.
Aesthetic Choice: Escape Magazine #6 (1985)  by Andy Dog (Escape Publishing)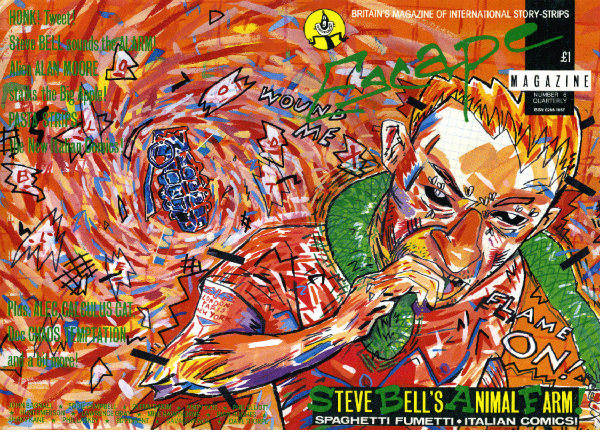 Escape Magazine was very important fuel in the leap I made from being a collector of Marvel UK reprints to an appreciator of more artful comics. I had seen promotions for it in fanzines that I was subscribing to during the early Eighties. I found the art in those adverts very alluring but, regardless, I remained unsure that it was for me. By issue #3, I made the spontaneous decision to subscribe and was immediately pleased that I did, exposing myself for the first time to the work of the likes of Eddie Campbell, Phil Elliot and Bob Lynch.
The cover to Escape Magazine #6 is my favourite of their covers. It's painted by Andy Dog, real name Andrew Johnson, who also designed the sleeve to The The's highly regarded album Giant, from around this time. I feel that it contains all of the elements one expects from a Marvel Comics cover of the period being both bold and colourful. But it's also wonky and wrong, especially if you're looking at it with that mind-set, which I probably was. I remember gazing at this cover for ages when it arrived in the post. There's so much to see. For example, if you look closely enough, it looks like Dog has painted it on graph paper!
Of course, the cover is enhanced further by Peter Stansbury's fresh sense of design. I was very fortunate to have Peter design my graphic novel, There's No Time Like The Present, published by Escape Books thirty years later in 2015.  I could never have imagined that happening in 2012, let alone in 1985!
Inspirational Choice: Love and Rockets Vol. 1 #1 (1982) by Jaime Hernandez (Fantagraphics)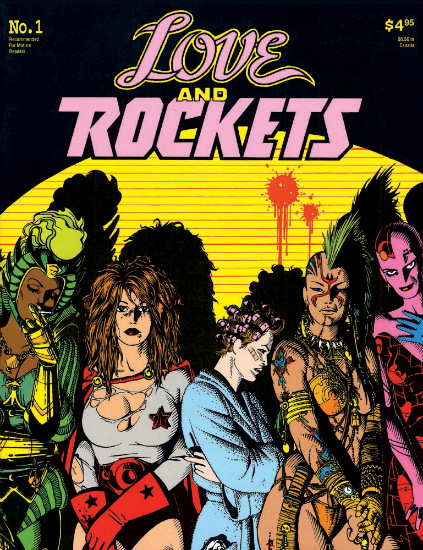 I could quite easily have chosen any Love and Rockets cover drawn by either Jamie or Gilbert for any of the categories. The reason I have gone for this one in "inspirational choice" is because I have personal experience of the cover actually fulfilling its purpose. During the mid-Eighties, I used to make a regular monthly train journey from Milton Keynes to London to buy comics from Forbidden Planet on Denmark Street.
On one occasion, I had picked up all of my regulars (mainly Marvel and DC comics and a handful of independents) and found that I had some money left over. If the purpose of a comic cover is to convince the person with some spare money looking for a new title to buy them then that's exactly Love and Rockets #1 succeeded in doing with me.
I remember feeling as if the cover looked like it could have been the sleeve to a record by an exciting post-punk/new wave band. All of the characters look odd and intriguing. Three of them are gazing directly back at you, two with reserved expressions while the third, who looks like she is about the smile, is slipping off the edge of the page. Two of them have punky hairstyles and two more wear headwear that approximates that.
The woman on the left, either from the past or the far future, sucks on a cigarette, impatient to return to her own time. The woman in the centre, wearing a dressing gown with her hair in curlers, doesn't want to be there at all, as if Jamie Hernandez, the artist, wants to get cracking on with the drawing regardless of if she is ready or not.
All of the characters have varying physiques: tall and elegant, short and tiny, strong and shapely. In this context, the large breasts of the woman second from the left and the bare breasts of the woman second from the right, have no greater significance to a heterosexual seventeen-year-old boy than any of the other physical observations I have made. Perhaps most impressively, there's no Luba, Maggie or Hopey featured on this cover and yet it manages to capture the spirit of the comic to come so completely.
Nostalgic Choice: The Invaders #5  (1976) by Jack Kirby and Joe Sinnott (Marvel Comics)
I often find covers to superhero and genre comics these days are dull. Often they look ponderous or static, sometimes drawn as if created during a photo-shoot with a model and all of the considered staging that this might involve. Even if the cover features some peril and momentum, it's diluted by the artists' over-rendering and aspirations for realism.
I could have chosen any Jack Kirby superhero comic cover but I went for this one because it's a good example of how his artwork makes me feel happy. It contains all of the drama, posturing, extended limbs, characterisation and environment you might have come to expect from a cover drawn by The King during the Seventies. It's also a good example of the unspoken communication that takes place between the artist and the reader.
For example, it's fair to say that inside this issue, the Red Skull attempts to ruin a public parade that the Invaders are attending. However, I'm pretty confident that there isn't a scene featuring an eighty-foot-tall Red Skull grabbing Captain America as if he were an action figure. Both Kirby and eight-year-old me understand that there is one hell of a good comic inside there that I'm gonna love reading, even if he hasn't drawn the interior himself.  I would love to see similar thinking being applied when drawing superhero comic covers today.
For more on Paul B. Rainey's work visit his site here and follow him on Twitter here. You can order a copy of his most recent self-published comic Tales to Diminish online here priced £4.50.