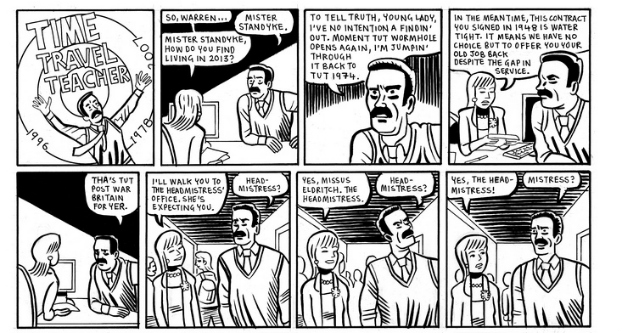 From the very outset, with its fond and droll wordplay on the melodramatic mainstream mystery mags of the 1950s and '60s, Paul B. Rainey's Tales to Diminish signals its intent to use familiar elements of the form to poke fun at a whole range of topical targets. If you're new to his work, I've described Rainey as a UK small press comics national treasure in the past. He's been active on the scene since the 1990s with his long-running sci-fi fantasy There's No Time Like the Present being deservedly collected by Escape Books a couple of years back.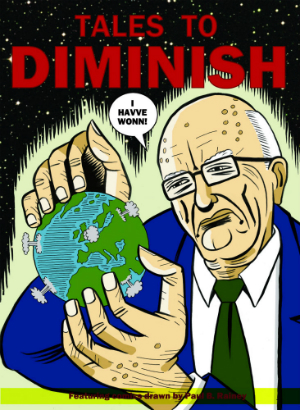 While that more epic work may be more recognisable to current comics fans Rainey is also a master of the humorous and satirical short strip, often re-imagining pop cultural elements to mercilessly lampoon the excesses of some of very deserving victims from UK public life. Tales to Diminish collects a number of his online comics from the last couple of years in an A4 format that gives his tightly-panelled strips the larger presentation they're due.
From social commentary to crude wit, to nerd jokes through to more punchline-led timing, Tales to Diminish mixes blunt comedy with more sophisticated parody. The Viz-style ribbing (Rainey is also a contributor to the legendary British humour comic) of some of his politically-charged jesting is, perhaps, the work that will resonate the most with many in the current UK climate.
Both the woefully incompetent sleight-of-hand of Chancellor Osborne, Master of the Mystic Arts, for example, or his incarnation of Conservative MP Eric Pickles, fighting for consumer rights with a pedantic hilarity get skewered by the caustic Rainey wit. Kelvin McKenzie railing against the success of Piers Morgan, Rupert Murdoch as horror comic-style host, a preening Nigel Farage going for a morning jog, casual xenophobic attitudes and the journalistic ethics of the Daily Mail are similarly pulled apart in scathing send-ups.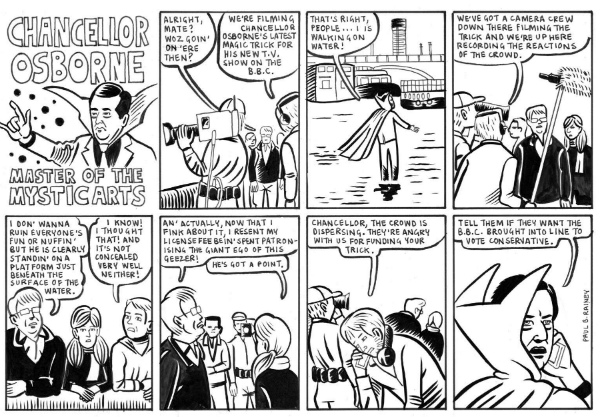 Rainey's genius in these strips is that his gags don't need to be markedly cruel to make their point – he simply underlines the inherent ludicrousness of his subject's pomposity with a use of pointed running gags that highlight their absurdities. His mirthfulness isn't limited to public figures, however, and Rainey is just as accomplished at observational pieces that have a very British feel to them.
The exquisite panel-to-panel timing of Peter the Slow Eater which highlights Rainey's ability to play with a sense of time is almost agonisingly amusing in delivery, or the juxtaposition of social attitudes in Time Travel Teacher featuring a chronologically displaced schoolmaster from 1974 trapped in the modern day. His 14 Year Old Stand-Up Comedian also makes a return in a double-pager that veers off into the surreal but places teenage concerns in an adult frame of reference to great effect once again.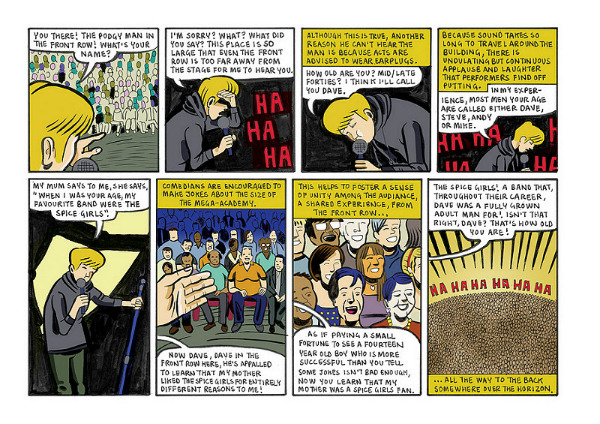 With its rhythmic pacing, accessible cartooning clarity and stinging parody, Tales to Diminish is the perfect showcase for an artist who has been consistently producing quality small press comics work for so long that he's practically the Godfather of the UK small press scene. In the unlikely event you haven't encountered his work before then pick up TTD as soon as possible – it really is the perfect introduction to the Rainey oeuvre.
For more on Paul B. Rainey's work visit his site here and follow him on Twitter here. You can order a copy of Tales to Diminish online here priced £4.50.
For regular updates on all things small press follow Andy Oliver on Twitter here.