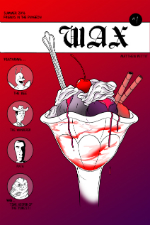 In 'Covers Album' each Wednesday we ask comics creators, publishers and commentators to pick three of their favourite comic covers …but with a small twist. One must be chosen for aesthetic reasons, one for inspirational reasons and one for pure nostalgia!
This week Matthew Pettit is the gent in the hot seat. Matthew is a small press comics creator who has had work published by minicomics specialist Jazz Dad Books (including Kevin Truman) and self-published his collection of shorts Wax for Safari Festival last year. (You can see preview pages from the book here).
You can also read his webcomic The Man from the Mountain here.
Aesthetic Choice: Shampoo (2016) by Liam Cobb (Self-published)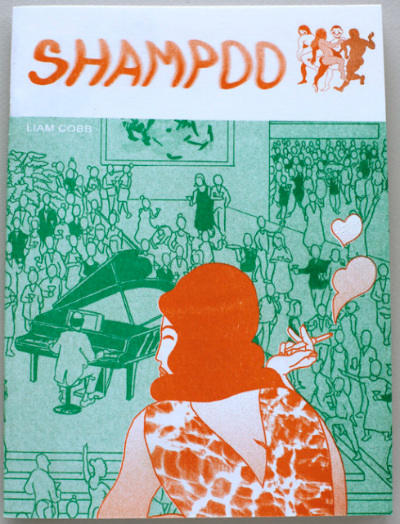 I picked Shampoo by Liam Cobb as my aesthetic cover because I think it is the best looking risograph-printed book I've ever seen. As someone who has printed a lot using risograph I'm always really keen to see examples of people using it in new and beautiful ways. I think that all of what Breakdown Press (who published the sequel to Shampoo, The Fever Closing) are perfect examples of this, using the printer to blend colours when needed and to also understand what colours work together. I think Cobb does this beautifully with Shampoo.
The book features three different stories (I always like this, seeing how a creator approaches different distinct stories in one book) all created in a slightly different way, be it single colour purple or with multiple colours. The design of the cover and back cover is simplistic yet bold. As with the interior the colour choices are perfect and the images themselves are inspiring. The artwork feels considered but still spontaneous (if that isn't too contradictory).
Inspirational Choice: Acme Novelty Library #16 (2005) by Chris Ware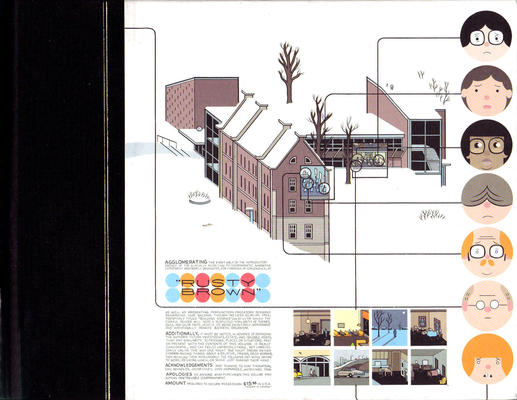 I chose Acme Novelty Library #16 because I think it encapsulates everything I love about Chris Ware into one cover design. The cover has the appearance similar to one of his pages more than a traditional comic book cover featuring large areas of text as well as some small panels. As with all Chris Ware's work the cover for Acme Novelty Library #16 feels tight, with every tiny detail having been considered.
The book has a beautiful quality feel to it being hardbound with a gold embezzled fabric binding. As for the content of the book, Rusty Brown was always my favorite Chris Ware character as he always feels the most detached. Whilst Jimmy Corrigan is cripplingly shy, and Jason Lint is arrogant in his own way, Rusty Brown has an air of complete disregard for anyone else's feelings all the while being fairly 'hopeless'.
Nostalgic Choice: Hair Shirt (2011) by Patrick McEown (SelfMadeHero)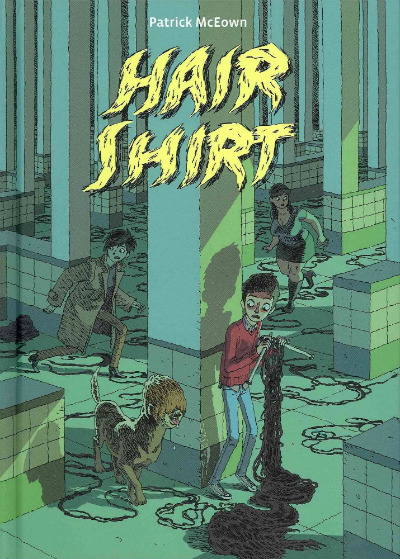 Hair Shirt by Patrick McEown first appealed to me because it felt like a genuine cross between a sort of 'suburban coming-of-age' type story as well as a more psychological horror story. McEown uses relatable emotions and feelings of a twenty-something-year-old and manifests them into taunting anthropomorphic memories of troubled characters from John's (one of the main characters) past. The reason why I love this cover so much is primarily because I think it encapsulates this perfectly.
The greeny blue tones feel eerily cold and the tiptoeing of the characters feels tense. As well as this, for me, the linework of Hair Shirt really turned me onto a new way of thinking about drawing. Imperfect lines and roughness as opposed to the ultra clean precise line works I was usually drawn to.
For more on the work of Matthew Pettit visit his site here and follow him on Twitter here.