Fantasy legend Elric of Melniboné is back in a European comic series endorsed by Michael Moorcock with the words 'If I could go back, I would do it like this.'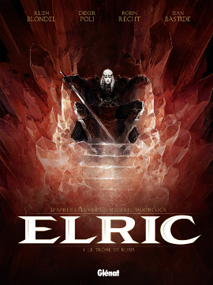 Michael Moorcock's Elric of Melniboné, later to be revealed as one of the many incarnations of Moorcock's Eternal Warrior multi-persona, will probably be Moorcock's everlasting contribution to popculture. I would go with his Jerry Cornelius series of novels but that would be too obscure probably and the experimental approach Moorcock often takes in this series too inaccessible to a general audience.
Elric though is full blown fantasy. Descendant of a royal lineage and a frail and weak albino, he finds himself ruling a violent race bent on torture and conquest. In order to keep his position he relies on drugs (or 'special herbs') to keep him going while becoming a powerful sorcerer and summoner. After the world-building the novels focus on Elric's relationship with Stormbringer, a magical sword that can be a great force for good but also saps Elric's strength while absorbing the souls of everyone it slays.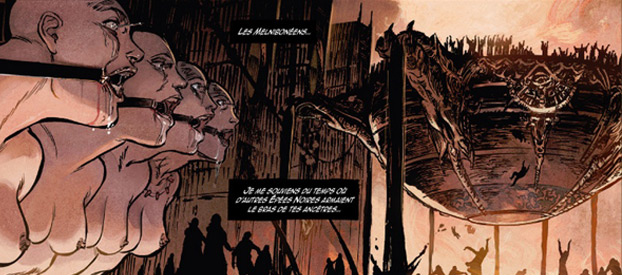 Often translated to other media and most notably in comics, Elric has also been featured in quite a lot of music and role-playing games. Up till now, Hollywood has not yet successfully  released an Elric movie though several attempts have been made. In comics though, Elric has been adapted by a – mainly American – all star cast of creators: P. Craig Russell, Walt Simonson, Frank Brunner, etc., and European creator Philippe Druillet. But apart from the Druillet adaptation, the comics fell a bit by the wayside, coming off as flat without adding much to the Stormbringer's world and never succeeding in capturing the grandeur and bleakness involved so essential in the novels… until now that is!
As stated in the introduction by Moorcock himself, if he was able to go back and tinker with the world of Elric a bit more, Elric vol. 1: The Ruby Throne is how he would do it. While Moorcock recognizes the work of Simonson, Druillet etc in his introduction, this edition by Julien Blondel, Didier Poli, Robin Recht & Coloriste Jean Bastide is first version that he feels adds more to the novels than any other previous work did and you can't aim for higher praise than that as an artistic team adapting another visionary's work.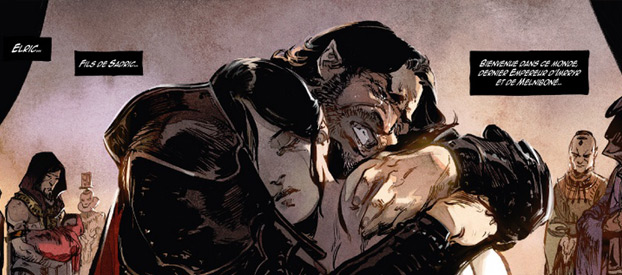 In a rather remarkable move for a European comic book, this edition was done in the full blown US mode of comic making: writing, drawing, inking and colouring all done by separate persons. The difference here being that – as opposed the sometimes haphazard coupling of a random penciller with a random inker to the hectic monthly comic schedule of US comics – the whole team was selected with care and each artist has a specific contribution to the look and feel of Elric.
All creators involved succeed in creating a truly grand and tortuous vision of Elric's troubled world where medieval swordplay and sorcery go hand in hand. The majestic design work of Didier Poli creates stunning widescreen vistas where nature has gone wild. The scratchy inking of Robin Recht then adds another layer to the rather clean visuals by externalizing the inner violence of the world of Elric. And the coloring by Jean Bastide brings it all together by combining dark and subdued toning with spots of brightness like the ruby throne of the ruler of Melniboné or the white skin of our albino protagonist. It truly makes the Melnibonéans a product of their environment, a twisted reflection where honor and torture go hand in hand. The whole book reads like one complete vision guided by a clean and concise script by Julien Blondel who wastes no time in introducing us to the savage world of Elric and Stormbringer while letting the visuals speak for themselves.

As an adaptation of a literary work to another medium, Elric vol. 1: The Ruby Throne is a complete success. Writer and artists form a homogenous team spawning an entertaining story that adds to the mythos of the Eternal Warrior instead of subtracting from it. They build on what came before adding little flourishes to the original and therefore I can only label this as highly recommended.
Elric vol. 1: The Ruby Throne by Julien Blondel, Didier Poli, Robin Recht & Coloriste Jean Bastide is published in French by Glénat. It is a full colour hardcover counting 48 pages and retails for €14,95. This review was based on the Dutch edition published by Ballon Media.