Ranked fifth in Rolling Stone's list of the 100 Greatest Guitarists of All Time, Robert Johnson's life is cloaked within the mists of time and myth. This legendary guitarist of the thirties is now explored in a OGN that excels in storytelling and visuals, entitled Love in Vain – Robert Johnson 1911-1938.
Born in 1911 and dead at the tender age of 27 in 1938 – presumably poisoned by a rival in love – Robert Johnson was a street performer whose skills were unsurpassed – a stew of singing, guitar playing and songwriting that has influenced world-famous artists like Eric Clapton and Muddy Waters.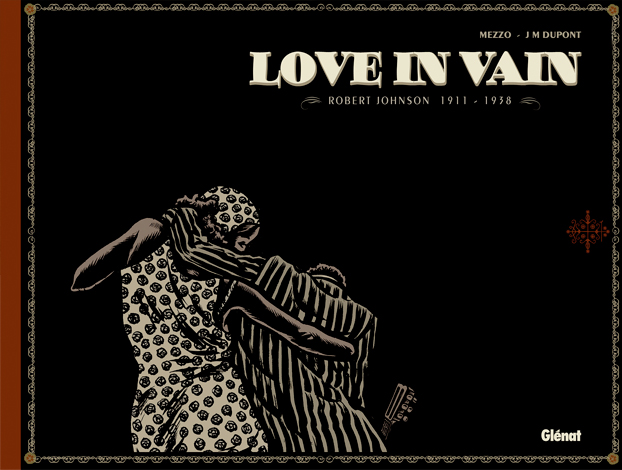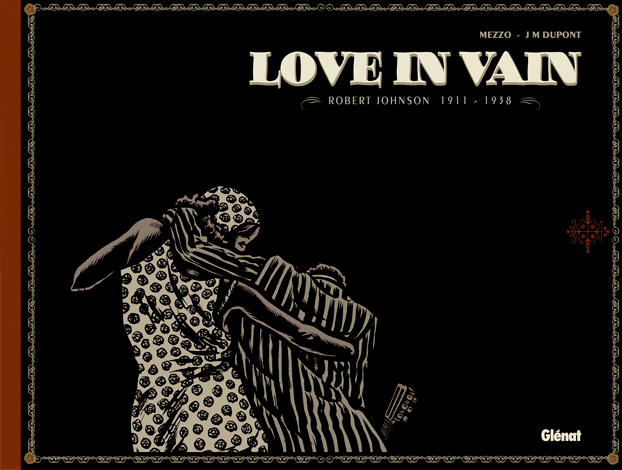 He died as fast as he lived, and the tight script by French writer Jean-Michel Dupont puts the finger where it hurts: racial tensions, the downright shoddy back areas of the Mississipi delta, the run-down bars where Johnson was forced to perform and the general living conditions of African Americans in the Southern States. Dupont writes not only about Johnson, but about the state of America in the thirties and how, for Johnson, music was the only thing that kept him going (coupled with the booze and women that life entails).
One clever choice to recount the events that shape Johnson's life is Dupont's decision to have everything recited by a mysterious narrator who is linked to rumours of Johnson's fabled deal with the devil at the crossroads (which took me back to Tom Coker's incredible The Ride: The Devil Don't Sing No Blues, inspired by Johnson's legendary bargain; check out this image for some art).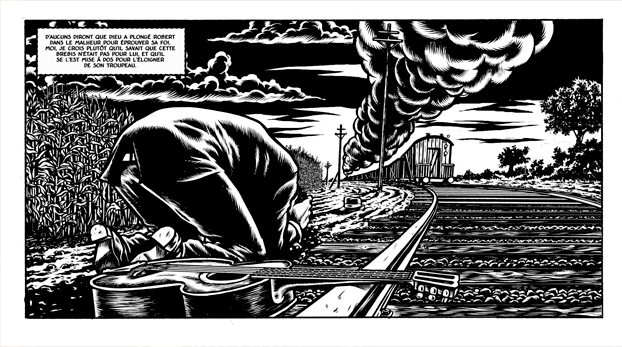 As inspired as Johnson's story and Dupont's script are, the visuals by Mezzo (of hardboiled noir drama King of the Flies fame) are equally strong.  Mezzo's solid black style, with heavy line work and strong staging, ups the ante on his previous work, and he turns in the best art I've seen from him yet. The landscape format allows him to go all out with rowdy crowd scenes, poverty-stricken rural areas and menacing skies of apocalyptic blackness. His figure work is also livelier and more fluid, showing an effort and a love of the subject.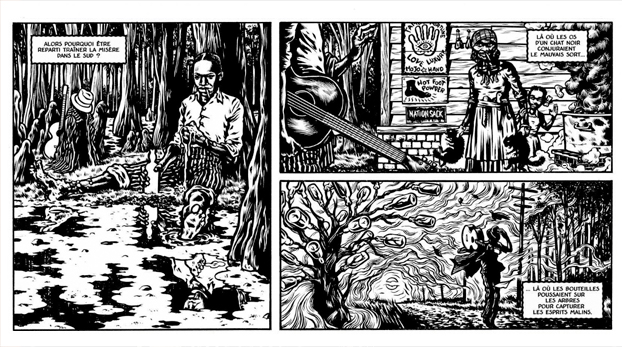 Hailed as album of the year by French comic shops in 2015, Love in Vain. Robert Johnson – 1911-1938 by Jean-Michel Dupont and Mezzo is a dazzling read about a life dominated by the power of music and its ability to deliver hope in despair, and the dichotomy of a life searching for comfort as an escape.
Dupont's tight scripting coupled with Mezzo's visceral visuals give rise to a powerful graphic novel. Let's hope Fantagraphics is reading this so English-language readers can enjoy this one too!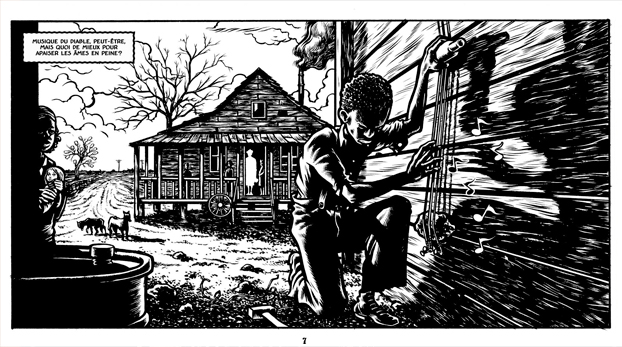 Love in Vain. Robert Johnson – 1911-1938 by Jean-Michel Dupont & Mezzo is published in French by Glénat. It is a black-and-white hardcover counting 72 pages and retails for €19.50. This review was based on the Dutch edition, published by Sherpa, who have a very nice preview on their homepage (in Dutch).
Bonus: Joost Swarte's New Yorker Cover
Have you seen this New Yorker cover by celebrated Dutch artist (and inventor of the phrase 'clear line') Joost Swarte? Well, you should, so here it is – and, as an extra, there's a slideshow in the link showing various covers for the upcoming edition of Scratches magazine, curated by Swarte.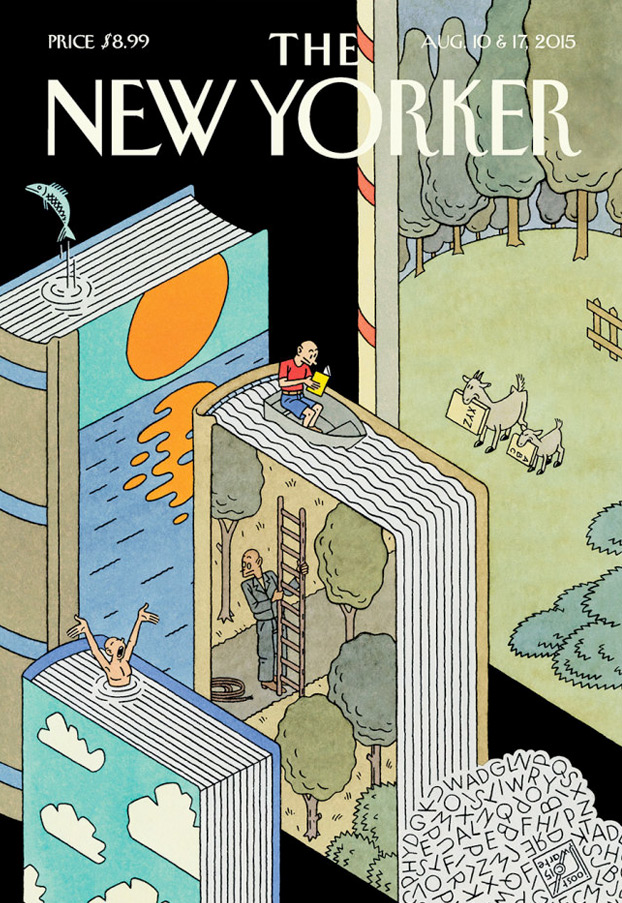 For more news and info from Europe's comics community, follow me on Twitter right here.