With a very well-received long-form collection of stories recently released, and a growing body of genre comics work building up, Ramsey Hassan (aka RAMZEE) still manages to impressively  juggle his sequential art projects with practice in a number of other mediums. I caught up with RAMZEE to chat about his adventures in comics to date, collaborating with other artists, and breathing new life into established comics properties…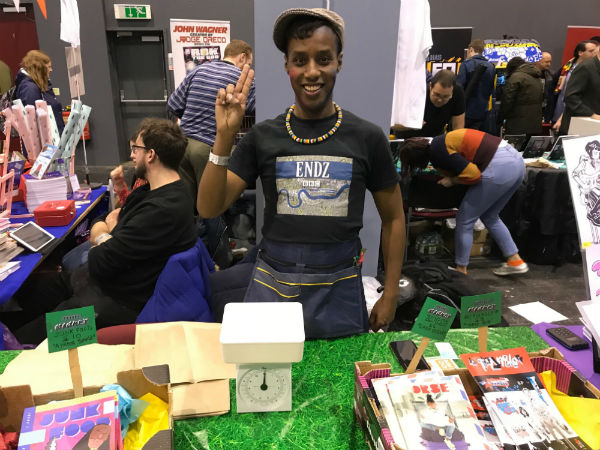 ANDY OLIVER: While UK readers will be familiar with your comics our international audience may only just be beginning to discover your work. So let's begin with asking you to tell us a little bit about your artistic background and your early journey into comics?
RAMZEE: Wow! Well, at the risk of sounding like the southerner version of the Monty Python 'Yorkshiremen' sketch, my artistic background came from being a latch-key kid living in a flat with an electricity meter so we couldn't have the TV on all day -it  meant keeping myself entertained reading, drawing and writing stories. Comics were a huge love but I couldn't see myself doing it as a job because it looked like an American thing, like Sumo wrestlers seem to be mostly Japanese. So, I ended up in an art college that had a practical TV production course and after a brief stint in retail, I worked in post-production for 10 years.
I always read comics but the penny didn't drop on making them myself until 2011 when I went to my first small press show because Kate Beaton was going to be there, selling physical copies of a collection of her webcomics that I loved so much. It was whilst I was there that I discovered that regular people were making comics about anything and everything. It really lit a fire in me to start producing my own stuff which, after a few dodgy trial runs, eventually came out five years later and was immediately met with a great response. The first comic that I wrote and drew, Zorse, being nominated for a British Comic Award – the only small press comic on the shortlist.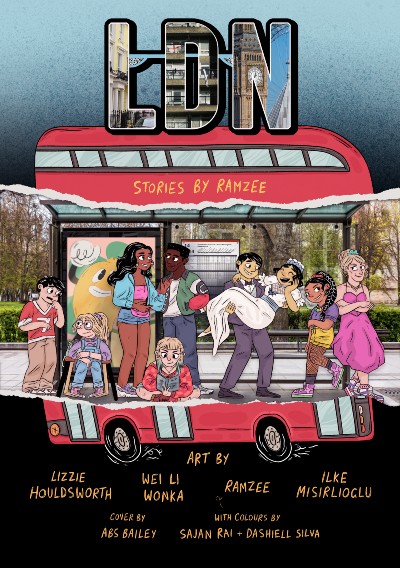 Cover by Abs Bailey
AO: Your recent well-received graphic novel LDN from Good Comics was your longest-form work to date. How would you describe the themes of the book and the kind of tales readers can expect to find in its pages?
RAMZEE: That book came from not really seeing modern, multicultural London and all the big themes explored much in British comics. Topics like knife crime, the housing crisis and also things that interrogated identity outside the popular themes of mental health and gender. Things like Religion and Race and Age, that were either explored in a very one-note way or, with Age, not at all. So I wanted to write stories that tackled those themes whilst also giving you a sense of the geography of the city – we have a tale set in North London where a Jewish boy on the eve of his Bar Mitzvah learns that his grandmother has not only died but didn't fully convert to Judaism, so goes on a caper to solve that. A knife crime story set in West London told in the style of Greek tragedy. A story about a middle class girl who comes down from the home counties to East London to be a stand-up comic and gets caught in the whirlwind of the housing crisis, and how class determines who the winners and losses are.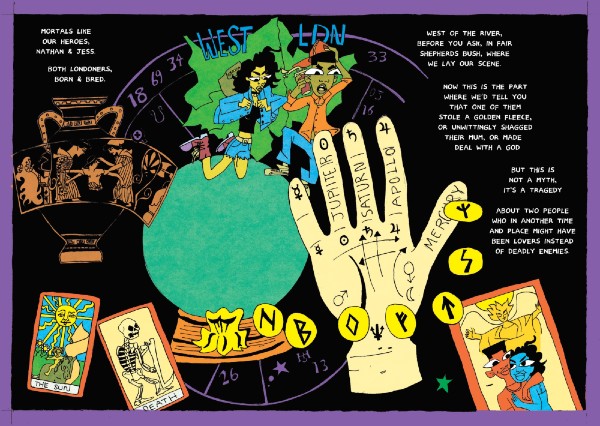 AO: One of the great strengths of LDN was the way the stories took a number of different approaches to comics storytelling, employing different visual tools to match theme and subject matter. Given that, how did you go about selecting and matching up artists to each story? Were you consciously adapting stories to artist styles or was it a more interpretive collaboration from their perspective?
RAMZEE: Originally, I was supposed to draw all the stories and the idea I had was "if I draw each story in a different style then drawing a graphic novel will feel less of a slog coz I'll be switching my style and it will feel like I'm drawing a new comic" but I discovered that I didn't have the stamina for a graphic novel yet and conked out after drawing just two of the six stories. So, I prowled the exhibitor tables at Thought Bubble and rifled through the small press shelves at Gosh! Comics looking for artists that best fit the idea that I had for each of the stories and once I had, I commissioned them and worked to a protracted schedule because I was paying them out of my own pocket.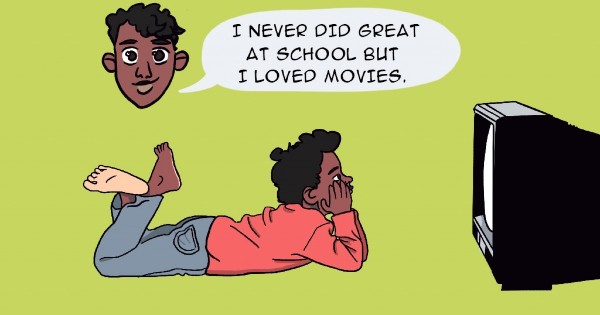 AO: Last year we reviewed your Khidr Comix Lab webcomic Being Black and Working Class (above). What is it about the language of comics for you that makes it such a powerful medium for communicating the lived experiences of others on such an empathetic level?
RAMZEE: To make a comic all you need is a pen and some paper, right? You can get them photocopied or scanned and have lots of people read them – the distribution is relatively cheap compared to other art forms. But the pictorial language of comics – the sequential storytelling is something that anyone can understand. You don't even need dialogue. What that story and others like it that I've written has proven to me is that readers are smarter and more empathetic than publishers and even people in the comics industry think they are. A white child or adult can read a comic made by someone who is completely different from them in any way and be able to relate to it without the storyteller making a concession or compromise. Humans are empathic creatures. If we can feel for a bear from Peru trying to find a safe place to live we can connect to a Syrian girl trying to do the same, or what's the point of Art?

Art by Elkys Nova
AO: A couple of years back you were involved with one of Rebellion's revival one-shots the Tammy and Jinty Special for 2020. How did you approach reviving classic character Cat Girl? What did you want to bring to the property to give it a post-millennial vibe?
RAMZEE: I was asked to pitch for the book the weekend of Thought Bubble 2019 and I didn't want to invent something from scratch that I didn't own, so I looked online and found great archival sites on British girl comics like 'Down the Tubes' and 'Great News For All Readers' and wrote pitches for three classic Tammy and Jinty characters, one of which was Cat Girl. I knew from the off that I wanted to have Cat Girl set in the modern age and that this Cat Girl would be biracial because of the dearth of black characters in British girls comics. I also thought it would be fun if the original Cat Girl's daughter, Claire, borrows her mum's costume for a Halloween party, not knowing it's magic and the party's host is a social media star who becomes the target of robbers. Claire has the problem of not just dealing with the shock that her costume has powers but also that the party host that she's trying to protect is livestreaming her superheroics to her millions of followers, who are all commenting on and judging her efforts.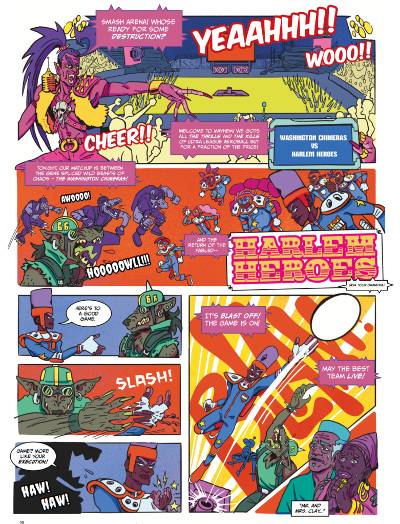 Art by Korinna Mei Veropoulou
AO: Another fondly remembered series that you recently worked on was 2000 AD's Harlem Heroes (above), as part of their ReGened initiative. What elements of the original run appealed to you as aspects to take forward and develop? And what did artist Korinna Mei Veropoulou bring to the proceedings?
RAMZEE: I loved that it was this Rollerball/Running Man satire on the commercialisation of sport and death games whilst being fun, and also pretty progressive by having an all-black team as its main cast. Korinna brought oodles of style and energy and fun to it. The pitch for this was 'Afrofuturism meets Haikyuu' and Korinna definitely imbued the strip with a manga sensibility that was colourful and dynamic.
AO: Your diverse body of work ranges from the autobiographical through to fantastic fiction like FAB from Storyworlds. How do these frequent jumps in genre and approach help you hone and develop your storytelling skills?
RAMZEE: I grew up a rabid consumer of genre. From Big Two comics, summer blockbusters, TV shows and library paperbacks – so I consider myself a genre person but my travels in the British small press in the early 2010s showed me that there was a huge void in black British indie comic creators telling their stories. I felt a self-imposed responsibility to make my own contribution to telling stories of my own experiences and also to have my genre fun. That's why I released Zorse, my autobiographical comic, the same year as Triangle, a collection of genre short stories. I honed my craft in autofiction from my theatre background and applying it to the no-frills honesty of autobio comics. I honed and developed my genre writing by telling a ton of 5-page short stories that taught me a lot about structure, economy and pacing which eventually stood me in good stead writing stories for 2000 AD.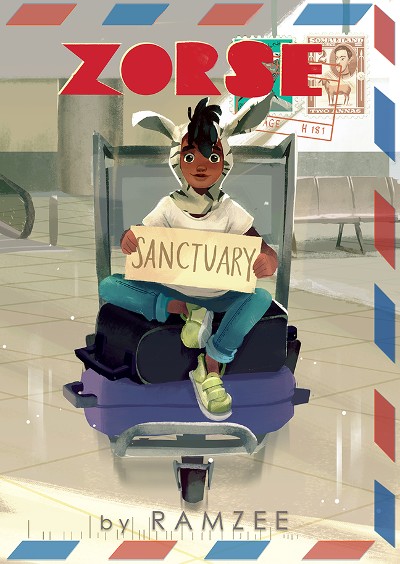 AO: Comics aren't the only medium you work in. What other areas of the arts have you written for?
RAMZEE: I've written scripts for friends' short films; I am also a playwright and currently writing a prose book. I think this all stems from being a latch-key kid and not really being allowed out to play so I put all my energy into books and comics and VHS rentals and later, going to see plays. I've since discovered people like Jules Feiffer who have written for comics, stage, film and novels so I don't feel like too much of a freak.
AO: You've been running comics workshops for a while now. What have been some of the most rewarding aspects of that process?
RAMZEE: The initial reason for doing them was financial so that was rewarding (lol) but any comic creator who runs workshops soon discovers that you are learning as much as the participants. Because to teach comics, you have to break comics down to their most simple form to communicate to the class of kids, but in so doing, you find that you have streamlined your own process and figured out things about comics that did not occur to you before. Your comics become clearer and more focused. Also running workshops in places like Norway and France, you see that kids are the same everywhere and the truisms in publishing are false – boys don't mind reading about girl heroes or black ones for that matter. Also, the stuff kids create in their own comics, no publisher would let you make for them. The violence is extreme lol.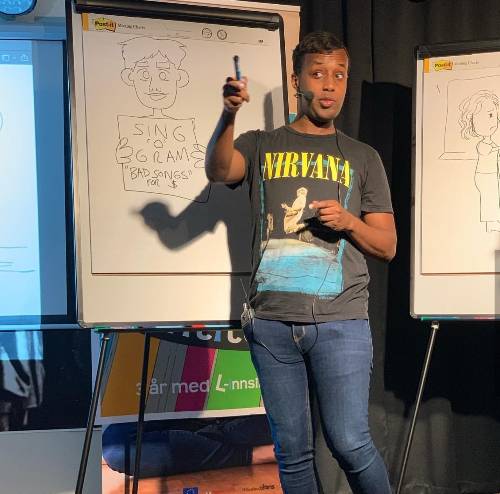 AO: And finally what's next for RAMZEE, both inside and outside of comics? Are there any projects you can tell us about?
RAMZEE: I going into rehearsals for a short play next week and got a literary agent a couple of months back and I am currently drafting a middle grade book. Also, there are some more cool British comics being cooked up as well as my first American comic story which is super exciting and frustrating that I can't say what it is until its officially announced.
Visit RAMZEE's site and online store here
Review by Andy Oliver