Those of us who grew up on venerable British weekly comic 2000 AD in the late 1970s and early '80s can attest to its importance in opening up our minds to the idea of socially conscious themes in our sequential art. The work of writers like Pat Mills, John Wagner and Alan Grant would frequently either satirise or provide blistering commentary on contemporary issues. 2000 AD has a long record of relevance and topicality in its strips and its latest cover is keeping up that tradition with a pointed image at the expense of a real life subject who makes Judge Death look like the Gronk in comparison. The full press release and cover image is below.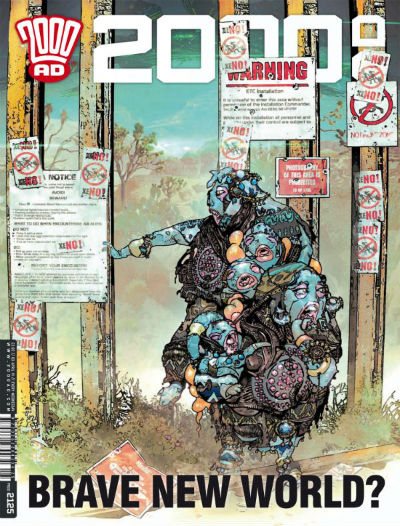 2000 AD has taken a pointed swipe at President Donald Trump's proposed border wall with its latest cover.
Well known for its acerbic political satire, the legendary British comic's latest cover depicts alien immigrants from the strip 'Grey Area' sneaking through a gap in a familiar looking fence emblazoned with anti-alien slogans.
The cover by 'Grey Area' series artist Mark Harrison cover adorns 2000 AD Prog 2125, which is on sale in print and digital this Wednesday (3rd April).
"I wanted to depict an alien family escaping the Grey Area and have the father nervously regarding the 'Welcoming signage'," said Harrison. "The mother dubious about the first steps into a 'Brave New World' that would have obvious parallels to images we have seen on the news."
With its on-the-nose political satire and high octane science-fiction action, the strip follows the heavily-armed enforcers of The Grey Area, a huge 'Exo Segregation Zone' in future Arizona where aliens wishing to visit Earth are quarantined.
Writer Dan Abnett has used the series to explore contemporary attitudes to immigration and hold a mirror up to inflammatory rhetoric and politics on the issue.
Harrison's cover cunningly draws not just on contemporary politics and the proposed design of Trump's controversial wall, but also the shifting use of iconography by often competing political groups.
"I wanted to express in part ludicrous officialdom in a humorous way," added Harrison, "so I looked at Area 51 and any signage referring to immigrants that seemed 'official' and found a sign created in the 1980s by a Caltran worker John Hood after deaths of illegal immigrants on the freeway, a sign designed to save lives has also been appropriated by some supporters of the Far Right who may not be aware of its original meaning. With that in mind I adapted it as a flyers for such human groups outside the Grey Area expressing their dissatisfaction, along with using the warning signs as target practice!
"The warning signs themselves also parody the alien encounter clichés found in science fiction films; an acceptable fiction to make the grey more black and white and palatable and to popularise the "Easy narrative" over the complex and more nuanced reality."
Matt Smith, editor of 2000 AD, said: "2000 AD has always used parody and satire to lampoon and undercut contemporary politics, from the overt authoritarianism of 'Judge Dredd' to the prejudice faced by characters in 'Strontium Dog'. Mark's 'Grey Area' cover continues this tradition of not shirking from satirizing populist politics."