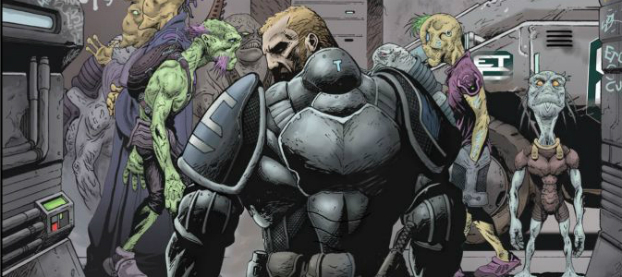 Dan Abnett has never met a pun he disliked, and the title of this series is one of his best. Grey Area is both a place where alien visitors to Earth, also known as 'greys' in popular culture, are kept away from the public, and a state of uncertainty and moral ambiguity in which it is far from clear what the motives of the aliens are and who, if any, are the bad guys. This is the series in a nutshell.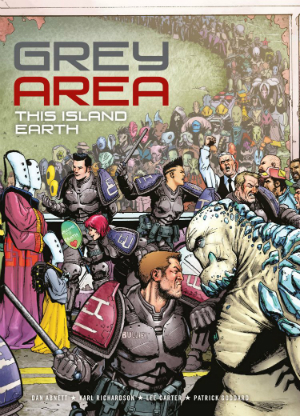 It is 2045 AD and aliens have contacted Earth, but any who wish to visit must undergo stringent checks in the Global Exo Segregation Zone, or 'Grey Area', in Arizona. This is because first contact, two decades ago, resulted in the accidental unleashing of a techno-virus that killed some humans and left others with uncanny abilities. These 'greeted' humans are despised and distrusted by most of the population, but their gifts make them invaluable in the Grey Area, where Exo Transfer Control or ETC officers work as a cross between riot control cops, customs officers, prison guards and diplomats.
Initially, our point of view character is Jana Birdy, an optimistic but naïve young ETC officer trying to survive her first week on the job. This device eases readers into the new world gently and permits exposition that doesn't come across as clunky or forced. It also allows us to discover the realities of the situation as Birdy does. Her superior, Adam Bulliet, is a somewhat jaded officer who has been working in the Grey Area — effectively, a giant slum full of bored and restless immigrants with opaque motives and conflicting desires — for years. Bulliet knows that not all aliens are hostile, but also recognises that cultural misunderstandings can lead to tragedy if not handled carefully.
Abnett uses some of these misunderstandings as an opportunity to deftly explore weighty themes like prejudice, bigotry and how to behave ethically in a changing world. Fortunately for the reader, he also mines interspecies relations for all the humour they can generate. One of the funniest examples is the aliens who kidnap Christian missionaries who are trying to bring the love of Jesus to them, because in their culture gods and all their followers are considered evil. The situation is eventually defused, but not without an entertaining amount of violence. (Most ETC officers seem to get into three firefights before their mid-morning coffee break.)
In this, as in many other cases, invaluable assistance is provided by Birdy's team-mate Kymn, one of the 'greeted' who can instantly understand and speak any language, human or alien. He has spent his entire life a victim of prejudice, which helps him empathise with the aliens he is helping or policing. His quiet, thoughtful attitude is in stark contrast to that of Feo, the final member of the squad (apart from its captain, Jansen), who is a down-to-earth woman with a robust sense of humour and a ready trigger finger.
Engaging characterisation helps to draw the reader into the series, as does the developing romantic relationship between Birdy and Bulliet, and the growing realisation that what seem to be a collection of 'case of the week' stories are in fact parts of a bigger whole. The world Abnett has created is a fantastic sandbox in which anything and everything can happen, from deadly battles to comedy through to slow, thoughtful meditations on how to treat strangers seeking sanctuary — however strange they may be.
The slick writing is coupled with the work of three of 2000 AD's most accomplished artists: Karl Richardson, whose work on the first episode sets the whole world of Grey Area in motion with effortless style; Lee Carter, who produces art with the hyper-real lucidity of a fever dream; and Patrick Goddard, whose punchy, kinetic lines are a perfect fit for a series where violence is never more than a couple of pages away.
This is a must-read series that should be pounced on by anyone seeking a fresh, original take on the 'aliens come to Earth' genre. However, sometimes the exposition provided for the benefit of readers of a weekly series feels redundant in a trade paperback where all the episodes can be consumed at one sitting. That minor niggle aside, Grey Area is one of the best series that 2000 AD has produced in the last decade, so this collection is definitely not to be missed.
Dan Annett (W), Karl Richardson, Lee Carter and Patrick Goddard (A), Ellie De Ville (L) •  Rebellion, £16.99
Review by Tony Ingram and Lucy McGough