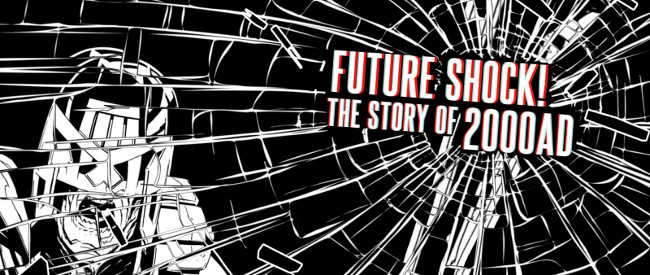 The other night m'learned friend Andy Oliver and I were at the BFI, on London's South Bank, for the European première of Future Shock! The Story of 2000 AD, presented as part of 'Days of Fear and Wonder', a major nationwide sci-fi season.
Directed by Paul Goodwin, Future Shock! is a documentary that tracks the ups and downs of the hugely influential British weekly comic, from its genesis in the social upheaval of 1970s Britain to its latest burst of life in a cross-platform, multimedia environment.
With contributions from a small army of notable creators, editors and prominent fans, the film traces the history and influence of the Galaxy's Greatest Comic over 36 often turbulent years. However, rather than giving us a dull chronological history lesson, the film breaks the story up into a number of 'chapters', each introduced with a spiky little interstitial sting – and all woven together by the incandescent, indefatigable energy of Pat Mills, who created the comic then and still writes for it now.
The film kicks off with a montage that lays bare the febrile social environment in which the comic came to be. 1977 was a landmark year in the UK in many ways; while the establishment was keen to wave the flag for the Queen's Silver Jubilee, punk was becoming the defining youth movement, promoting an agenda ranging from resistance to nihilism.
Against that backdrop, Pat Mills – still bruised from the neutering of his hard-edged Action comic – was tasked with putting together a title that might surf the wave of interest in science-fiction being generated by a wave of films led by that favourite of man-babies everywhere, Star Wars.
Mills roped in his former writing partner John Wagner, and the two developed a series of stories shot through with their taste for the irreverent, the political and the darkly humorous – the essential DNA that 2000 AD carries to this day.
Core creators of the time, including Mills, Wagner, Alan Grant, Brian Bolland and Kevin O'Neill, create a vivid picture of the new publication's suitably punky atmosphere. As Alan Grant summarises, "There were no rules written down. You just wrote or drew what you wanted to."
From there, the film takes us through some of the comic's ups and downs, including corporate shenanigans, censorship struggles, the shocking treatment of creators and their work, the exodus of talent to the US industry during the 'British Invasion' of the late 1980s/early 1990s and the comic's 'dark age' in the run-up to its takeover by a video game company, Rebellion, at the turn of the millennium and its subsequent renaissance under Matt Smith, its longest-standing editor.
It also has a look at how the comic has cast its influence over pop culture more widely, from blatant cinematic appropriations such as Hardware and Robocop to writers (Lauren Beukes and Alex Garland) and the music of artists as varied as Scott Ian (Anthrax) and Geoff Barrow (Portishead).
One of the strengths of the film is that it certainly isn't an uncritical hagiography: in one of its core sections, one-time Tharg David Bishop (1996-2000) is refreshingly candid about the mistakes he made during his watch, when he and his deputy (and successor) Andy Diggle tried to kick out the old guard (including Mills), only to have them kick back.
Considering that around 95% of the 105-minute film comprises middle-aged blokes talking to the camera (and the comic's historical gender imbalance is addressed), it maintains a great level of energy thanks to razor-sharp editing that creates amusing counterpoints between the participants – none moreso than the characteristic Pat Mills outburst that ends it.
Facing the perennial problem of how to make static comics pages "interesting" on screen, Zebra Post – who also created the adrenaline-pumping title sequence – do a nice job of subtly animating classic images from the comic. They don't go as far as making them 'cartoony', but use subtle parallax techniques and movement to create a real sense of depth and dynamism (backed up by a pulsating score by Justin Greaves).
The well-attended and well-received screening was followed by a Q&A with Paul Goodwin, producers Helen Mullane and Sean Hogan and familiar faces Pat Mills and Kevin O'Neill, hosted by writer and broadcaster Phelim O'Neill (no relation).
And while the producers gave a brief outline of how the film came to be and what they were hoping to achieve with it, the session was – naturally – dominated by Mills, still a raging force of nature into his 60s, with plenty to say about any subject thrown at him.
Its niche subject matter might prevent Future Shock! from getting a general release, but it's well worth keeping an eye out for screenings at conventions or other comics events. Funny, barbed and not afraid of controversy, it embodies a lot of the spirit and qualities of 2000 AD itself. It's a zarjaz testimonial to a comics institution that has survived and thrived while most of those around it have perished.
For further information on the film, future screenings etc, check out the Future Shock site or follow the film's producers on Twitter.