The Treasury of British Comics imprint from Rebellion Publishing demonstrates a welcome commitment to the rich comics heritage of this country. Producing reprints alongside original material featuring British comic characters from yesteryear (as well as some new creations that could fit within the tradition of the best of British comics), this imprint has produced a steady stream of trade collections as well as one-off specials over the last few years. The most recent of these is the Tammy & Jinty 2020 Special, which is well worth your time and attention and takes inspiration from classic British girls' comics Tammy and Jinty.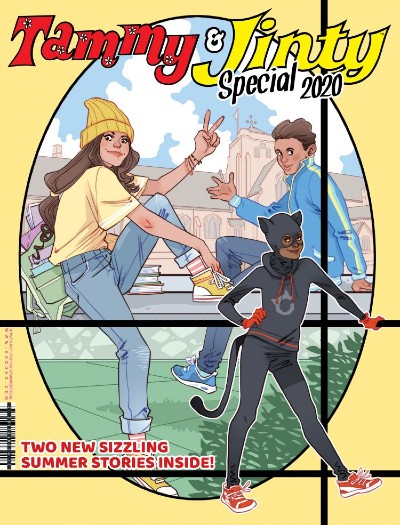 Eschewing the normal format for these one-off specials – a series of shorter strips – it instead contains two new longer format stories, a reprint from the heyday of British girls' comics (the first episode of Ping Pong Paula) and two features. It's a charming package that showcases what made British girls' comics so attractive to a multitude of readers back in the day; and by updating the characters and themes of those comics for a new audience what could still make those publications relevant and appealing. Here's Oliver Pickles (who co-edited the special with Keith Richardson) on the thinking behind this approach:
"The aim with this year's Tammy & Jinty was to create something that was less of a broad anthology representing the breadth of the titles published in the classic issues of Tammy and Jinty," he explains. "It's more like a springboard or a pilot issue for a restarting of the title. We wanted longer stories to give the readers more to get their teeth into, but that meant we had to reduce the number of stories in the magazine.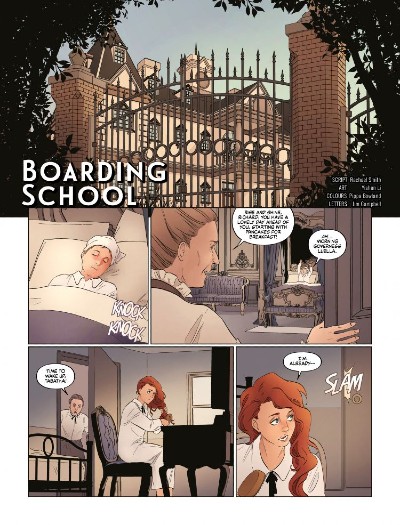 "The first, Boarding School by Rachael Smith and Yishan Li, isn't a continuation of any stories that were published in the original run. It is completely new, but if Tammy & Jinty had been continued to be published (and updated) through to 2020 then Boarding School would fit right in."
Boarding School's story elements are certainly reminiscent of those that you might find in a British girls' comic, with its disenfranchised youngsters, school setting, general weirdness and intimations of a mystery to be solved. There's nothing old-fashioned about this strip though, which remixes those elements effectively due to a sharply written and entertaining script and sublime art throughout.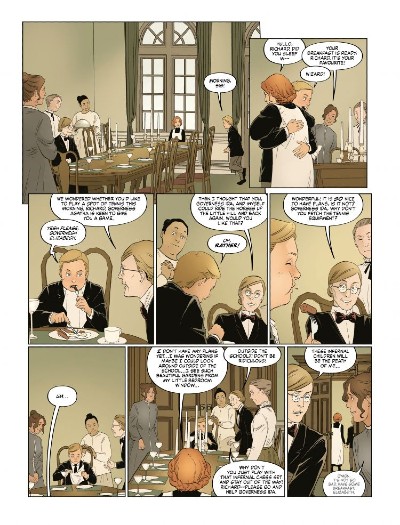 "Cat Girl Returns is the second half of this magazine," Pickles continues, "and while the character of Cat Girl appeared in 1970 this is a complete update of the character by Ramzee and Elkys Nova. I think the Cat Girl that Ramzee and Elkys have created would make a great centrepiece to any future anthology or even being the star in her own comic."
For the writer, Ramzee, getting to work on a classic British comics character of yesteryear involved a certain amount of research.
"When I was invited to pitch for the special I immediately hit up the internet. The Jinty Comic WordPress as well as Lew Stringer's blog were incredibly helpful as a lot of the comics are no longer in print."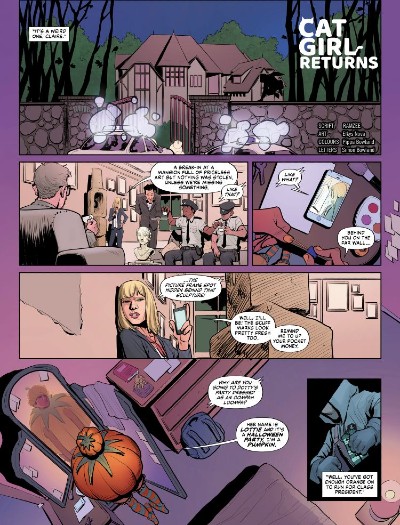 Cat Girl Returns is a furious, fun, action-packed superhero story."Teenager Claire Carter finds an old cat costume in her mother's wardrobe and wears it to social media star Lottie Rose's party," Ramzee explains, "unaware that she has just donned the magical mantle of the super-sleek crime fighter, Cat Girl! Whilst across town, her Police Detective mother is investigating the mystery of a thief who is targeting the city's most wealthy, their next target being Lottie Rose!"
Heroism ensues when the party becomes the scene of a heist and Claire is forced to step (leap?) into action. This high-octane outing shows that the newly revamped Cat Girl has a lot of potential and while this story is self-contained, it could easily be the launchpad for a whole new series of stories.
"I am brimming with lots of fun ideas for more," says Ramzee, "so watch this space!"
His current concept for Cat Girl, meanwhile, has included giving her a bit more of a 21st century spin.
"I was struck by the lack of girls of colour in British Girls comics in general, so obviously if you're going to make girls comics in 2020 you'll need to rectify that. I was excited by the idea of the new Cat Girl being a biracial girl who inherits the Cat Girl mantle by accident from the original Cat Girl – her mum."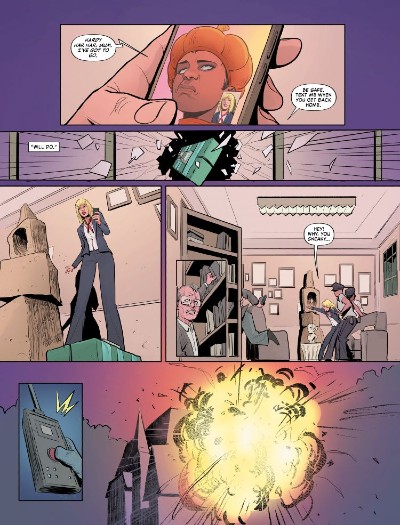 Artist Elkys Nova would also relish the chance to return to the character of Cat Girl:
"I feel very grateful for the opportunity to work on this comic strip," Nova says, "It's helped me a lot [in terms of improving my craft.]"
"Elkys' art really gives it a modern cartoony digital aesthetic compared to the more figurative, brushwork art of the original strip," says Ramzee, "[while] Pippa [Bowland]'s lush and vibrant colours really make the art pop whilst creating an engaging atmosphere."

The two features (one on writer Alison Fitt and one on Cat Girl artist, Giorgio Giorgetti) and the reprint strip which sit alongside the new strips give an interesting insight into British comics history.
"The reprint of Ping-Pong Paula is connected to the Alison Fitt feature," explains Oliver Pickles, "She wrote many stories for Tammy and Jinty and we wanted to get her perspective on what writing for comics was like back in the Seventies and Eighties. You must remember that British comics rarely credited the creative teams back in those days, and it is important to shine a light on people who previously received little recognition. The story of Ping-Pong Paula was a highlight for her and we were more than pleased to be able to reprint it to run alongside her feature. For the Giorgio Giorgetti feature, we did want a piece on Cat Girl but did not want to reprint the classic strip alongside the 2020 version. Karl Stock was able to interview Giorgio Giorgetti's son, Riccardo, and the feature grew from just being about Cat Girl to encompassing many aspects of Giorgio's long and fascinating life and career."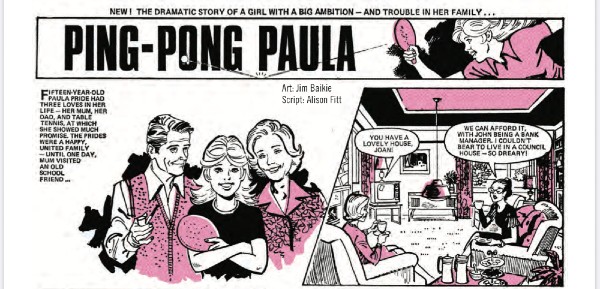 All in all, then, the Tammy & Jinty 2020 Special is a fantastic package, not just because of its appeal to those, like me, who have an interest British comics history, but because it contains a winning mixture of fun-packed comics and fascinating features.
Feature by Matt Badham