Rebellion have certainly been stepping up to the plate recently when it comes to announcing larger format archive editions of classic work. Sláine: The Horned God is the latest pivotal 2000 AD series to get the treatment. Full details in the press release below.
Sláine: The Horned God Anniversary Edition announced – oversized & with new scans!
A new edition of one of the most influential graphic novels ever – in incredible detail and at a scale never before seen! Sláine: The Horned God Anniversary Edition is coming in 2024.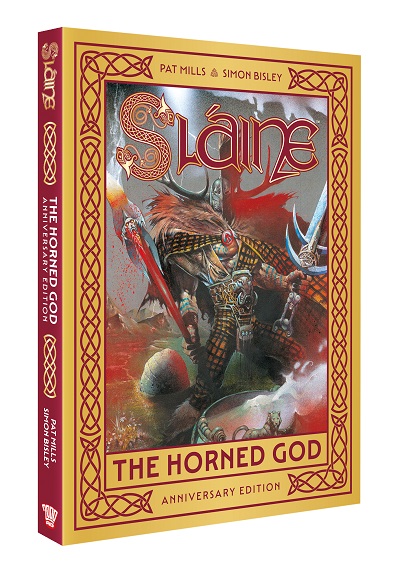 Timed to coincide with the 35th anniversary of its first publication in 2000 AD in 1989, this new edition of Pat Mills and Simon Bisley's groundbreaking and best-selling collection will feature brand new scans – meaning readers will be able to see its fully-painted art in unprecedented new detail.
Measuring 355mm by 270mm, the 208-page paperback Sláine: The Horned God Anniversary Edition will arrive in stores in May 2024.
Rebellion is also delighted to announce the Sláine: The Horned God Anniversary Edition Slipcase. Available exclusively through the 2000 AD webshop and also measuring 355mm by 270mm, this boxset will feature the three books of 'The Horned God' in separate hardcovers, housed in a stunning slipcase covered with Celtic motifs and the 'S' from the original Sláine logo that featured in Pat Mills and artist Angie Kincaid's first story in 1983.
This promises to be a unique collection: both editions will be produced using pages scanned from the original film, housed in the 2000 AD archive, and will also be printed at a size that more closely matches Bisley's original artwork – giving readers the opportunity to see the greatest Sláine epic in unmatched detail.
'The Horned God' is the definitive Sláine storyline, its appearance in the pages of 2000 AD in three instalments between 1989 and 1990 marked a creative high-point for the comic, and the work inspired artists for generations with its incredible painted scenes of epic battles evoking the work of Frank Frazetta but in the medium of comic art.
Celebrating its 40th anniversary this summer, this heady mix of Celtic mythology, barbed anti-authoritarian politics, and extreme violence combined Mills' fascinating characters and saga-like storytelling with Bisley's incredible artwork. It sparked a revolution in sequential comic books and spawned a multitude of imitators – yet even after three and a half decades, their masterpiece is as fresh and startling as it was when it was first published as a weekly serial.
Sláine is a wandering warrior cast out from his tribe and wandering the mist-wreathed realm of Tír na nÓg, the 'Land of the Young', with his duplicitous dwarf, Ukko. This deluxe collector's edition returns us to this ancient land, suffering under the dominion of the Drunes; strange druids who have poisoned the land with their magic. Sláine has had enough of their tyranny and, through the Earth Goddess, he learns some shocking truths about the priesthood and his own future. Now Sláine must unite the four kings of Tír na nÓg and use their mystical weapons as he and the Sessair tribe prepare for all-out war!
With brand new scans and in its oversized format, Sláine: The Horned God Anniversary Edition promises to bring one of comics' greatest sagas to live in a way never before seen!
About the creators:
Pat Mills' writing and editorial career started in Dundee, working for D.C. Thomson on the teenage romance magazine Romeo. Later he went freelance and started a long relationship with IPC Magazines, initially writing for girl's titles like Tammy, Pink and Sandy. He then worked with Malcolm Shaw on devising Jinty before moving over to rejuvenate boy's comics. He created Battle (with John Wagner), Action, Misty and 2000 AD. Other notable works include Marshal Law, 'Third World War' in Crisis, and Requiem Vampire Knight.
Simon Bisley occupies an almost unique place in 2000 AD history as one of the first UK artists to popularise the fully painted style. His highly dynamic artwork made his two major series in the Galaxy's Greatest Comic — A.B.C. Warriors: 'The Black Hole' and Sláine: 'The Horned God'. He also illustrated 'Heavy Metal Dredd' before going on to paint the hugely successful first Batman/Judge Dredd crossover story 'Judgement on Gotham'. Bisley has provided countless pin-ups and short pieces across an astonishing variety of comics, from legendary fantasy anthology Heavy Metal to anarchic DC superhero series Lobo, and has an even more extensive CV in Europe, where his painted style enjoys enormous success.