While the end of the year is still a few weeks off Rebellion are thinking ahead to their 2019 graphic novel/collections publishing schedule and have shared their plans today for both their 2000 AD books and their Treasury of British Comics reprint volumes.
For fans of classic British comics there's plenty here to virtually salivate over including Baxendale, Reid, more Misty and Battle volumes, and the return of a certain Blake Edmonds from the Tiger and latterly Eagle 'Death Wish' strip. Full details below…
JANUARY 2019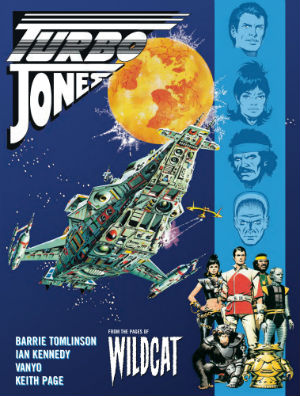 Wildcat Vol. 1 – Turbo Jones
Treasury of British Comics
10/01/2019
Paperback
£14.99
9781781086650
Barrie Tomlinson, John Sanders (w) Ian Kennedy, Vanyo (a)
Post-Earth pulp space opera of discovery and adventure! In 2488 Earth history professor, Turbo Jones predicted that the planet would be destroyed in 2500 by a vast meteoroid storm. Ridiculed by the world's leaders, Turbo spent the next twelve years constructing a huge spaceship and employing a group of volunteers to help him leave the Earth and find a new home in the stars… After months in space, Turbo and his senior staff including former mercenary Loner, the mysterious Kitten Magee and the last survivor of Xgangbe-4, Joe Alien, have found a potential new home.  Now they need to get down onto the planet and make sure that it is safe for the five hundred colonists and livestock aboard the Wildcat. From the pages of best-selling British comic, Wildcat, this collection features art and design by legendary artist Ian Kennedy (2000 AD, Commando, Dan Dare) and is perfect for fans of Guardians of the Galaxy, Star Wars and Battlestar Galactica!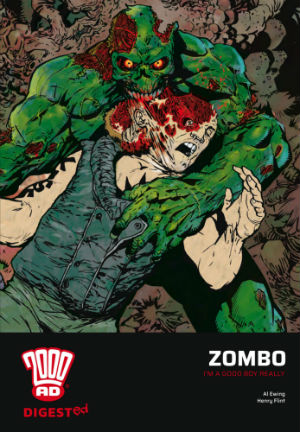 Zombo – 2000 AD Digest
2000 AD
24/01/2019
Paperback Digest
£6.99 // $9.99
9781781086704
Al Ewing (w) Henry Flint (a)
An all-new digest sized edition of the riotous and hilarious sci-fi horror comedy about a polite bio-weapon zombie! When flight 303 crash-lands on the lethal death-world known as Chronos, all is not looking well for the surviving passengers. Enter Zombo, a top secret government experiment – part zombie, part human ghoul, with a taste for living flesh and aspirations of pop stardom! This low-priced introductory edition is perfect for fans of The Walking Dead and Marvel Zombies. It collects 'Zombo', 'Merry Christmas Mr. Zombo' & 'Zombo's Eleven' includes bonus one page 'Tharg's Alien Invasions' strips by Henry Flint, all written by Marvel superstar Al Ewing (Loki: Agent Of Asgard, Mighty Avengers)!
FEBRUARY 2019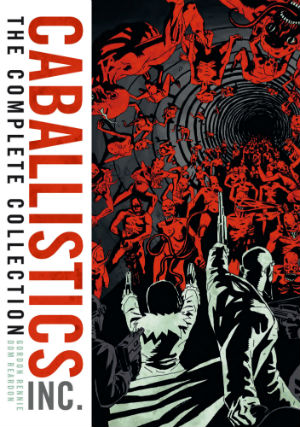 The Complete Caballistics Inc.
2000 AD
21/02/2019
Paperback
£19.99 // $24.99
9781781086957
Gordon Rennie (w) Dom Reardon (a)
The complete collection of the cult horror classic from the pages of 2000 AD! During the Second World War a department was formed within the Ministry of Defence to combat Nazi occult warfare. In the 21st century, however, it has long outlived its usefulness and its funding is scrapped. Enter reclusive millionaire rock star Ethan Kostabi, who has brought up its employees and, together with a handful of freelance ghosthunters, constructed a brand new outfit – Caballistics, Inc. But the forces of the supernatural are not the only enemies that this disparate group have to tackle, for within the heart of Caballistics, Inc. are dangerous secrets that threaten to tear the organisation apart… HP Lovecraft meets Alasdair Crowley by way of the X-Files, 2000 AD legend Gordon Rennie weaves a terrifying contemporary horror story for fans of Hellboy, Hellblazer, Lock & Key, and the motion picture Dawn of the Dead, with spookily gothic black and white artwork from James Bond artist Dom Reardon.
MARCH 2019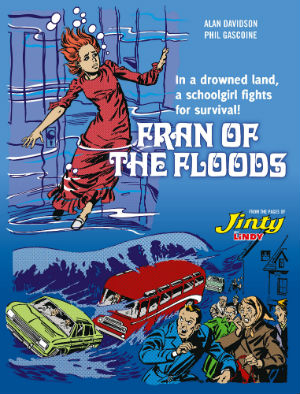 Fran of the Floods 
Treasury of British Comics
21/03/2019
Paperback
£12.99
9781781086728
Alan Davidson (w) Phil Gascoine (a)
Science fiction comics of ecological disaster and survival from the pages of legendary comic Jinty! Due to increased climate change, the sun starts to melt the ice caps and evaporates the world's oceans, causing an onslaught of never ending rain. At first young Hazelford resident, Fran Scott, finds the whole thing amusing, but as the town begins to disappear underwater, the desperation of her predicament becomes all too clear. After losing her parents in the chaos, Fran decides to seek out her sister June, who recently moved to Scotland. But as the situation gets worse and society begins to crumble around her, Fran must overcome a vast array of dangers, including disease, wild animals, marauding gangs of vicious thugs and most bizarre of all, the self-proclaimed King of Glasgow!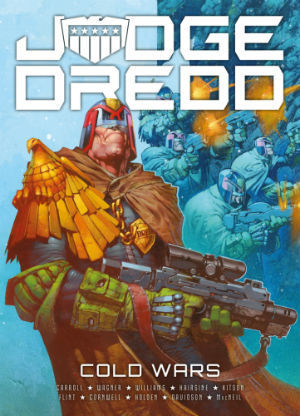 Judge Dredd: Cold Wars
2000 AD
07/03/2019
Paperback
£14.99 // $19.99
9781781086940
Michael Carroll, Rob William s, John Wagner (w) Trevor Hairsine , Dan Cornwell, Paul Davidson, Colin MacNeil (a)
The timely and critically acclaimed brand-new collection featuring Judge Dredd's latest thrilling adventures! After returning from a mission into Sov territory, Judge Dredd finds himself at odds with fellow veterans of another past conflict – The Apocalypse War. Under orders from the Justice Department, Dredd returns to the depths of Siberia where things start to go wrong… even his training and iron will might not be enough against the bitter cold, angry mutants and the echoes of past conflicts! Re-awakening the Cold War, this prescient satire on current events viewed through the lense of Dredd's world is written by legendary 2000 AD creators Michael Carroll (Every Empire Falls, Judges), Rob Williams (Trifecta, Doctor Who) and Dredd co-creator John Wagner, and features breath-taking art by 2000 AD icons Trevor Hairsine (Cla$$War), Dan Cornwell (Rok of the Reds), Paul Davidson (Moon Knight), and Colin MacNeil (Wolverine)
APRIL 2019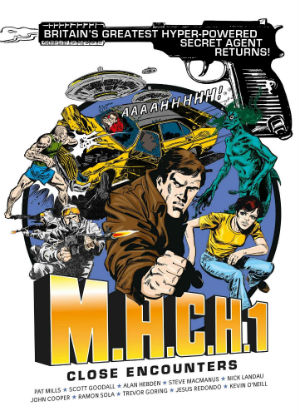 M.A.C.H.1: Close Encounters
Treasury of British Comics
18/04/2019
Paperback
£16.99
9781781086742
Pat Mills, Alan Hebden, Steve MacManus, John Cooper, Jesus Redondo, Kevin O'Neill, Scott Goodall, Roy Preston, Nick Landau, Mike Lake, Gary Rice (w) Marzal Canos, Ramon Sola, Montero, Trevor Goring, Garry Leach, Mike Donaldson, Mike Dorey (a)
Super-spy action thrills in 2000 AD's answer to James Bond and The 6 Million Dollar Man! When terrorists, super-weapons and other-worldly forces plot destruction, the British Secret Service need John Probe – their number one super-agent. But when Probe begins to question the motives of his superiors and the ruthless logic of his cybernetic brain, he finds the service has dark secrets up its sleeve… including failed prototype, M.A.C.H. Zero! The agency will find out what happens when they try to control Men Activated by Compu-Puncture Hyperpower!
This volume collects the explosive finale of 2000 AD's super-spy thriller and the M.A.C.H. Zero spin-off story!
MAY 2019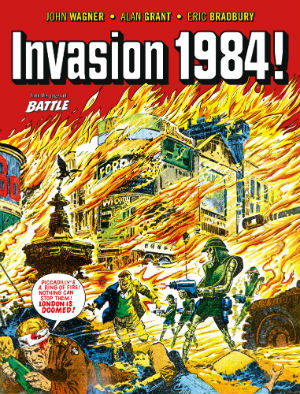 Invasion 1984
Treasury of British Comics
02/05/2019
Paperback
£14.99
9781781086759
John Wagner, Alan Grant (w) Eric Bradbury (a)
British comics' take on War of the Worlds beams down for some classic comics carnage! 1984. Skeletal-looking alien warriors have invaded the Earth, bringing many large cities like London to the brink of total destruction! Taken by surprise, mankind must now dig deep to survive! In Britain the tough-as-boots military outfit known as Storm Squad mount the fightback against the 'Spooks' while professor Ed Lomax looks into a way of permanently ridding the plant of this unearthly foe for good! A complete graphic novel story of British pluck in the face of alien invasion as combat collides with cosmic terror – never reprinted outside the original newsstand magazine Battle Picture Weekly, a legendary comic that influenced a generation of creators including Garth Ennis (Preacher). Includes five never-remastered colour pages reinstated in their original form.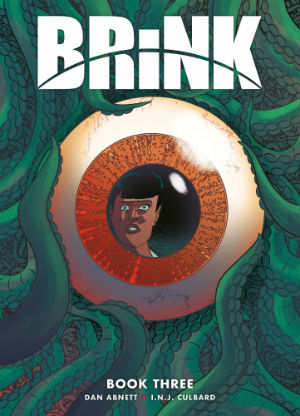 Brink Vol. 3
2000 AD
16/05/2019
Paperback
£9.99 // $12.99
9781781086766
Dan Abnett (w) INJ Culbard (a)
Inspector Bridget Curtis is drawn deeper into a disturbing plot that runs from the drug-fuelled sects of the Habitats, to the upper echelons of Junot Corp. Strange things are happening, but is the conspiracy real, or is life in space beginning to affect her sanity? The reality of sinister Space Gods aside, the fate of the human race may be at stake! 'True Detective' in space – atmospheric Sci-Fi world-building from renowned creators Dan Abnett and INJ Culbard that mixes The Expanse with Event Horizon.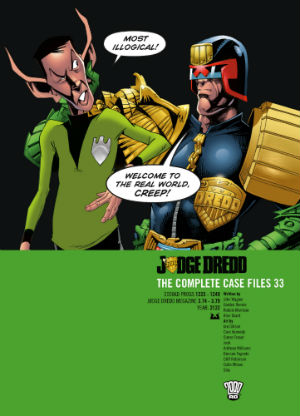 Judge Dredd Case Files 33
2000 AD
30/05/2019
Paperback
£19.99
9781781086773
John Wagner, Alan Grant, Robbie Morrison, Andy Diggle, Gordon Rennie (w) Ian Gibson, Anthony Williams, Duncan Fegredo, Simon Fraser, Richard Elson, Jock, PJ Holden, Cam Kennedy, Colin Wilsom, Siku, Will Simpson, Staz Johnson, Patrick Goddard (a)
Mega-City One – a nightmarish enclosure located along the Eastern Seaboard of North America. Only the Judges – powerful law enforcers supporting the despotic Justice Department – can stop total anarchy running rife on the crime-ridden streets. Toughest of them all is Judge Dredd – he is the law and these are his stories… Judge Dredd's single-minded pursuit of law comes into conflict with the more clandestine forces of the Hall of Justice, including an assassin under orders of the Chief Judge! The latest in the smash-hit, best-selling graphic novel series features action-packed stories from some of 2000 AD's very best, including Jock (Batman), Duncan Fegredo (Hellboy, Star Wars), Ian Gibson (Halo Jones) and Simon Fraser (Doctor Who)!
JUNE 2019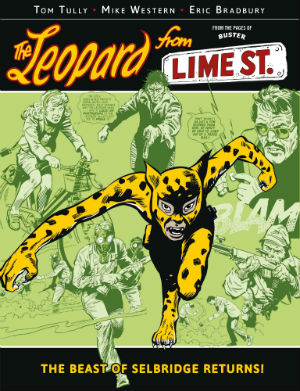 The Leopard From Lime Street Volume 2
Treasury of British Comics
13/06/2019
Paperback
£14.99
9781781086780
Tom Tully (w) Eric Bradbury, Mike Western (a)
The 'UK's answer to Spider-Man' returns in the second collection of this long lost classic from the hugely popular and long running Buster comic. After being scratched by a radioactive leopard, Billy Farmer discovered that he had somehow developed the powers of the mighty jungle cat. Life is getting tougher for Selbridge's premier crime-fighter. The criminals are getting tougher, his the local newspaper editor is out for his blood and now his new leopard skin costume is turning him into a savage beast! To make matters worse, a girl from his school suspects his true identity! Is this the end for the Leopard from Lime Street…?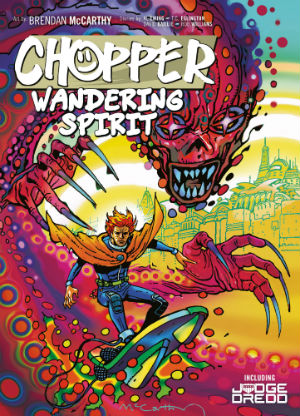 Chopper: Wandering Spirit
2000 AD
13/06/2019
Paperback
£9.99 // $12.99
9781781087237
Al Ewing, TC Eglington, David Baillie, Rob Williams (w) Brendan McCarthy (a)
The return of fan-favourite skysurfing delinquent in an original story by comic superstars! The Oz Radback, 2140 AD. Legendary Mega-city skysurfer Marlon Shakespeare has retired to Oz, where he has been living a trouble-free life. But when he goes in pursuit of the mutants that kidnapped his friend Wally during a radstorm, the ageing skysurfer gets far more trouble than he bargained for! This book collects the latest adventure of Mega-City One's greatest skysurfer. Written by David Bailie (Red Thorn) and illustrated in psychedelic splendour by Mad Max: Fury Road co-writer Brendan McCarthy, this collection also include other strips by McCarthy written by Rob Willaims (Suicide Squad) and Al Ewing (The Incredible Hulk).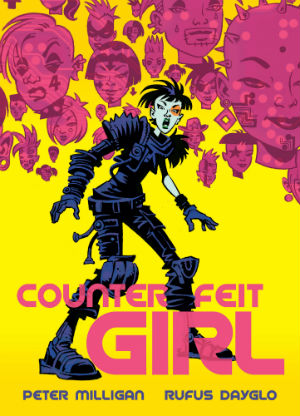 Counterfeit Girl
2000 AD
27/06/2019
Paperback
£9.99 // $12.99
9781781087244
Peter Milligan (w) Rufus Dayglo (a)
A dystopian cyberpunk thriller of identity theft, sentient diseases and fake news! In a city ruled by the multinational corporations, identity is crucial — no one can get anywhere without being monitored, logged, and status-checked. Fortunately for some, if a new I.D. is needed, there are 'simmers' — backstreet I.D. thieves that can create new personas by stealing the identities of others. Libra Kelly is a simmer with an axe to grind, doing jobs that cause trouble for the corporations free of charge, but soon finds herself stuck with a terminally diseased I.D. and a price on her head. A bright, original graphic novel – one of the most daring new series to emerge from the pages of 2000 AD in recent years – perfect for fans of dystopian grime of pop culture icons Akira, Hackers, The Matrix, Blade Runner, The True Lives of the Fabulous Killjoys. Written by industry legend Peter Milligan (X-Statix, Shade The Changing Man) and illustrated by Rufus Dayglo (Tank Girl, The Last Gang In Town)
JULY 2019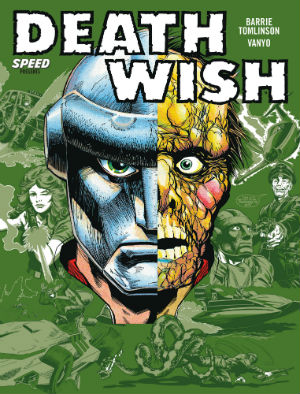 Deathwish Volume 1: Best Wishes
Treasury of British Comics
11/07/2019
Paperback
£14.99
9781781086803
Barry Tomlinson (w) Vanyo (a)
Evel Knievel meets the Phantom of the Opera in the original Fast and the Furious – he's the greatest daredevil of them all because he doesn't care if he lives or dies! Blake Edmonds had it all – fame, money, looks… and then the world-famous F1 driver suffered a terrible accident which left him hideously disfigured. Fashioning a mask to hide his terrible visage, Edmonds has taken on a new career as a stuntman, flirting with death on a regular basis. Adrenaline-fuelled action comics from the Treasury of British Comics vault, never reprinted outside the original newsstand magazine Speed! Collects the complete Death Wish run from Speed, mashing together the '70s F1 wave of popularity with a macabre, uncanny horror and visceral action, Death Wish was a hit across the nation.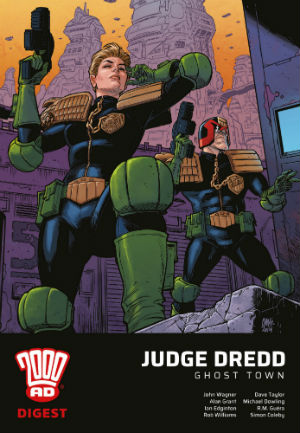 Judge Dredd: Ghost Town – 2000 AD Digest
25/07/2019
Paperback Digest
£6.99 // $9.99
9781781087251
John Wagner, Alan Grant, Rob Williams (w) R.M. Guerra, Simon Coleby, Dave Taylor, Michael Dowling (a)
Mega-City One, 2135 AD. After the destruction wrought by the Chaos Bug with most of the city in ruins, a decimated Justice Department is struggling to cope. With disease, corruption, and looting rife, there are some that seek to take advantage of the city's condition, including dangerous psychic, Algol Rey. Judge Dredd and Psi-Judge Anderson have survived, but after all the violence and horror, can they bring order back to a damaged city? Their limits as Judges are put to the test! Written by comics legends and Judge Dredd co-creators John Wagner and Alan Grant along with modern masters Rob Williams (Suicide Squad) and Ian Edginton (Brass Sun)! Part of the new 2000 AD Digest line – bringing classic storylines to a brand new audience, for a low price. Illustrated by Vertigo and Image comics master R.M. Guerra (Scalped, The Goddamned), Simon Coleby (Cla$$war), Dave Taylor (Doctor Who) and Michael Dowling (Death Sentence, Unfollow)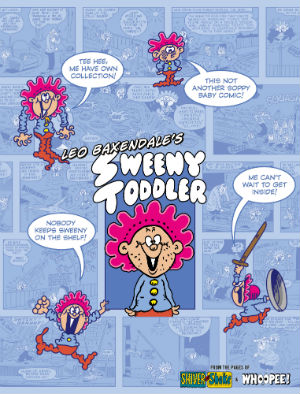 Leo Baxendale's Sweeney Toddler
Treasury of British Comics
25/07/2019
Hardcover
£14.99
9781781087268
Leo Baxendale (w+a)
Sweeny Toddler was his greatest creation for IPC – a two-year-old terror who manages to cause mayhem from beyond his pram and cot! This collection bring together all of Baxendale's Sweeny Toddler strips from Shiver and Shake and Whoopee! And includes an introduction from long-time Baxendale fan, Lew Stringer. One of the most highly-regarded cartoonists in British comics, Leo Baxendale has been responsible for creating many classic strips, including Minnie the Minx and The Bash Street Kids. Includes x 6 colour pages completely re-mastered from the original work and re-instated in this luxury format. Perfect for Beano and Dandy annual collectors, classic humour strip nostalgists, fans of Calvin and Hobbes, as well as previous Treasury humour titles Creepy Creations and Faceache!
AUGUST 2019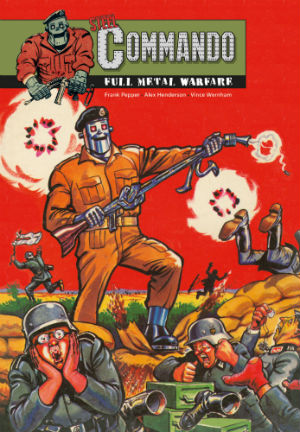 Best of Steel Commando – Rebellion Digest
Treasury of British Comics
22/08/2019
Paperback Digest
£6.99
9781781086810
Frank Pepper (w) Alex Henderson, Vince Wernham (a)
Classic adventure combat comic receives the Digest Rebellion treatment! Developed by British scientists in WW2, the Steel Commando was created to become a thorn in the side of the Axis powers. Due to a programming glitch, however, he would only take orders from Ernie Bates – an individual widely regarded as being the laziest soldier in the British army! The first Treasury of British comics title to be printed in the Digest size – accessible stories at low price points – this is perfect for fans of the pulp science fiction titles like Von Hoffman's Invasion and Ant Wars or Rebellion's best-selling omnibus editions of combat comics Charley's War. Created by legends of British Comics, these stories have never before been reprinted beyond their original newsstand magazine appearances.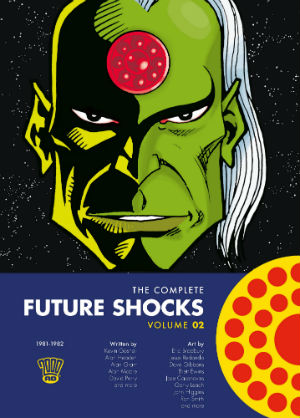 The Complete Future Shocks Vol. 02
2000 AD
08/08/2019
Paperback
£19.99 // $24.99
9781781086834
Alan Moore, Kelvin Gosnell, Alan Hebden, Steve Moore, Chris Stevens, Alan Grant, David Perry, Peter Milligan, Roy Preston, Chris Lowder, Steve MacManus, John Wagner, M Feekins, Oleh Stepaniuk, Gary Rice, Kev F Sutherland (w) Kevin O'Neill, Brendan McCarthy, Eric Bradbury, Colin Wilson, Jesus Redondo, Garry Leach, Mike White, Alan Langford, Anthony Jozwiak, Johnny Johnstone, Paul Neary, Jose Casanovas, Ron Tiner, John Higgins, Dave Gibbons, Robin Smith, Brett Ewins, Jim Eldridge, Steve Hatton, Cliff Robinson, Mones, Mike Collins, Mark Farmer, Steve Hatton, Jeff Anderson, Zacarra, Ian Gibson, Massimo Belardinelli, Tony O'Donnell, John Ridgway, Jose Ortiz, Geoff Senior, Brendan McCarthy, Mike McMahon, Alan Davis, Trevor Goring, Marzal Canos, Jose Luis Ferrer, Rob Moran, Alan Craddock, N. Neocleous, Steve Kyte (a) 
Tharg's Future Shocks are one-off, twist ending, sci-fi thrills that have introduced many of the biggest names in the comic book industry through the pages of 2000 AD. The complete collection of mind-bending one-off sci-fi stories from The Galaxy's Greatest Comic continues into the 1980s with the second volume of Tharg's Futureshocks! Featuring early work by creators that went on to engrave their names into comics history, including Alan Moore, Brett Ewins, Colin Wilson, Dave Gibbons and Mick McMahon. The all-time greatest selection of the ground-breaking graphic short stories which were the backbone of the UKs best-selling comic 2000 AD. Featuring comic book industry royalty Alan Moore (Watchmen), Dave Gibbons (Kingsman) and Brian Bolland (The Killing Joke) in the place that their careers began! Featuring 320 pages of the finest science-fiction comics ever produced – including never-before-reprinted strips and rare artwork.
SEPTEMBER 2019
Wildcat Vol. 2 – Loner
Treasury of British Comics
Paperback
9781781086841
Barrie Tomlinson, John Sanders (w) Eric Bradbury, David Pugh (a)
Wandering through a hostile alien landscape, Loner desperately searches for a new habitat for mankind – but his desperate search for civilisation's new home comes at a price! Evoking the madness of classic Silver Age comics, this Alice in Wonderland absurdist sci-fi ran alongside Turbo Jones, Kitten McGee, and Joe Alien as part of the incredible inter-comics crossover Wildcat from the 1980s.
Grey Area, Book Two
2000 AD
Paperback
9781781086865
Dan Abnett (w) Mark Harrison (a)
"One of the best series that 2000 AD has produced in the last decade" – Broken Frontier
In 2145, Earth has a heavily armed defence network and any extraterrestrial arrivals are housed in the Exo Segregation Zone, known as the GREY AREA, which is policed by squads of Exo Transfer Control officers like Captain Adam Bulliet and his team — wife Birdy, linguist Kymn, weapons expert Feo, and alien transfer Resting Bitch Face. On-the-nose political satire and high octane SF action from master writer Dan Abnett!
Judge Dredd: The Small House
2000 AD
5/9/2019
Paperback
9781781087411
Rob Williams (w) Henry Flint (a)
"The best I've read in years" – Bryan Hitch. "Rob and Henry at the peak of their powers" – Al Ewing. "One of the best runs ever. This is special." – Mark Millar. One of the most critically-acclaimed and fan-lauded Judge Dredd stories of recent times, The Small House sees Judge Dredd finally face off against the nefarious Judge Smiley, Mega-City One's behind-the-scenes manipulator – who will be left standing at the end?
OCTOBER 2019
Doctor Mesmer's Revenge
Treasury of British Comics
Paperback
9781781086872
Donne Avenell (w) Carlos Cruz (a)
From the pages of Lion and Thunder, when thieves stole a number of ancient Egyptian relics from him, the mysterious Doctor Mesmer revived an ancient Egyptian mummy named Angor to help him retrieve his prized collection. Using a miniature statuette to control his unearthly minions, Mesmer's ruthlessness in taking back his property soon turns him into a wanted criminal. Hammer Horror meets Doomlord in this gem from the 1970s!
Absalom Volume 3 
2000 AD
Paperback
9781781086889
Gordon Rennie (w) Tiernan Trevallion (a)
Dying of cancer, old-school demon-hunting copper Harry Absalom enforces The Accord between the English crown and the forces of Hell. Defiant, obnoxious but cunning as a fox, Absalom is in a race against time to find his grandchildren, who are being held hostage by infernal powers to keep him in line. This is Hellboy meets The Sweeney, and there's hell to pay in the final volume of Gordon Rennie and Tiernan Trevallion's infernal cop!
Misty Presents: The Art of Jordi Badía Romero
Treasury of British Comics
Hardcover
9781781086896
Jordi Badía Romero, Enrique Badía Romero (a)
Celebrating the incredible art of Jordi Badía Romero from supernatural girls comic Misty, this sumptuous hardcover art book collects stories from the 1980s that showcase this remarkable, and criminally–overlooked, artist who died in 1984. The book also includes work by his brother, Enrique Badía Romero
NOVEMBER 2019
Judge Dredd: The Complete Case Files 34
2000 AD
Paperback
9781781086919
Garth Ennis, Gordon Rennie, John Wagner, Robbie Morrison, Alan Grant, Andy Diggle (w) Carlos Ezquerra, Henry Flint, Adrian Bamforth, Cliff Robinson, Ian Gibson, John Burns, Jock, Peter Doherty, Paul Marshall, PJ Holden, Robert McCallum, Cam Kennedy, Richard Elson,  Frazer Irving, Paul Marshall, Wayne Reynolds (a)
The best-selling series continues with more of Judge Dredd's cases! In Helter Skelter by Preacher writer Garth Ennis, Dredd finds himself pursued by ghosts and demons from his own past as the walls between dimensions collapse, unleashing Dredd's vilest villains on the city! And an assassin is taking out anti-Justice Department figures – but is it at the behest of the Chief Judge herself?
Bella at the Bar Vol. 2
Treasury of British Comics
Paperback
9781781086797
Jenny McDade, Primrose Cummings, John Wagner, Malcolm Shaw (w) John Armstrong (a)
No sooner had Bella achieved her dream of becoming a gymnast that it was cruelly snatched away – crippled by a back injury, Bella must recover if she is to compete again! But her aunt and uncle prefer the support cash she receives, and so she must heal in secret! This volume continues the collections of this seminal girls comic of the 1980s.
Battle Presents: Operation Overlord
Treasury of British Comics
Paperback
9781781087343
Michael le Galli, Bruno Falba (w) Davide Fabbri (a)
On June 6, 1944 land 14,000 Allied paratroopers of the US 82nd Airborne Division in the hinterland of the beach section Utah Beach and conquer the town of Sainte-Mère-Église. This action became known as the beginning of Operation Overlord. Among the fighters are five American soldiers – each with his own story, dreams, and motivations. Everyone experiences the horrors of war in their own way and none of them will return home. This translation of the French comic book brings one of the most spectacular military operations in history to life.
DECEMBER 2019
Ken Reid – World Wide Weirdies Vol. 1
Treasury of British Comics
Hardcover
9781781086926
Ken Reid (a)
Following 2018's collection of Ken Reid's Creepy creations, World Wide Weirdies collects the almost weekly run of Reid's bizarre and inventive illustrations from IPC's Whoopee! and Shiver and Shake. Usually displayed in colour on the back cover, they are among the most striking images to have appeared in British comics. Based on ideas submitted by readers, they need to be seen to be believed. This stunning hardcover will collect the whole run from 1974 to 1978.
The Dark Judges: The Fall of Deadworld Vol. 2
2000 AD
Hardcover
Kek-W (w) Dave Kendall (a)
9781781086933
Deadworld was once a planet similar to Earth… until Judge Death and his lieutenants Fear, Fire and Mortis declared all life a crime. As the Dark Judges set out to bring extinction to their world, Judge Fairfax and a family of farmers attempt to escape the chaos. But when Fairfax is captured, young Jess launches into a desperate bid to free him and maybe, just maybe escape the clutches of the Dark Judges!