In the ongoing epic of the life of Dredd, Case Files #7 is a quiet but remarkably solid collection that switches from straight action to smart satire at the snap of a finger.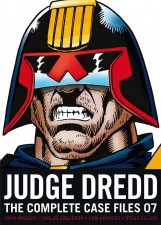 In Simon & Schuster's latest 2000 AD release for the US market, there's not a mega-epic in sight – which, for once, is a good thing.
While they undoubtedly have their attractions, the mega-epics like Day Of Chaos or The Judge Child meander quite a bit, overwhelming the reader with high body counts, major shake-ups in the status quo, the deaths of popular characters etc.
But there's another type of beauty altogether in Dredd's short stories and one-offs. Away from all the splendour of high-octane testosterone-fuelled action, the smaller tales showcase the versatility of Dredd's apocalyptic fascistic universe by telling stories in multiple genres, including slapstick, satire and horror.
And Judge Dredd Case Files #7 is just chock full of one brilliant tale after another.
Collecting stories from Progs 322 to 375 (1983-84), all of these tales are written by John Wagner and Alan Grant, and their collaboration is as smooth as ever. Most of the volume is drawn by Ron Smith, Steve Dillon and Carlos Ezquerra, with a touch of Ian Gibson, Cam Kennedy and Brett Ewins providing the icing on the cake.
Steve Dillon is in top form illustrating the Cry of the Werewolf arc, which has previously been collected for US release (check my review of that story right here). Meanwhile, Ron Smith had established himself as one of the top Dredd artists by this point, and he's a personal favorite with his trademark mix of satire, classical drawing skills and solid storytelling. So he's perfectly suited for a dinosaur-on-the-run short and a rather dark three-partner with a crazed weatherman composing his final symphony with volcanoes, killer hailstorms and tidal waves – all within the confines of a theatre venue.
And Dredd co-creator Carlos Ezquerra fires on all cylinders in Requiem for a Heavyweight. He's probably the most dynamic Dredd artist ever, illustrating the last days of a literally weighty legend as we are shown that even Fatties have feelings and need a purpose in life.
What's great about the world of Dredd is its adaptability and the way Wagner and Grant can generate concept after concept and still make it work within the darkly comedic set-up of Mega-City One and its diverse inhabitants.

Judge Dredd Case Files #7 has it all on display, and would serve well as an introductory volume to the highly satirical world of Dredd, where nothing can just be read at face value (which is another double entendre on the action genre itself).
Judge Dredd Case Files #7 by John Wagner, Alan Grant, Steve Dillon & various is published by Rebellion and Simon & Schuster. It is a 368-page trade paperback in black and white and retails for $19.99.