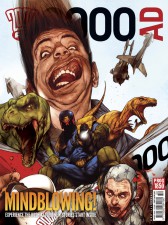 A clockpunk solar system, trigger-happy cowboys fighting rampaging dinosaurs, harsh justice in a gritty dystopia, and space soldiers fighting for an alien civilisation…
There's never been a better time to jump on board with 2000 AD!
This Wednesday (18th September), the legendary weekly anthology comic book starts all-new strips – the perfect point for new readers looking to start collecting the Galaxy's Greatest Comic!
These FOUR brand new stories featuring some of the top British talent working today – including Al Ewing (Mighty Avengers), Pat Mills (Marshal Law), Ian Edginton (Victorian Undead), and INJ Culbard (The New Deadwardians).
Available worldwide day-and-date digital through the 2000 AD webshop or the 2000 AD iPad app, it's never been easier to start reading this powerhouse of British comics.
The line-up for 2000 AD Prog 1850:
Judge Dredd: New Tricks
Script: Michael Carroll Art: Paul Davidson Colours: Chris Blythe Letters: Annie Parkhouse
Damnation Station: The Titanic Sails at Dawn
Script: Al Ewing Art: Mark Harrison Letters: Simon Bowland
Flesh: Badlanders
Script: Pat Mills Art: James McKay Annie Parkhouse
Brass Sun: The Diamond Age
Script: Ian Edginton Art: INJ Culbard Letters: Ellie De Ville