The Rebellion restoration team are after your help in finding missing Mick McMahon art for inclusion in their next Apex Edition. Can you help?
APPEAL FOR 'MISSING' MICK MCMAHON ORIGINAL ART PAGES FOR NEW 'APEX EDITION'
The hunt is on for original art pages by artist Mick McMahon from his work on the iconic 2000 AD series Sláine.
Rebellion is appealing for owners of original Sláine art by McMahon to come forward and assist with the next in its Apex Edition line of deluxe, over-sized facsimile art books.
With the Apex Edition of McMahon's Judge Dredd work available for pre-order and out in October, this second volume, slated for publication in 2023, will feature his other work for 2000 AD on series such as ABC Warriors, Ro-Busters, and Sláine. Created by Pat Mills and Angie Kincaid, Sláine is one of 2000 AD's most popular and enduring characters, and McMahon is acclaimed as one of the greatest artists on the series.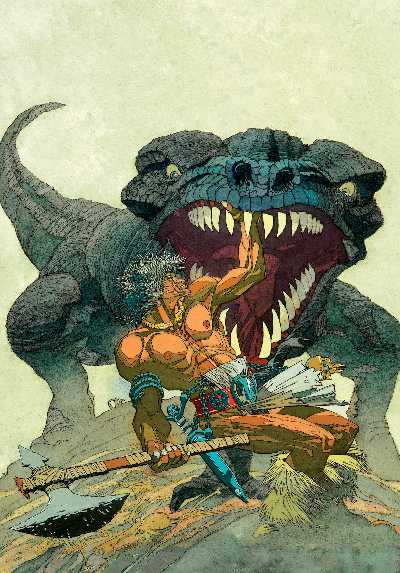 The missing pages represent some of his boldest and most memorable work, including the story 'Sky Chariots' and the stunning cover for the 1986 Titan Books reprint of Sláine.
Lovingly put together by Rebellion's reprographics and editorial team with the help of artist, writer and comics historian David Roach, The Apex Editions feature high-resolution scans of art, reproduced as close to their original size as possible. Owners of individual original Sláine pages are being asked to come forward to make this Apex Edition as comprehensive as possible.
If anyone has any of the following pages, please contact Rebellion on press@2000AD.com
'Warrior's Dawn' (2000 AD Prog 335)
Pages 1, 2, 6
'The Beltain Giant' (2000 AD Prog 336)
'Heroes Blood' (2000 AD Progs 345 – 347)
Part 1 Pages 1, 3 – 6
Part 2 Pages 1 – 6
Part 3 Pages 4 and 5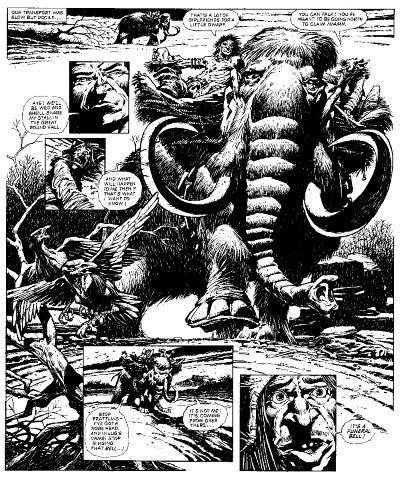 'The Shoggey Beast' (2000 AD Progs 348 – 351)
'Sky Chariots' (2000 AD Progs 352 – 360)
Parts 1 and 2 all pages missing
Part 3 (Prog 354) Pages 2, 4, 5, 6
Part 4 (Prog 355) Pages 1, 2
Part 5 (Prog 356) Pages 2, 4, 5
Part 6 (Prog 357) Pages 1, 4, 5, 6
Part 7 (Prog 358) Pages 2, 3, 4, 5
Part 8 (Prog 359) Pages 2, 3, 4, 5, 6
Part 9 (Prog 360) Pages 1 – 6
Cover of Sláine Book 1 (Titan reprint, 1986)
All artwork will be securely returned to its owners after being carefully scanned and appropriate credit will be given in the collection. They will also receive a copy of the book when it is published.
Graphic novel editor Oliver Pickles said: "It's no exaggeration to call McMahon's work on Sláine legendary. When we announced that we were putting together an Apex Edition of his work the question we immediately got back was "Will it include Sláine?" – while this year's Apex Edition will just focus on Mick's amazing art on Judge Dredd, we want to showcase his other work for 2000 AD which is just as enthralling and influential."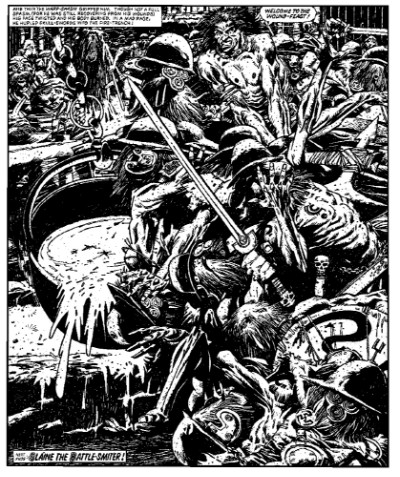 David Roach said: "The Judge Dredd by Brian Bolland Apex Edition has been a huge hit and we're hoping that now it is out there we'll get an even better response to our appeal as people can see how the Apex Editions showcase such remarkable art.
"Part of the allure of his work on Sláine is how different and evocative it is – both in terms of his own style and with regards to previous artists on the series. His scratchy inking evokes ancient woodcuts while his work on 'Sky Chariots' in particular is simultaneously imbued with great solidity and a remarkable weightlessness."
After delays caused by international paper shortages and shipping issues, the Judge Dredd by Brian Bolland Apex Edition collection is now arriving with customers and at comic book stores, to universally positive acclaim. This book brings together pages by Bolland from private collections in the US, UK, France, and further afield.