After languishing in copyright limbo, Grant Morrison's breakthrough work finally sees the light of day again in a beautiful hardcover edition, with Steve Yeowell's linework as crisp as ever.
Originally published in 2000 AD between 1987 and 1992, Zenith had never been collected in its entirety until last year, when 2000 AD released a limited-edition hardback of the serialised stories. That volume is now being chopped up into four separate hardcovers for the general audience.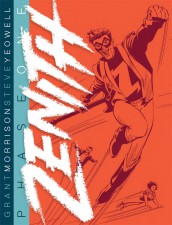 Zenith: Phase One has just hit the market, and covers the rise of its eponymous hero through exposition and a major flashback: in 1945 Berlin, British hero Maximan battles the German super soldier Masterman until both men are destroyed by an atomic bomb.
More then forty years later, a generation of 1960s superheroes have either died or faded from view. Their only descendant, Zenith, is now a teenage pop star whose ego is only surpassed by his hunger for women, drugs, alcohol and fame.
However, Masterman has risen from the ashes as the vehicle for the Many-Angled Ones (Lovecraftian other-dimensional invaders), and Zenith is the only one left to pick up the fight. His main concerns, though, are how to steer clear of it all and how to preserve his pretty face for all those photo shoots he has planned.
Besides Zenith's idea-driven story, Morrison's tale of egotism and late 1980s politics reflects a particular zeitgeist that is a major part of the tale's appeal. In the aftermath of two world wars, a failing superhero initiative that gave up their government-sponsored roots to become hippies, an economic recession and a corrupt government intent on keeping the working classes down, what else is there to do but to party and escape from the real world?
Zenith's self-centered behaviour reflects this perfectly: he is the epitome of the self-absorbed pop star, but just happens to have superpowers. Before Masterman barges into his cocooned reality, he hasn't even been in a fight, using his powers mainly to show off.
This is an early work by Scottish writer Grant Morrison, and even though a lot of themes that he would come back to in later series are present in Zenith, it's all a bit more confined in this case. The mad ideas are still there, but serve the characters more than the story.
This doesn't mean that Zenith gets it easy. Morrison keeps up the pace and his protagonist stumbles from one situation into another, while the possessed Masterman sets all the dominos in place for his master plan. While Zenith: Phase One is a complete story, Morrison  lays out enough building blocks for future serials that stretch his fictional universe far and wide.
Another part of the equation that keeps up the pace is artist Steve Yeowell. His fantastic fluid brushwork is equally at home illustrating Britain's dreary rain-drenched streets as the frothing multi-faceted fangs and eyes of the Many-Angled Ones' manifestation on earth.
His character work still stands out as some of the best among 2000 AD's stable of artists, and it is quite remarkable that he still produces top quality comics in series as recent as The Red Seas and Detonator X, both still for the Galaxy's Greatest Comic. His economy of line perfectly frames the inner turmoil of the characters, and his swirling inks often lend a grace where other artists can find none.
The only thing missing from the hardcover (which includes quite a few extras) is commentary from both creators. The copyright situation is seemingly still not quite cleared up, which could be the reason for excluding both creators from this publication. This leaves a rather sour taste in my mouth, so I hope a resolution is quickly found.
Even though the story is more than 25 years old, Grant Morrison and Steve Yeowell's Zenith: Phase One still stands out as an example of great comics storytelling that offers something for old and young alike. Its fast pacing and mad ideas, coupled with the fervour and frenzy the creators inject into its story, make Zenith an excellent read, and I'm eagerly looking forward to the following volumes in this four-part series.
Zenith: Phase One by Grant Morrison and Steve Yeowell is published by 2000 AD / Rebellion. It is a black-and-white hardcover counting 112 pages and retails for £20.