The 2020 previews and publishing announcements have been coming in fast and furious over the last week here at Broken Frontier Towers. Below we have the latest communication from Rebellion HQ about their 2000 AD line for this year.
Welcome to the future – 2000 AD unveils its graphic novels for 2020!
From folk horror to sci-fi fantasy mash-ups, from new series to old favourites – 2000 AD's graphic novel schedule for 2020 is a high-octane blast of the very best in comics!
Leading the way in encouraging younger readers to pick up the comic book habit is 2000 AD Regened (September) with a collection of all-ages re-imaginings of the legendary anthology's greatest characters by creators such as Alex De Campi, Alec Worley, Chris Weston, and Neil Googe.
Kingdom: Alpha and Omega
Dan Abnett, Richard Elson
ISBN: 9781781087534
6 February (UK)
UK £15.99 // US $19.99
Pages: 144 // Paperback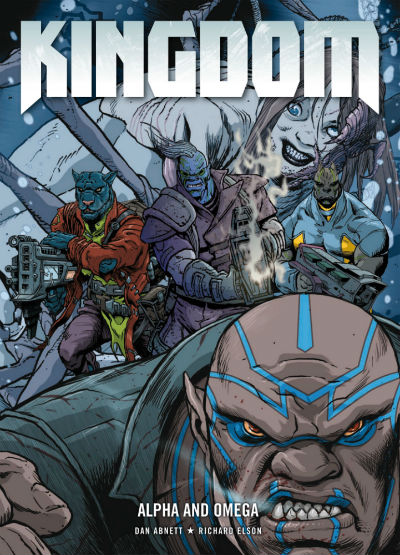 The latest collection of 2000 AD's latest breakout success from the mind of New York Times bestselling SF and Warhammer author Dan Abnett! A high octane wide-screen action series, perfect for fans of the films Aliens and Dog Soldiers! After dragging Gene to their faltering cryogenic space station and abandoning his pack to the swarming insect "Them", the masters are how holding Gene in idyllic V.R. suspension. Rescued before execution by an old friend, and joined by a terrorist working to undermine the master's grip on the world below, Gene forms a tenuous alliance. The three must work together to infiltrate the master's security systems and steal the codes to their massively destructive arsenal. But Gene might not be prepared for what else he finds…
Judge Dredd – Mechanismo: Machine Law
John Wagner, John McCrea, Colin MacNeil
ISBN: 9781781087541
5 March 2020 (UK) 3 March 2020 (US)
UK £10.99 // US 13.99
Pages: 96 // Paperback
A buddy cop tale like no other! Man and mechanismo, on the mean streets of Mega-City One. The next chapter in the legendary Judge Dredd epic, penned by incomparable Judge Dredd co-creator John Wagner! With art by renowned DC Comics artist John McCrea (Deadpool, Wonder Woman), this is the new blockbuster collection from Judge Dredd's co-creator. With Mega-City one eating Judges faster than they can be replaced, the Justice Department prepares once more to trial a radical solution for their manpower shortage: The Mark-8 RV Mechanismo unit, robotic judges programmed to deal with everything the city can throw at them. Judge Dredd has never hidden his feelings on robot Judges, but the responsive, resilient and ultimately expendable machines may be the answer to the justice department's problems. Dredd is ordered to put aside his prejudices and conduct an assessment with one of the latest models, nicknamed HARVEY…
Kingmaker
Ian Edginton, Leigh Gallagher
ISBN: 9781781087572
2 April (UK) 7 April (US)
UK £14.99 // US $19.99
Pages: 144 // Paperback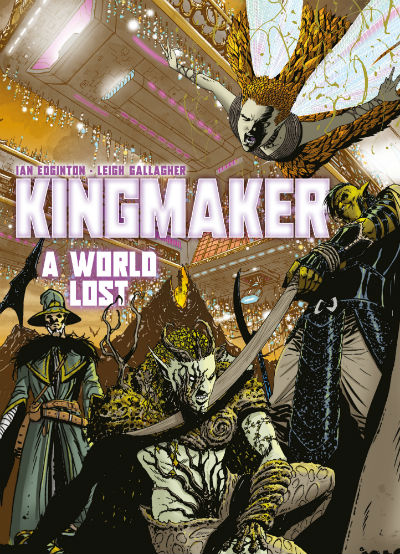 The Magic is Gathering! The inhabitants of the nine kingdoms fought hard to liberate their world from the tyranny of Ichnar the Wraith King. Little did they suspect that a greater threat would soon fall upon them in the form of the Thorn – a race of aliens intent on stripmining all of the magic from the world. Now old enemies have formed an alliance – Wizard Ablard, ork Crixus and the dryad Princess Yarrow have set aside their differences and are seeking to use the Ebora world spirit against the invaders… The first book in a thrilling post-modern fantasy action saga, written by one of 2000 AD's modern masters Ian Edginton (Scarlet Traces, Brass Sun).
Judge Dredd: The Complete Case Files #35
John Wagner, Alan Grant, Gordon Rennie, Richard Elson, John Higgins, Ian Gibson, Siku, Ben Willsher, Colin MacNeil, Kevin Walker, Paul Marshall, Cam Kennedy, Carlos Ezquerra
ISBN: 9781781087541
14 May 2020 (UK)
UK £19.99
Pages: 304 // Paperback
The latest in the smash-hit, best-selling graphic novel series! Almost half a million copies sold! The floating multi-story metropolis of illegal delights known as "Sin City" has anchored outside Mega-City one, and Dredd has seemingly been sent aboard to keep what order can be kept on a lawless floating city. His real task? Locate Ula Danser, the De-Megification terrorist determined to destroy the Mega-Cities at any cost! But Danser isn't working alone – Dredd's old enemy Orlok is coming to meet her, and he's carrying a cargo intended to pay back everything Dredd did to East-Meg one – with interest! The latest in the world-wide best-selling, flagship 2000 AD graphic novel series which has become a perennial classic. Includes artwork by some of 2000 AD's very best, including Cam Kennedy, Ian Gibson, Carlos Ezquerra, and Marvel artist Kev Walker!
Sláine: The Horned God Collector's Edition
Pat Mills, Simon Bisley
ISBN: 9781781087626
28 May 2020 (UK) 26 May 2020 (US)
UK £19.99 // US $24.99 // CAN $33.99
Pages: 208 // Paperback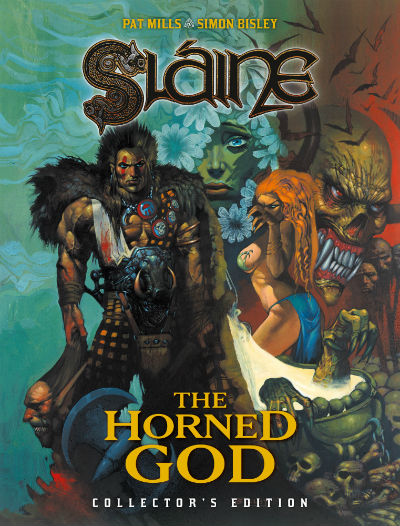 Rediscover one of the most influential graphic novels ever, with the Sláine: The Horned God – Collector's Edition. Timed to coincide with the 30th anniversary of its first publication, this new, larger edition of the bestselling 2000 AD collection, written by industry visionary Pat Mills, features the groundbreaking fully-painted art of comics legend Simon Bisley. One of the most popular stories ever published in the pages of 2000 AD, The Horned God is a heady mix of Celtic mythology, extreme violence, and beautiful artwork. As well as Mills' fascinating characters and saga-like storytelling, the stunning enormity of Bisley's work on the series cannot be understated, with epic battles and vast landscapes evoking everything from the work of Frank Frazetta to Gustav Klimt. This deluxe collector's edition returns us to the mist-wreathed realm of Tír na nÓg, the ancient land suffering under the dominion of the Drunes; strange druids who have poisoned the land with their magic. Sláine has had enough of their tyranny and, through the Earth Goddess, he learns some shocking truths about the priesthood and his own future. Now Sláine must unite the four kings of Tír na nÓg and use their mystical weapons as he and the Sessair tribe prepare for all-out war!
Strontium Dog: Search & Destroy
John Wagner, Carlos Ezquerra
ISBN: 9781781087657
26 June 2020 (UK)
UK £19.99
Pages: 144 // Hardcover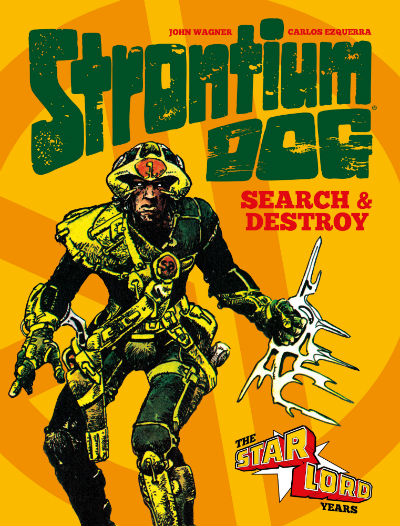 The earliest adventures of one of 2000 AD's greatest series – Strontium Dog – are to be reprinted in colour for the first time in decades. Reprinted with its original colour pages, Strontium Dog: Search and Destroy is a sumptuous hardcover 144-page collection collecting the origins of John Wagner and Carlos Ezquerra's hard-hitting story of prejudice and violence. Strontium Dog: Search and Destroy brings back into print one of the seminal series of British comics, a science fiction Western that merges everything from time travel to a trip to Hell itself. This new collection is a must for fans and collectors alike, restoring this series to its rightful place as one of the key series in the annals of British comics. Originally published in Starlord, 2000 AD's sister comic, these early stories had a profound effect upon readers, including future film director Edgar Wright. After the comic merged with 2000 AD, Johnny Alpha quickly became a fan favourite character and Strontium Dog remains one of the most iconic strips in the history of British comics!
Judge Dredd: Control
Rob Williams, Chris Weston
ISBN: 9781781087770
9 July 2020 (UK) 7 July 2020 (US)
UK £14.99 // US $19.99 // CAN $26.99
Pages: 128 // Paperback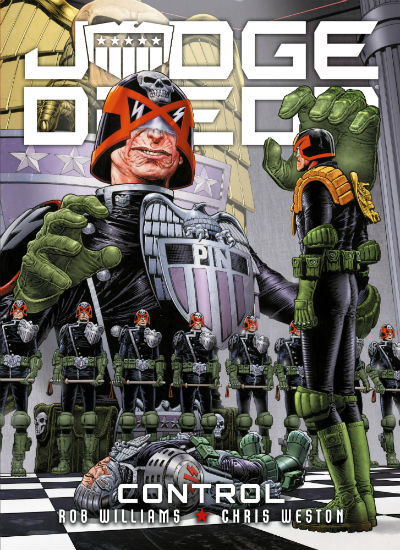 Writer Rob Williams follows up his smash hit Judge Dredd: Small House with a brand new collection that sees him at the mercy of Judge Pin – his most sinister opponent since Judge Death! The psychopathic SJS Judge murders officers that fall short of her standards, and Judge Dredd is in her sights in this collection of stories featuring flesh-eating Kleggs, hijacking ape gangs and out of control war robots reprogrammed by insane accountants in tales ranging from deathly serious to outrageously funny, all from one of the most popular contemporary Dredd creative teams – Rob Williams and Chris Weston. Entirely drawn by Weston, the talented artist for DC Comics (The Filth), Image (Ministry of Space) and Marvel Comics (The Twelve), this storyline is a game changer for the Dredd universe.
Hope … Under Fire
Guy Adams, Jimmy Broxton
ISBN: 9781781087718
20 August 2020 (UK) 18 August 2020 (US)
UK £9.99 // US $9.99 // CAN $12.99
Pages: 64 // Paperback
The second volume of the dazzling 2000 AD debut – mixing Hollywood noir and occult magic! In an alternate post-war 1940s Los Angeles, where dark magic is a fact of life, Mallory Hope is a private detective haunted by his past…and by the occult forces he uses. An inspired new classic in the making, a stylish supernatural detective noir for fans of The Fade Out (Ed Brubaker/Sean Phillips) and the novels of Raymond Chandler, James Elmore and Dashiell Hammett.
2000 AD Regened
Alex De Campi, Alec Worley, Chris Weston, Neil Googe
ISBN: 9781781088135
27 August (UK) // 25 August (US)
UK £10.99 // US $13.99
Pages: 96 // Paperback
Your old 2000 AD favourites break out with an all-new all-ages bumper adventure package! 2000 AD Regened is a one-off, bumper, all ages instalment of the Galaxies Greatest Comic! Join Cadet Dredd in three astonishing adventures (one of which is brand new for this collection), discover how Johnny Alpha became a Strontium Dog in 'Trial Run' and meet the teenage intergalactic bounty hunter and her family in 'Full Tilt Boogie', plus many other new takes on old favourites!
Judge Dredd: The Complete Case Files 36
John Wagner, Gordon Rennie, Andy Diggle, Henry Flint, Ben Willsher, Ian Gibson, John Ridgeway, Mick McMahon, Jim Baikie, Simon Fraser, PJ Holden, Carl Critchlow, Staz Johnson, Carlos Ezquerra
ISBN: 9781781087695
3 September (UK)
UK £19.99
Pages: 304 // Paperback
The best-selling Judge Dredd graphic novel series continues with the most popular crossover story in its history! Mega-City One – a nightmarish enclosure located along the Eastern Seaboard of North America. Only the Judges – powerful law enforcers supporting the despotic Justice Department – can stop total anarchy running rife on the crime-ridden streets. Toughest of them all is Judge Dredd – he is the law and these are his stories… Judge Dredd has brought countless monsters to justice but now the ultimate killing machines, cinema's most famous xenomorphs, surface in Mega-City One and it may well be more than the Justice Department can handle! Features action-packed stories from some of 2000 AD's greatest, including Carlos Ezquerra (Preacher), Mick McMahon (Hellboy, Slaine), Ian Gibson (Halo Jones) and Henry Flint (Haunted Tank)!
Essential Judge Dredd: America
John Wagner, Garth Ennis, Colin MacNeil, John Higgins
ISBN: 9781781088609
September
UK £19.99 // US $25 // CAN $34
Pages: 160 // Paperback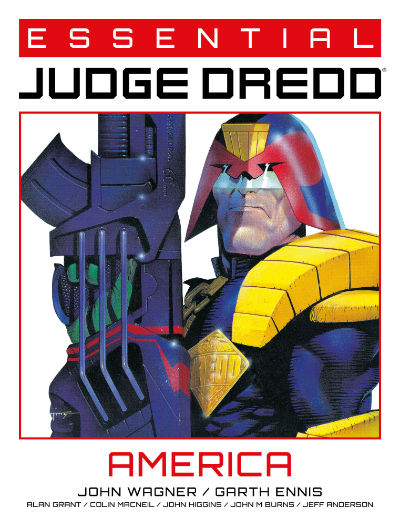 Beginning a brand new series of essential stories from one of the greatest ever comic characters, the Essential Judge Dredd is the perfect jumping on point for new readers! In Mega-City One, the Judges are the law – acting as judge, jury, and executioner. But how do the citizens really feel about a system where they are powerless? America Jara and Bennett Beeny grow up as best friends, living a fairly trouble-free life in a dangerous city… bar the odd, negative encounter with a Judge. Time draws them apart, and when they are brought back together, Beeny is a successful singer and America has become involved with a terrorist organisation known as Total War, which has the Justice Department in its sights! This dark and complex tale is considered to be one of the best stories to ever come out of the Judge Dredd universe. Now it has been contextualised with contemporarily thematic stories and recoloured art by John Higgins (Watchmen).
Fiends of the Eastern Front
Gerry Finley-Day, Carlos Ezquerra, Ian Edginton, Tiernen Trevellion, Dave Taylor, Dave Kendall
ISBN: 9781781087749
October
UK £19.99 // US $24.99 // CAN $33.99
Pages: 176 // Paperback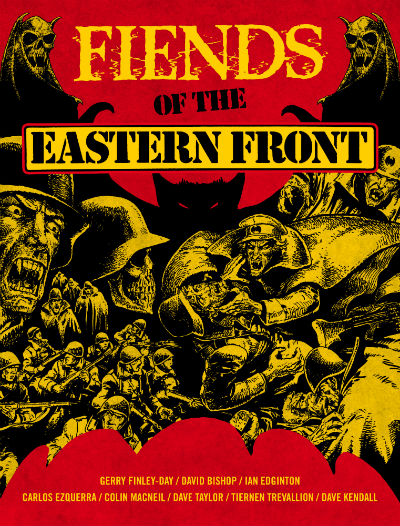 Sink your teeth into the collection of the classic supernatural war stories from the pages of 2000 AD – now expanded and updated! Buried deep underground are the remains of Wehrmacht soldier, Hans Schmitt, and his diary, which journals his eerie encounter with the Romanian Captain Constanta and his platoon of blood-sucking freaks! Back in 1943, with the Russians willing to fight until their last man in order to defend Stalingrad, Panzergrenadier Richter discovers Constanta's secret and learns than sometimes your allies can be just as dangerous as the enemy! This fiendishly-fun collection features the breathtaking art of Carlos Ezquerra (Judge Dredd) and Colin MacNeil (America, Chopper: Song of the Surfer), with stories from Gerry Finley Day (Rogue Trooper), David Bishop (Thrill-Power Overload), and recent classics from Ian Edginton (Stickleback, Scarlet Traces), and Dave Kendall (Fall of Deadworld), that takes the blood-soaked story of Constanta back into history!
Essential Judge Dredd: Origins
John Wagner, Carlos Ezquerra
ISBN: 9781781088630
November
UK £19.99 // US $25.00 // CAN $34.00
Pages: 192 // Paperback
The origin of Judge Dredd, and the Mega-City One Justice system – This is Judge Dredd: Year One! An unusual delivery is made to the Grand Hall of Justice, a package that will force Dredd to lead a mission into the Cursed Earth and into the darkest recesses of the history of the Judges and Mega-City One… In this acclaimed epic, history is written by Dredd co-creators John Wagner (A History of Violence) and Carlos Ezquerra (Strontium Dog) with a special introductory tale featuring the art of Kev Walker (ABC Warriors: Khronicles of Khaos). Now presented as part of the Essential line of Judge Dredd stories, this book is the ultimate introduction to the Judge Dredd universe.
Thistlebone
Tom Eglington, Simon Davis
ISBN: 9781781087787
3 December (UK)
UK £12.99
Pages: 64 // Hardcover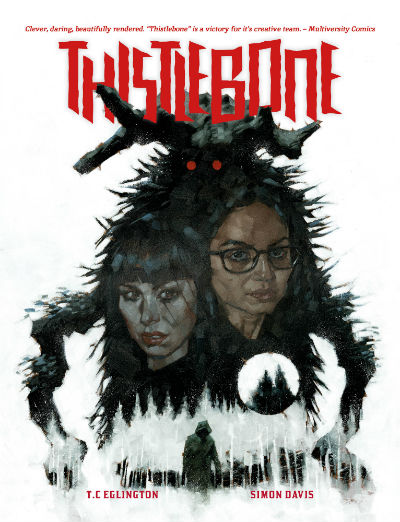 The first volume in an all new creepy folk-horror series, beautifully painted by the popular Sláine artist Simon Davis! England, 2019. The secluded rural village of Harrowvale holds a dark past — that years earlier, on a farm bordering the vast tracts of woodland, it hosted a cult that was seeking to escape civilization and find purity in the old ways, namely worshipping an ancient deity called THISTLEBONE. Led by the charismatic Jasper Hillman, their pagan beliefs grew ever more radical to the point where they held the young Avril Eason captive with the intention of sacrificing her. But Avril escaped.
This year's list combines the best of 2000 AD's newest output while presenting old classics in fresh ways, including a new Collector's Edition of Pat Mills and Simon Bisley's seminal industry-changing Sláine: The Horned God (May) and revisiting the beginning of John Wagner and Carlos Ezquerra's mutant bounty hunters Strontium Dog with Strontium Dog: Search and Destroy (June), a sumptuous hardcover featuring restored colour pages.
Science fiction with a twist has been 2000 AD's raison d'être for more than 40 years and two collections this year reinforces the comic's place at the bleeding edge of sci-fi publishing – Kingmaker (April) by Ian Edginton and Leigh Gallagher, which brings an alien invasion crashing into a Tolkien-esque world, and the fourth volume of Dan Abnett and Richard Elson fan-favourite epic Kingdom (February), with more dark secrets uncovered by dog soldier Gene the Hackman.
There's plenty to keep those who enjoy horror happy too, with the break-out folk horror hit of Thistlebone (December) by Tom Eglington and Simon Davis, Guy Adams and Jimmy Broxton's 1940s magic noir thriller Hope … Under Fire (August), and a new collection of 2000 AD historical slasher classic Fiends of the Eastern Front (October) with new stories from Ian Edginton, Dave Taylor, and Tiernan Trevallion that take arch-vamp Captain Constanza to new conflicts.
For fans of the greatest lawman of the future, the latest hit Judge Dredd stories from 2000 AD and the Judge Dredd Megazine are collected for the first time, with John Wagner, John McCrea, and Colin MacNeil's Judge Dredd – Mechanismo: Machine Law (March) while Rob Williams and Chris Weston introduce a Judge even more deadly than Dredd himself in Judge Dredd: Control (July). Meanwhile, the best-selling Judge Dredd: The Complete Case Files series continues publishing the law in order with Volume 35 (May) and Volume 36 (September)
And as part of 2000 AD's mission to introduce new readers to its greatest character, the brand new Essential Judge Dredd series launches in September with two books revisiting the most important stories from more than four decades of Dredd – Essential Judge Dredd: America (September) and Essential Judge Dredd: Origins (November).
"Our books for 2020 really are the best of old and new," said senior graphic novels editor Keith Richardson, "and reflect the fact that 2000 AD continues to produce the best comic books out there. Whether you're a veteran fan or a new reader looking to dip your toe in, from prestige editions of classics like Sláine: The Horned God and Strontium Dog: Search and Destroy to new series like 2000 AD Regened and Thistlebone, we've precision-engineered this year's schedule to make sure there's something for everyone!"