It's almost Wednesday, and you know what that means: a fresh load of comics and graphic novels! With so many publications hitting your local comics store or digital storefront, BF is here to lead you through the woods. These are the books that need to be on your pull list this week.
Comic of the Week
Silver Surfer #1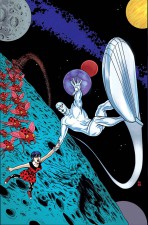 Remember the last time Mike Allred worked on a character that had wide all-white eyes and a white costume? It became a cult favorite and stole the hearts of readers who were into quirky, offbeat, flat-colored comic book storytelling.
Granted, there are hardly any further similarities between Madman and the Silver Surfer, but the fact remains that fewer high-profile artists can give Norin Radd a true otherworldly look and alien mystique the way Allred does.
Since his first appearance in Fantastic Four #48, the Silver Surfer's never been in lack of a devout following, yet he's never been successful carrying his own title. His luck is bound to change with Slott and Allred at the helm – for sure, they're the biggest names to surf the character's board through space since Straczynski and Ribic' Requiem mini in 2007.
One thing's for sure: the new series will go through great lengths to give the Surfer a more human appeal as he's trekking through space with new-to-the-Marvel-Universe-youngster Dawn Greenwood. Let's hope her arrival spells a new dawn for her silver companion as well.
Dan Slott (W), Mike Allred (A) • Marvel Comics, $3.99
– Frederik Hautain

Real Heroes #1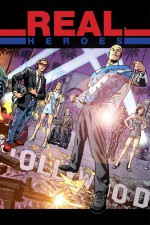 A team of six superheroes, a nefarious foe and a dastardly plot… this is all shaping up to be your typical superhero comic book. Except that these heroes aren't actually all that superpowered. In fact, they're just acting it and have been for some time in a series of blockbuster films – but now they need to be real heroes in real life. Would you trust a group of celebrities with the fate of your city?
The all-new six-issues miniseries Real Heroes is Bryan Hitch's first attempt at writing and drawing his own work, and the premise instantly throws up some intriguing questions. What happens when superheroes step off the big screen? And how do you go about writing a comic book where all of your main cast are just acting?
Bryan Hitch (W/A) • Image Comics, $3.99
– Conori Bell-Bhuiyan
Thaniel #1
Growing up on the streets, Thaniel was no stranger to loss and suffering. But he would soon learn that his relationship with death was more complicated than he thought when he discovers his father is the Grim Reaper. Now Thaniel struggles to come to terms with who is and how to use his mysterious power for the greater good.
Published by OSSM Comics, Thaniel is a four issue mini-series that crosses genres between street level stories of the "hood" and tales from beyond. Thaniel may seem like just another troubled teen from the street, but he wields a power that has implications on the cosmic level.
Omar Spahi (W), Terry Huddleston (A) • OSSM Comics, $3.99
– Tyler Chin-Tanner
Fear Agent: Library Edition Volume 2 HC

After multiple delays, the second and final hardcover collection of Fear Agent is finally here. Something this good is worth the wait.
Priced at only $49.99, this omnibus sized collection includes not only the final three Fear Agent story arcs, but also the Tales of the Fear Agent bonus stories and a slew of extra art by some of the industry's finest talent.
If you have no idea what a Fear Agent is, do yourself a favor and give these library editions a go. This book is a tonal and thematic predecessor to much of the great work Rick Remender is doing today including Black Science, Deadly Class, and Uncanny X-Force/Avengers. It also features some of Jerome Opena's first ongoing artwork, and incredible work from the always reliable Tony Moore. This is a must buy for anyone's comic library.
Rick Remender (W), Tony Moore, Jerome Opena, various (A) • Dark Horse Comics, $49.99
– Levi Hunt

Jan's Atomic Heart and Other Stories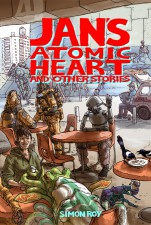 Simon Roy has made his name at Image Comics as part of the Prophet posse with Brandon Graham et al, but now he's getting the chance to shine on his own with Jan's Atomic Heart and Other Stories – a 112-page collection of his solo stories as writer and artist.
The seven black-and-white tales in the volume, some of which have never been printed before, delve into a variety of science-fictional worlds built with the same attention to detail we've seen in Prophet. Roy's stories mix the weird with the everyday; if the wild-eyed shenanigans of that comic are a bit far out for your tastes, give these grounded little vignettes a try.
Simon Roy (W/A) • Image Comics, $14.99
– Tom Murphy
The Sandman: Overture #2

Following several production delays, Vertigo will release the long-awaited Sandman: Overture #2 this week. Issue #1 was one of 2013's best-selling single issues, so the delays are unlikely to deter die-hard fans of Neil Gaiman's signature character. The plot points have been well-guarded thus far, but we do know that Daniel enters Mad Hettie's dream and Morpheus will learn why he was summoned.
I'm fine with not knowing more, but I am going to dig out issue #1 and read it Tuesday night to refresh my mind.
Neil Gaiman (W), J.H. Williams III (A) • Vertigo Comics, $3.99
– Karen O'Brien
2000 AD Prog 1874
Readers, I am genuinely excited.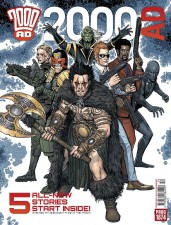 Because this Wednesday, something will be released that is made for people just like me. 2000 AD Prog 1874 hits stores and is promised to be 'the PERFECT jumping-on issue for new readers'; a target group which I fall into.
Now – whilst you seasoned comics veterans snort into your 25-variant cover collection of everything ever published (signed by both artist and writer, of course!) at my naïveté – let me tell you this: there ain't nothing wrong with being a beginner. The only sin is remaining ignorant. So, this Wednesday I am going to start my own journey with 2000 AD – the publisher where Alan Moore cut his teeth – and it is one hell of a place to start. Just look at the line-up: five stories, all new, including two brand new series. And what is more the Judge Dredd story – Mega City Confidential – is brought to us by Dredd's co-creator, John Wagner.
So I hope you'll join me on Wednesday in making 2000 AD an addition to your comic reading pile.
Various (W), Various (A) • 2000 AD, £2.49
– Joe Krawec
Batman: The Dark Knight #29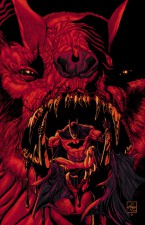 It's the final issue of the series and writer Gregg Hurwitz exits with the conclusion to his thrilling Man-Bat arc. Kurt Langstrom isn't the Man-Bat, his father is, and the new formula he developed makes him Gotham's most deadly and efficient predator.
It's a battle to the death in the dark skies of Gotham, as Batman struggles to survive the fight long enough to administer the antidote. Ethan Van Sciver is one of my favorite Batman artists and his work on this arc is stellar.
Gregg Hurwitz (W), Ethan Van Sciver (A) • DC Comics, $2.99
– Karen O'Brien