It's almost Wednesday, and you know what that means: a fresh load of comics and graphic novels! With so many publications hitting your local comics store or digital storefront, BF is here to lead you through the woods. If you want to know which books should be on your pull list, look no further…
Comic of the Week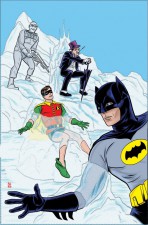 Batman '66 #2
It's with full confidence that I call Batman '66 the best book currently published by DC Comics. Jeff Parker channels the 1966 TV series perfectly into his digital first offerings, where panels interact with each other in exciting and fresh ways that are unmatched in the entire industry.
This second installment of the print version of Batman '66, however, collects the weekly series into whole chapters for those unable to read the series digitally, and tells the tale of the evil King Tut as he arrives in Gotham City to conquer the Dynamic Duo.
For fans looking for a break from the gloom and doom that hangs over the majority of DC titles, or for anyone interested in a blast from the past, Batman '66 is your new favorite book.
Jeff Parker (W), Ty Templeton (A) • DC Comics, $3.99
– Jason Clyma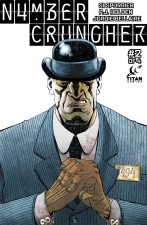 Numbercruncher #2
Bastard Zane tracks down the fugitive mathematician Richard Thyme as he seeks to reconnect with his one true love decades after his demise, in this second installment of Si Spurrier's twisted tale of star-crossed lovers who've crossed the line with the wrong divine fixer.
Featuring stunning artwork from P.J. Holden and Jordie Bellaire, this is one existential ass-kicking you won't want to miss. A black romantic comedy that will challenge your perceptions of the afterlife even as it tickles your funnybone, Numbercruncher is one of this summer's breakout titles.
Si Spurrier (W), P.J. Holden (A) • Titan Comics, $3.99
– Jason Wilkins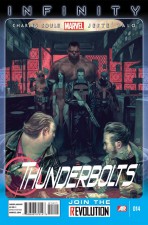 Thunderbolts #14
When your team has characters like Deadpool, Red Hulk, Punisher and Elektra on its roster, you figure it'll be a fairly easy sell to entice readers to follow their adventures. Yet, Thunderbolts never managed to reach the level of prominence Marvel had in mind when it put Daniel Way and Steve Dillon in charge of the title as part of its first Marvel NOW! wave almost a year ago.
Things will surely change this week, with Charles Soule on board for good after doing two standalone issues. At first sight, artist Jefte Palo's style seems like an odd fit on what should be a high-octane action comic (just take another look at that roster, which also includes Venom, Mercy and Red Leader), but Thunderbolts' new direction will stand or fall with Soule's writing. Luckily he's a man who has yet to disappoint ever since gaining wider recognition with his Image mini series 27.
Charles Soule (W), Jefte Palo (A) • Marvel Comics, $2.99
– Frederik Hautain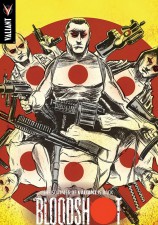 Bloodshot #0
Mind MGMT's Matt Kindt teams up with veteran artist ChrisCross to journey into the past of one of Valiant's most mysterious characters – the soldier known as Bloodshot. Mentally brutalized by Project Rising Spirit, his memories are a tangled web of contradictions and fabrications, but how does Bloodshot's story really begin?
With the recent conclusion of the blockbuster event 'Harbinger Wars', the Valiant universe is moving forward faster than ever, but this zero issue stops to take a look back, revealing for the first time the true origin of this deadly super-soldier.
Matt Kindt (W), ChrisCross (A) • Valiant Comics, $3.99
– Evan Henry
Batman and Nightwing #23
Damian Wayne's death may have tragically occurred months ago in the pages of Batman, Inc., but the true emotional weight has been best felt in Peter Tomasi and Patrick Gleason's Batman and… series.
The past four issues of Batman and Robin have each discussed one of the five stages of grief, with this month's issue focusing on acceptance. Who best to help Batman come to grips with the loss of his son than the first Robin, Dick Grayson? Grayson's relationship with Bruce and Damian gives the character the perfect opportunity to close the emotional story of Damian's death, which makes Batman and Nightwing #23 one of the most important releases of the entire series yet.
Peter Tomasi (W), Patrick Gleason (A) • DC Comics, $2.99
– Jason Clyma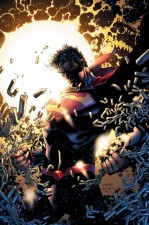 Superman Unchained #3
The secret General Lane was keeping isn't a secret any more. And it's found Superman. But there isn't much time for solving mysteries as hijacked drone aircrafts are destroying Tokyo. Rumor has it that Superman will face his biggest challenge yet, as well as getting his butt kicked. And Lois will enter the fray and prove proficient at saving herself. All of which is reason enough to pick up the issue, but let's be honest – you want to see what Jim Lee draws as much as I do.
Scott Snyder (W), Jim Lee and Scott Williams (A) • DC Comics, $3.99
– Karen O'Brien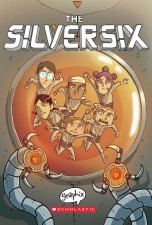 Silver Six
Scholastic Books continues its commitment to quality all-ages material in this latest OGN chronicling the adventures of six orphans who bond over the tragic deaths of their parents and embark on a journey to uncover the truth behind the shuttle accident that thrusts them together.
Set in a world dominated by a corrupt energy corporation, where orphans are exploited by the government and the wealthy elite, A.J. Lieberman and Darren Rawlings' smart sci-fi adventure touches upon some pretty heavy themes such as family, loss, tolerance, and even depression, without hitting their audience over the head with a hammer.
An accomplished family-friendly tale from a top-notch all-ages publisher that's perfect for those rainy summer afternoons when you can't kick the kids out of the house!
A.J. Lieberman (W), Darren Rawlings (A) • Scholastic Books, $22.99 (HC); $10.99 (SC)
– Jason Wilkins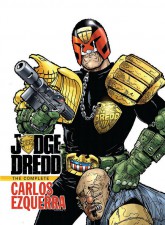 Judge Dredd Complete Carlos Ezquerra Vol 1 HC
There are two things that are linked with Dredd in perpetuity: his chin and Carlos Ezquerra. Co-creator and Illustrator of 2000 AD's most beloved authoritarian character since the beginning, Ezquerra has illustrated blockbuster Dredd epics like 'The Apocalypse War', 'Necropolis' and 'Origins'.
IDW now gives all you citizens the chance to go all-out with a 250-copy black and white Red edition packaged in a hand-built slipcase containing a hardcover portfolio with twelve lithographs and an exclusive variant hardcover with signatures from both John Wagner and Carlos Ezquerra, and a 25-copy Blue edition presented in a tray case and featuring an original piece of Ezquerra art!
So Drokk it and leave your illegal habit of refined sugar snack eating be for a year and you'll have saved up enough cash for this limited edition of the best Dredd has to offer.
John Wagner (W), Carlos Ezquerra (A) • IDW Limited, $125 (Red edition), $495 (Blue edition)
– Bart Croonenborghs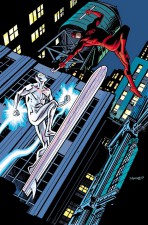 Daredevil #30
Last issue, Daredevil took on the Sons of the Serpent, learned that they have infiltrated all aspects of the city's public institutions, has to prepare for an all-out war, and apparently welcomed a replacement for Foggy Nelson. This issue, all he has to do is play unexpected host to the Silver Surfer and find a way to make his radar function in the presence of the Power Cosmic.
Mark Waid (W), Chris Samnee (A) • Marvel Comics, $2.99
– Karen O'Brien