At the end of last year we ran an interview with Zain Dada and Kumail Rizvi of Khidr Comix Lab, a new digital micropublishing venture seeking to provide a platform for Black, Brown and Muslim creators. Their output includes two strands of delivery – a minimum price/pay-what-you-like digital comics catalogue and a free-to-read webcomics archive-in-progress. As an operation it's the perfect embodiment of the values and ethos of supportive comics community that we want to promote here at BF. You can find out more in that aforementioned interview here on the site.
Ramsey Hassan/RAMZEE's Being Black and Working Class is a short piece of autobio social commentary that Khidr have posted as part of the Khidr Cartoons side of their Webcomix offerings. Those wanting to know more about RAMZEE's recent projects are directed to our interview with him about his Cat-Girl story with Elkys Nova in last year's Tammy & Jinty Special and his creator commentary about his upcoming book LDN from Good Comics.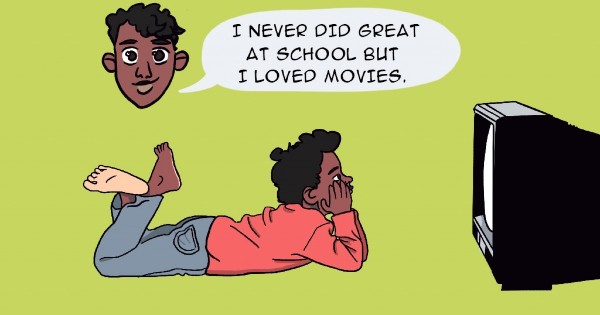 In terms of presentation what immediately strikes the eye here is how effectively this 15-panel strip makes use of its given webcomic format with each landscape image scrolling downwards and acting as a striking tableau in its own right. RAMZEE uses as a springboard the familiar feeling of the joy of childhood discovery – in this case his burgeoning love of film as a medium – but uses it to highlight the barriers facing those who are Black and working class, particularly in the educational sector, from both his own lived experience and a wider social perspective.
As topical commentary it's the kind of issue that could obviously be explored to far greater depth in a long-form, expansive piece of comics journalism but the strength of Being Black and Working Class is that it's an offering designed as an almost bullet point graphic summary of the issues raised. One that seeks to make an immediate connection with its readership with an accessible, first-hand account that is all the more impactful for its succinct but punchy style.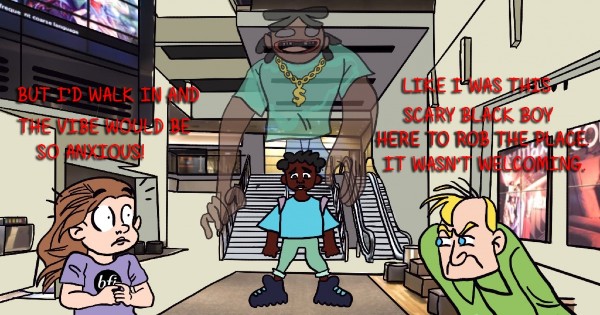 Visually there's a clarity and elegant simplicity to each panel that again allows for that instant and important rapport between audience and creator. Occasionally there are more ostentatious lettering choices that are perhaps unnecessary, given that the images they accompany (as above) are already so very powerful that they speak for themselves without extra text emphasis diverting attention from them. But that's a minor stylistic point in the larger scheme of things.
Khidr Comix Lab's remit in terms of potential narratives is a wide one but providing a platform for work like RAMZEE's Being Black and Working Class is particularly important in using the expressive and unique qualities of the medium to share the personal experiences of creators of colour. It can read be read for free alongside the other Khidr Webcomix to date. Those inspired to look out for more work from Ramsey Hassan are directed to his first longer-form work LDN coming from Good Comics this year.
You can follow RAMZEE on Twitter here and on Instagram here. You can also follow Khidr Comix Lab on Twitter and Instagram.
Review by Andy Oliver