They're referred to as 'truth bombs', defined as 'blunt, undiplomatic statements of something true that others may not want or expect to hear.' You can experience a whole lot of them if you choose to spend some time with the work of Barbara Brandon-Croft. Consider this sample from her Instagram, where one of her stock characters airs the following thoughts in two panels: "As the nation's collective mental health hangs in the balance, the Supreme Court has decided to expand gun rights, reduce regulations, and make abortion illegal. So, let's see… No sex, more guns, fewer regulations… What could possibly go wrong?"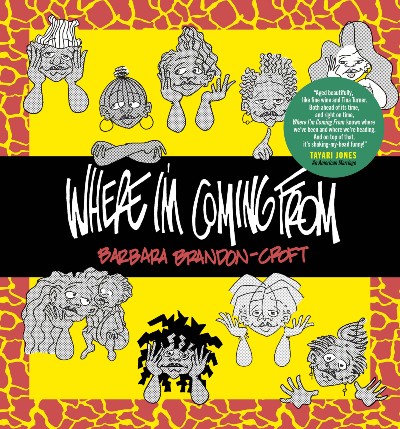 It is the kind of stuff made for T-shirts and memes, except that Brandon-Croft has been spitting her truth for a long time now, in the form of a syndicated comic strip Where I'm Coming From that, at its peak, appeared in over 65 newspapers across North America.
To speak of her achievement in terms of race is reductive, not because it takes away from her being the first African American woman cartoonist to be syndicated nationally, but because it prevents her from being recognised as a powerful voice that rises far above narrow definitions of race or gender. Much is also made of her heritage, specifically that her father was Brumsic Brandon, Jr. (1927–2014), creator of the legendary comic strip Luther that ran from 1969 to 1986. It is an important biographical detail, pointing to the spirit of inquiry and awareness she was raised in, but takes away from the fact that she walked in her father's footsteps only to make his medium of choice distinctly her own.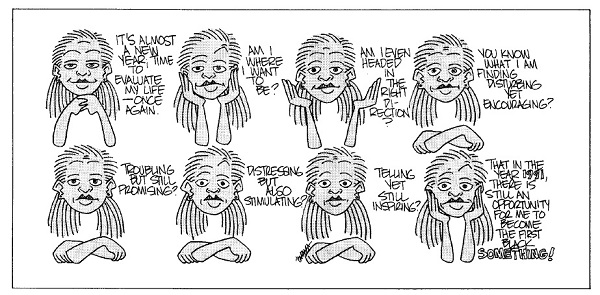 There are two things that stand out almost immediately when one looks at this retrospective. First, the emphasis on what these dozen women characters are saying, using facial expressions alone to say them: about public and private lives, how they navigate tricky situations not of their own making, or what it means to be Black in America. Second, these are comics that sometimes go back a couple of decades, but still seem startlingly relevant, which is an indictment of how some things haven't changed as much as they ought to have.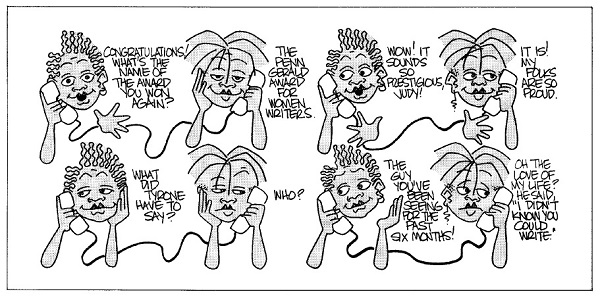 It's easy to see why Brandon-Croft's work resonated with audiences across geographies, given that what she was offering was insights into a world that didn't enjoy much representation in any other public sphere. That her characters were based on friends goes some way towards explaining their authenticity, and why the strips often resemble conversations one has stumbled into.
Something interesting also happens when one looks at these strips in their entirety, as a body of work. They resemble a snapshot of American history, covering everything from gun culture and school shootings to college scholarships, cooking for Thanksgiving feasts, the challenges of motherhood and parenting, voting rights, and relationships. By voicing the concerns of women across these decades, Brandon-Croft creates a lesser-known portrait of an America that the media still pays little attention to.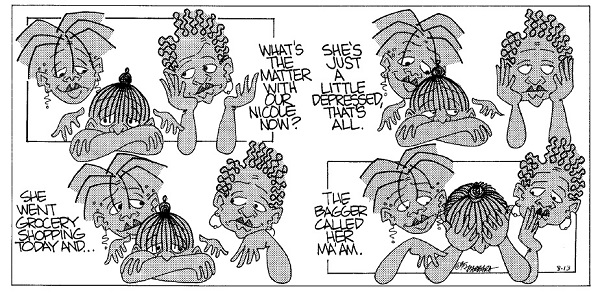 There is a compelling argument for why Brandon-Croft doesn't bother with speech bubbles or anything extraneous in her panels. She simply doesn't need to, given what her characters are sharing. Consider a recent post voiced by one of her characters, that could have been created at any time in the 1990s or just a few weeks ago: "I hear them saying it all the time: 'I Love My Country!' But they will join in an insurrection. 'I Hate Socialism!' Except when it applies to the rich and big corporations. 'I Believe in Democracy!' As long as they can choose who gets to vote." There is no pithier truth.
Barbara Brandon-Croft (W/A) • Drawn & Quarterly, $29.95
Review by Lindsay Pereira