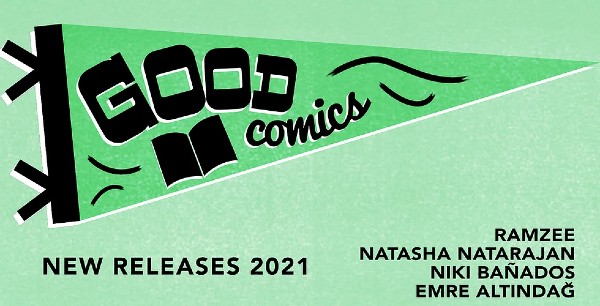 Our Inside Look feature at Broken Frontier provides creators with the opportunity to share exclusive commentaries on their comics projects with our readers, giving insights into the genesis, process and themes of their work. It's one of the oldest regular features at BF, first appearing on the site back in the mid-2000s and also one of our most well-received.
Today we very pleased to be able to take a closer look at some of the books currently crowdfunding on Kickstarter from Good Comics. You can see preview pages of these projects in our round-up piece on the Kickstarter with sneak peeks at the comics by emerging talents Natasha Natarajan, Niki Bañados, Emre Altındağ and RAMZEE. With just a few days to go until the campaign finishes this gives you an opportunity to read the creators' own thoughts on their work as the Kickstarter draws to a close.
Don't forget to check out the Kickstarter here and back it if you can!
FML Comics by Natasha Natarajan – Grey Areas
FML Comics is the collected autobiographical works of Natasha Natarajan , spanning from 2016-2020.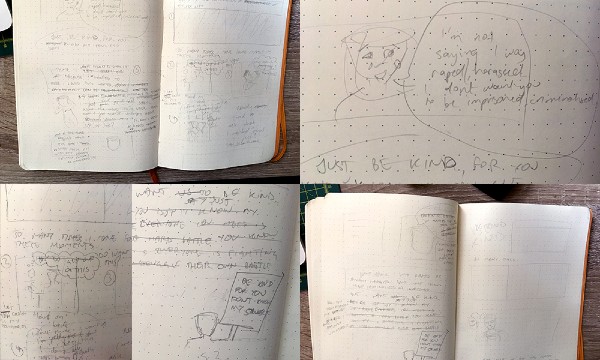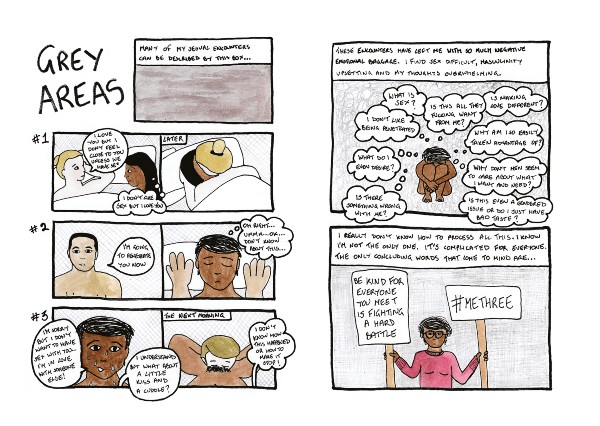 This is probably the most difficult comic I have ever made. It took me months to write. I had wanted to write about sexual consent for a long time but couldn't figure out what I wanted to say, especially in panels. I knew a few things; I wanted to it to start with a "grey area" (box), to include the "be kind" quote and to reference the #metoo movement (#methree). I always draw out a rough script, layout and panels with stick figures before I start working on the final strip. For this comic, I went through a lot of rough drafts. Eventually I got tired of drafting and just went with what I had. I needed to get the comic off my chest and I knew it would resonate with my followers. I often ask close friends for advice when making complex strips because I've realised that sometimes the subject matter is so close to me that I assume too much. In this comic, for example, I added the numbers '#1, #2, #3' on the first page because I was told the story was unclear. I kept the drawings very simple, with little detail, because in this comic I think the words are the main focus.
Return by Niki Bañados
Detailing Niki's experience of moving back to Australia, Return looks at the struggles of relocation, the power of nature, and the near-constant feeling of falling apart and rebuilding ourselves.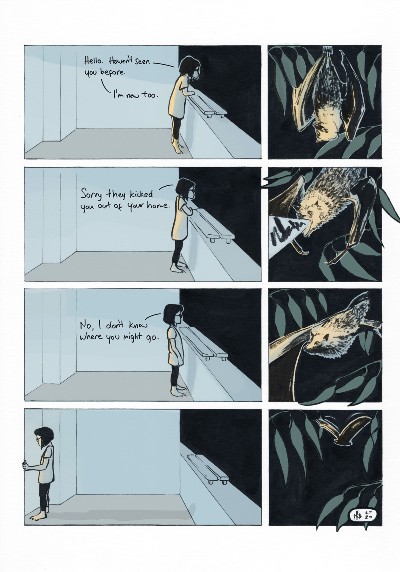 My parents' place in the suburbs is visited regularly by loud neighbours like flying foxes, cockatoos, and lorikeets. It's a fun and wild reminder of a place to hear them screaming to each other in the trees outside. Going out to see what they were up to was always a well-spent computer break.
This page is a reaction to a few things. One is moving to a new place closer to the city, where we don't get visited by nearly enough gregarious winged creatures. Another was an article I read about spectacled flying foxes being harassed out of their roost trees, and lastly it's about an increasingly urgent feeling that we should be doing better for the creatures we share the Earth with.
I got lucky when I drew the flying fox: my brush pen was just running out of ink, giving that sweet textured stroke.
Fishes May Come Back by Emre Altındağ
Fishes May Come is an exploration of loss, and of what it means to have both a body and a soul.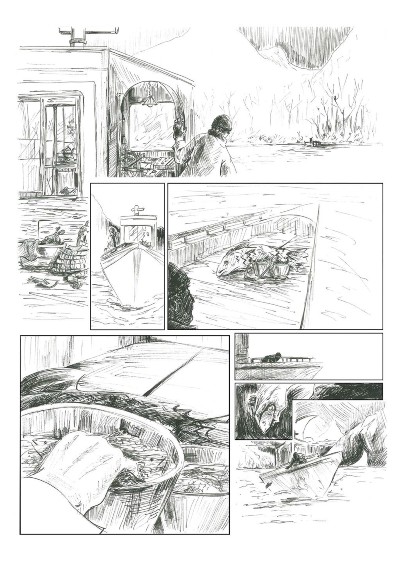 This story is a journey portraying the two aspects which exist in humans. Mind and soul, outward and inward, material and spiritual states – belongs to the form of the human. The fluctuation of these two while they are compromised with each other in a tangible body is an archaic debate. While the mind tries to understand, articulate, the soul attempts to contemplate, perceive them. This is a great struggle. Considering them as two separated things, their estrangement continues without ending. Thus, in this story the habit or problem of perceiving the "outward" and "inwardness" as separately almost in each field of life, analysed. They are formed in the body of a child and a grown man, establish a relationship, communicate with each other in a very sincere, touching and silent way.
LDN by Ramzee – TRAPS
LDN by RAMZEE is a brilliant collection of stories each set in a different corner of London – North, South, East, West and the City of London in the centre.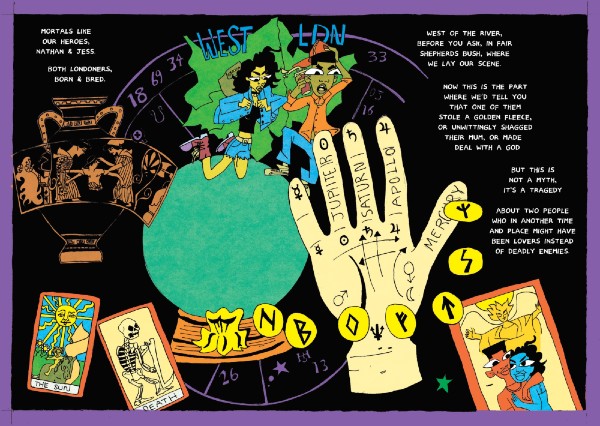 This is from the start of the second story in the book, which is called 'TRAPS'.
I wanted to kick this story off with a prologue like 'Romeo and Juliet' or a Greek Tragedy where you are told the themes of the story first as well as hint how the story itself will go. Giving the reader the knowledge from the jump that our protagonist's story will not end well before the comic has begun. 
The narration refers to an ill-fated couple with its use of the word "star-crossed," which means, literally, against the stars. Stars were thought to control people's destinies. So I wanted the art itself to create a sense of fate and a foreboding atmosphere. 
So I depicted the couple falling together into a darkness full of mystical, portentous imagery like a crystal ball, runes, tarot cards and a palmistry hand statue etc to provide the narration with visual reinforcement.
The art in the spread is presented in a very dream-like way, with visuals that are metaphorical rather than real. But I wanted the spread to feel like our protagonists are falling into some kind of astrological trap so I simply illustrated them falling into a cosmic void full of occult, fortune telling symbolism.
The structure of the page itself then becomes a representation of the fate from which our lead characters cannot escape.