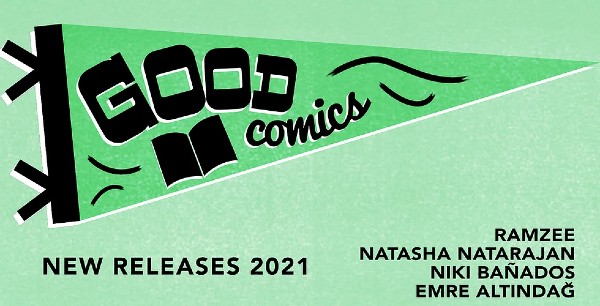 It goes without saying that it's a tough time all round for micropublishers and self-publishers. A year of no comics shows means one of their major sources of income has vanished and a number have turned to crowdfunding platforms as an alternative. Good Comics have done just that, with five books currently up for your consideration on Kickstarter. We have a preview of the books below along with some words from the Good Comics team.
These titles are particularly worth supporting given they promote emerging comics voices in the medium. Four creators (and other contributors!) with exactly the kind of disparate styles that spotlight the breadth of approaches to comics within the self-publishing world. It's always pleasing to be introduced to newer talents through line-ups like this and Emre Altındağ's purest visual storytelling looks highly impressive and atmospheric in the pages of Fishes May Come Back. I spoke about the "insightful autobio" of Natasha Natarajan two years ago at BF when we looked at BHP Comics' Full Colour anthology so it's also pleasing to see a full collection of Natasha's work on offer here.
It's been a banner year for London creator RAMZEE already with the notable achievement of being published by 2000 AD publisher Rebellion. He wrote a super-hero-style story illustrated by Elkys Nova in this year's Tammy & Jinty Special that featured a new spin on classic character Cat Girl. RAMZEE was British Comic Award-nominated in 2016 and in LDN he teams up with a host of familiar names to BF readers including Sajan Rai and Abs Bailey. There are two vibrant pages below that will whet your appetites. And finally Niki Bañados won the Laydeez do Comics prize in 2019 for Shivers in London. We posted about that here at BF at the time and it's great to see how far her practice has progressed since then. So many cool things going on with page structure and sequential storytelling in the pages below from Return.
Don't forget to check out the Kickstarter here and back it if you can! There's also a new anthology Good Comics Reader on offer as well.
2021 NEW RELEASES KICKSTARTER – ABOUT THE BOOKS
Hello, we're Good Comics. We're a comics micropress from the UK, and we're celebrating the fifth anniversary of us publishing comics that are good this year. For our next slate of publishing we've lined up four brilliant books from new creators, along with a second edition of our Good Comics Reader. We're funding these through Kickstarter so we can cover the costs of printing, distribution and creator payments. Our aim is to promote new and up-and-coming talent in comics and to get new and brilliant comics work into print. We're a small indie press, and we rely on direct sales, conventions and the comics community to sell our comics. With COVID-19 affecting all of these, funding our next round of books through Kickstarter will enable us to achieve these aims and to get five excellent new books out there.
All funds raised will go towards printing, distribution, creator payments and costs associated with running the Kickstarter.
LDN by RAMZEE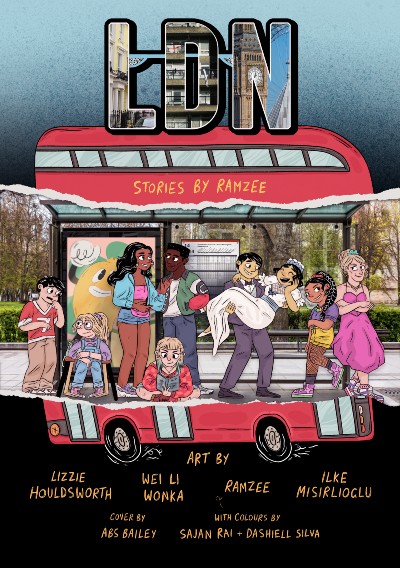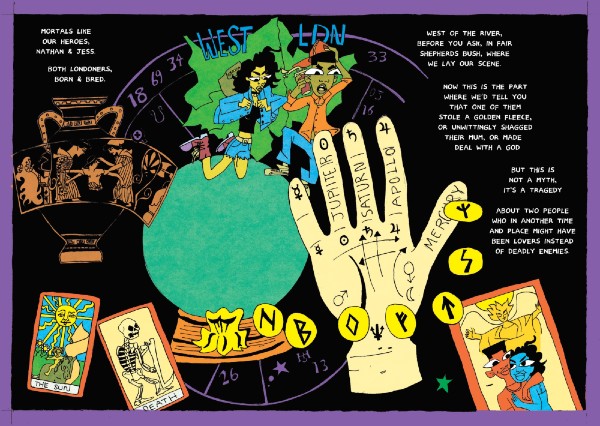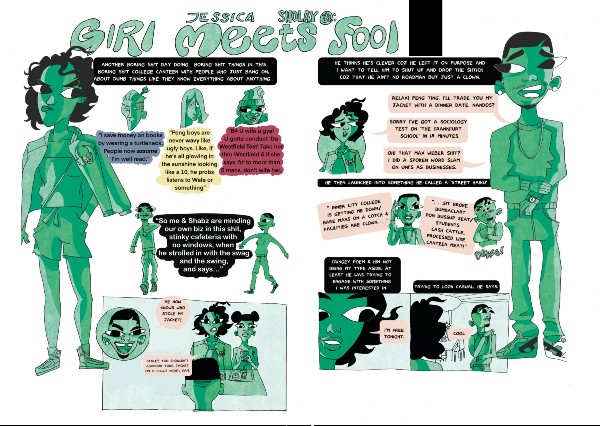 LDN by RAMZEE is a brilliant collection of stories each set in a different corner of London – North, South, East, West and the City of London in the centre. RAMZEE brings his trademark wit and sharp social commentary (as seen in his previous comic ZORSE) to a series of hilarious, touching and thought-provoking short stories about the capital, each told from a different perspective and with its own unique art style. It'll be our first ever hardback publication, and it's one of the most exciting comics we've seen this year.
LDN will be approx. 180 pages in length, A5 in size (148 × 210 mm), and full colour.
FML Comics Collected 2016-2020 by Natasha Natarajan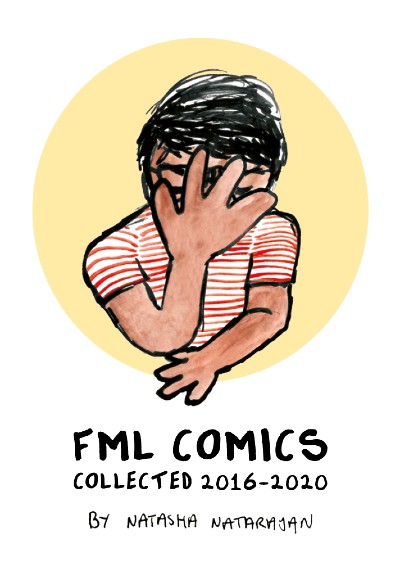 FML Comics is the collected autobiographical works of Natasha Natarajan , spanning from 2016-2020. An opportunity to be inside the mind of a 20-something British-Indian woman, we see Natasha navigating the 21st century in both heartbreaking and hilarious ways. As Natasha puts it, " I hope it lets you connect to the experience of being human – completely flawed, fucking confused, overwhelmed but still mostly laughing. "
FML Comics will be 96 pages in length, A5 in size (148 × 210 mm), and full colour.
Return by Niki Bañados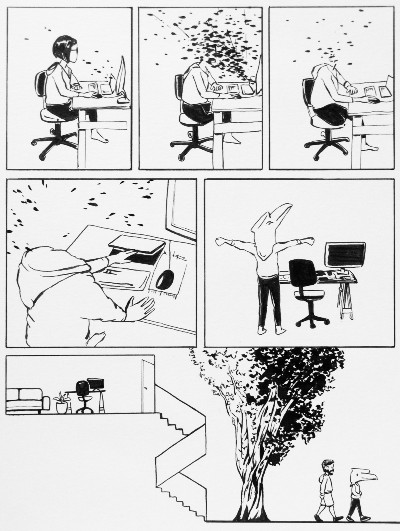 Return by Niki Bañados is an exciting new story from the creator of award-winning Shivers and 1/3 of Grandmother's Tales. Detailing Niki's experience of moving back to Australia, Return looks at the struggles of relocation, the power of nature, and the near-constant feeling of falling apart and rebuilding ourselves.
Return will be approx. 32 pages, A5 in size (148 × 210 mm), and full colour
Fishes May Come Back by Emre Altındağ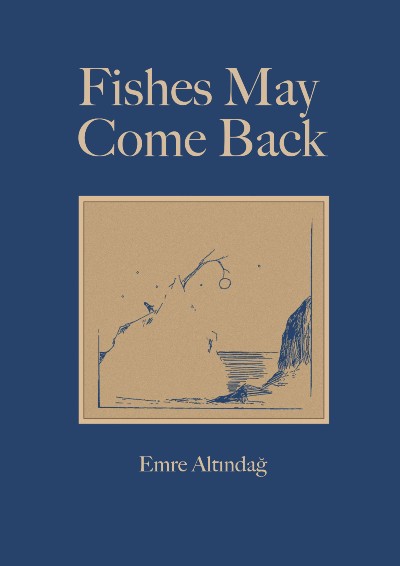 Fishes May Come Back is the debut comic from Turkish comic artist and painter Emre Altındağ. It's an elegant and haunting silent comic, brought to life by distinctive, intricate linework and a unique, poetic depiction of the passage of time. It's an exploration of loss, and of what it means to have both a body and a soul.
Fishes May Come Back will be approx. 60 pages, around 240 x 168mm in size, and printed in black and white on lovely off-white paper.
The Good Comics Reader #2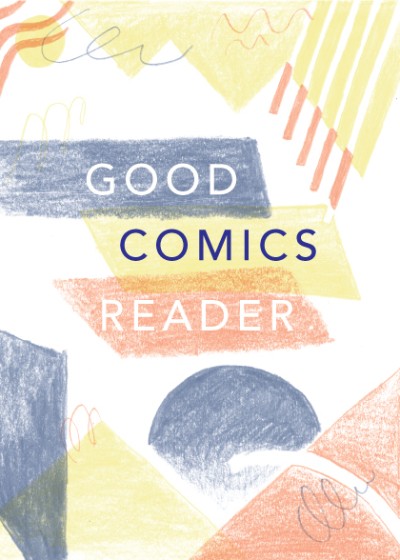 The first edition of the Good Comics Reader showcased the huge range of talent among artists and authors we've published, giving them space to share short stories in a unique riso-printed anthology. To continue to showcase all the brilliant people who are part of the Good Comics community, we're putting together a second edition of the Reade , with a twist: it'll be an A6 book to fit right in your pocket, and every short story has to begin with 'It was a
dark and stormy night…' It worked for Snoopy, so we think it'll work for us.
The Good Comics Reader #2 will be approx. 40 pages, around A6 in size (105 × 148 mm), and full colour.