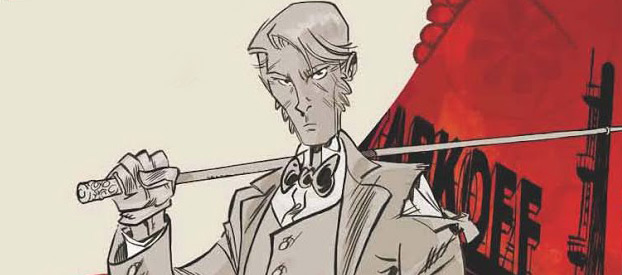 Silas Corey is a man of questionable morals but also one of the greatest detectives of the early 20th century. So going after a mysterious stamp filled with secret Nazi messages can't be that big a deal, right? Right?

Writer Fabien Nury is mostly known in the English language world for his collaboration with superstar artist John Cassaday on the two volume European series I Am Legion. An occult thriller taking place in WWII published stateside by Humanoids. I quite liked it but it got a lot of mixed reviews mostly centering on the disappointing solution to the plot and talkative nature of the series. But Silas Corey is quite the opposite. It is a fast-paced detective story superbly mixing action with drama and detective work.
France is burning at the end of WWI. When plans are being made to topple the government of president Cailleux, detective Silas Corey is ordered to find a seemingly missing journalist on the track of the traitor's plot. Complications ensue and Silas finds himself working for multiple employers in the highest ranks of the political echelon of early 20th century France. Silas Corey tries to balance all the needs and wants of these various factions but not even Silas' charm and cunning can keep all these balls in the air before they explode. And that is not even counting the charming but dangerous damsel in distress being an old familiar of Silas.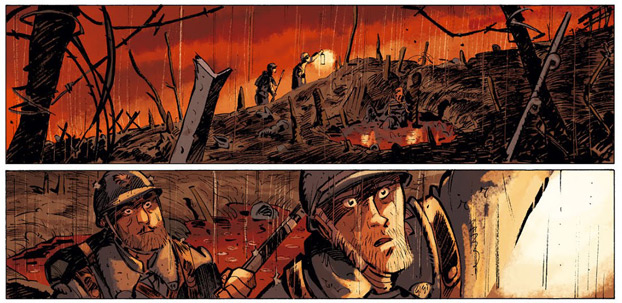 Script and art work perfectly together to turn this mix of action and drama into a compelling narrative with filmic qualities. The intelligent and captivating script by Nury featuring plenty of twists and turns is even more elevated by the elegant artwork of Pierre Alary. The elegant figure work mixing cartoonish elements with detailed backgrounds and smooth panel transitions deliver a modern touch to the proceedings. Fabien Nury has reined in his more talkative nature and lets the artwork speak for itself when necessary. The resolution is well handled and the character of Silas Corey seems destined for more.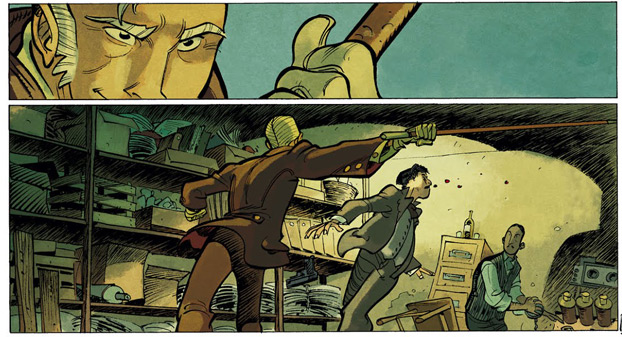 Fabien Nury and Pierre Alary have crafted a superb historical action piece properly mixing the detective with the action genre. Silas Corey turns out to be a multi-dimensional human being, a dandy with class and with his own moral views on the ways of the world. A world that not always turns as how he would have liked. This first mini-series is a great addition to any bookshelf and here's to hoping there will be more collaborations between these two gentleman creators!
Silas Corey: The Aquila Network is a 2 volume series by Fabien Nury & Pierre Alary. It is published by Glénat. Both are 64 pages full color hardcovers and retail for €14.95. This review was based on the Dutch edition published by Ballon Media.