Deadline hits you squarely in the head with a ruthless tale of revenge, while spotlighting a little-known aspect of the Civil War: the original "deadline". A must-read for every Western fan and history buff.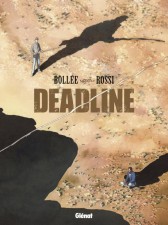 Camp Anderson, Georgia, 1864. Louis Paugham is an orphan living in the south while being raised by a northern civil rights defender. In a giant prison camp, he is charged with guarding the deadline, a artificial line drawn in the sand, the crossing of which is punishable by death.
Amid all the chaos and violence, he becomes fascinated by a young black prisoner of war who seems to withstand all the turbulence with a stoical and enigmatic stance…
If I refer to Deadline as being epic, I am not referring to the physical journey or the many roads traveled by the protagonist, but to the mental landscape of the characters.
Louis Paugham illustrates the reality of a life not yet lived but forced into an unbearable situation: being a soldier fighting for a system you don't believe in, harbouring feelings that are unspeakable in the society he lives in.
It all reeks of a coming-of-age comic, and it is in a certain way. However, the reality of the protagonist's situation is just so horrible and implacable that the only thing he can do is break and react in accordance with the age he inhabits: with violence.
Writer Lauren-Frédéric Bollée pens a tight script with a few magnificent scenes built in, slowly unraveling the character of Louis and his struggle with his emotional scars. Bollée gradually untangles all the threads that are present in the first few scenes – racial prejudice, violence, homosexuality and growing pains – and proceeds to make his statement about nature and nurture quite vehemently.
The scene where Louis professes to love a black girl while dressing her up in the clothes of the black man he pines for is just heartbreaking… until it is shattered with violence.
Illustrated by Christian Rossi in glorious gouache watercolors, the pages are drenched in atmosphere. Rossi chooses his colors very carefully, mixing realism with mood, leading to dominant color schemes in certain settings but still adhering to his realist approach. The searing sand-colored heat of the South becomes as palpable as its chilly bluish nights.
Rossi has a a good feel for the rhythm of a page and alternates points of view with deceptive ease, without ever overruling the story. With his supreme character work and posturing, Rossi just hits all the right notes with Deadline, and proves to be a supreme collaborator for this dark little tale.
Rossi and Bollée have conspired to create a tightly woven, intricate graphic novel that is as brutal for its characters as for its readers. Deadline is a Greek tragedy that will shake your foundation to its core with its maelstrom of conflicting emotions, bloodshed and remorseless vengeance. Highly recommended!
Deadline by Christian Rossi and Lauren-Frédéric Bollée is published in French by Glénat. It is a full-colour hardcover counting 96 pages and retails for €18.50.
This review was based on the Dutch edition published by Ballon Media.