Steel mils and classic cars: what could be more American than those icons? How about a good ol' dose of paranoia and mystery? French creators Rodolphe & Bertrand Marchal's third collaboration is a lo-fi mystery that took me quite by surprise.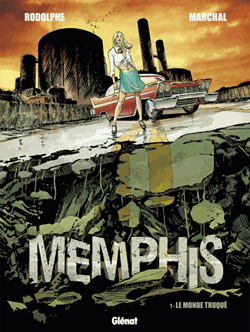 Based on the description and cover I was all set for yet another run-of-the-mill sci-fi mystery. However, what I read was much more entertaining than what I had expected.
In 1960, Louis Rockwell is a layout artist for a newspaper in Memphis, Tennessee. When he runs across his ex-fiancée in the street, she pretends no longer to know him, which naturally arouses his curiosity. He follows her to a residential building where all the inhabitants seem to live out their lives motionless, like plants.
Louis and his friend Roosevelt, the local expert on 'strange occurrences', become embroiled in a successive stream of odd instances. For instance, the local car factory, which is seemingly the biggest employer in the state, is abandoned. And the fact that no building has any contracts or historic documents.
And why does it seem that no-one has ever left Memphis?
On the surface, Memphis reads like another mystery/drama of a small town embroiled in bigger things. The kind of comic where black-suited men jump out of large black Cadillacs looking menacing through their dark sunglasses as they quarantine the whole town, while our protagonists run around trying to figure out what's going on.
In Memphis, however, Rodolphe takes a much more laid-back approach to the mystery thriller. He takes the time to let the characters explore their below-the-surface weirdness, while letting the personalities develop.
While the story starts out with Louis, he ultimately stays the least developed. It's obvious that Rodolphe sees more potential in Roosevelt, the local UFO expert, and the female love interest (for both of the men): a cocky young intern with a rebellious and sexually adventurous streak – quite a refreshing deviation from the usual stereotypical female protagonists.
(Although she is featured prominently on the cover in a revealing tied-up shirt and a sexy hip-swinging pose, so maybe the creators are not quite as progressive as stated above.)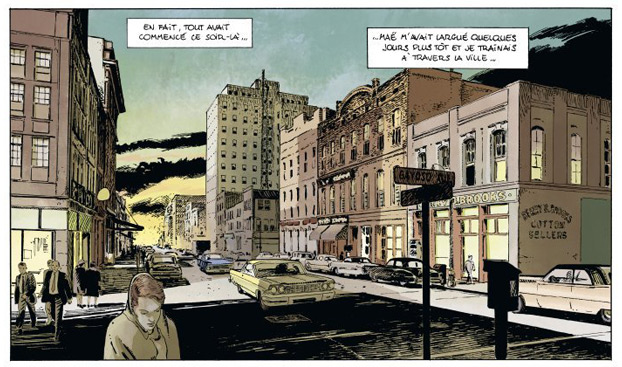 The drawings of Bertrand Marchal certainly deliver a grimy atmosphere, and it's the quality of the backgrounds and impressive landscapes that succeed admirably in diverting our attention away from the rather stocky body postures and general stiffness of the characters' mannerisms. Seemingly a cross between the cleanliness of Largo Winch's Philippe Francq and the grittier stylings of Arthur Ranson, it's clear that Marchal is still figuring out his style.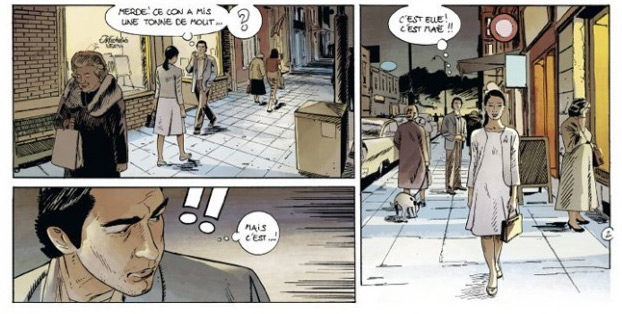 Though certainly enticing and an entertaining read, Memphis Vol. 1 still has a long way to go. Rodolphe introduces an intriguing mystery that succeeds in captivating the reader, but while the characters show promise, they are still severely underdeveloped for a first album of 48 pages.
Meanwhile, Marchal clearly revels in drawing the 1960s period pieces and the general dark atmosphere of the surroundings, but his characters come across as tense and wooden and show little emotion.
Both creators have constructed a dark universe that you could pitch as The Truman Show meets Dark City, and they succeed in ending the album on a shocker of a cliffhanger that could be interpreted in a lot of ways and draws the reader in. The successive volumes will tell whether or not the creators can deliver on the promise.
Memphis Vol. 1 by Rodolphe & Bertrand Marchal is published in French by Glénat. It is a full-colour softcover counting 48 pages and retails for €7.50. This review was based on the Dutch version, published by Ballon Media.