Crossing Borders is just one big barrel of laughs with vikings on the run from a vulcano (?) confusing Scotland with Walhalla and 5 easy steps on how to turn a haunted castle into a five star hotel in Hotel Sinister.

Walhalla by Pothier & Lechuga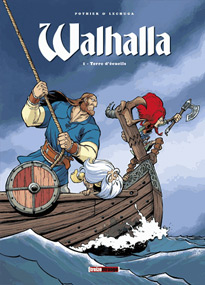 Walking in the shadow of the penultimate comedic barbarian strip is never easy but Walhalla by Nicolas Pothier & Marc Lechuga manage to at least step a foot outside of the dusk mounted by René Goscinny's Asterix. There's definitely a market for this sort of medieval comedy styling as purported by the success of Kaamelott by Alexandre Astier & Steven Dupré though being a side product off the popular French tv series (also written by Astier) makes this statement a bit harder to prove.
Since their own island is under threat from a vulcano, two brave vikings set out to find the promised land. Unfortunately, what the introspective Brömur and nervous Rudolf find is… Scotland. Stuck in a strange land, they become embroiled in a strange war concerning sheep and cheese. It's Scotland after all.
Anyway, to each his own and I quite enjoyed Walhalla which makes no effort being something it is not. It never takes itself too seriously and even amidst the battle scenes, there's always time for a joke or two. Pothier takes Asterix tradition to heart and a lot of the humour is derived from referencing current technology, historical events, pop culture and 21st century anachronisms but it never gets in the way of just telling a rollicking story. I particularly liked the reality TV aspect with the witches' brew to which crowds of villagers thronged in order to view the adventures of their companions, complaining and delivering comments as things happen.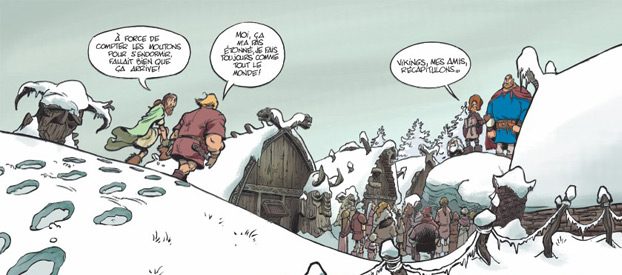 Fluid, cartoony with a touch of realism and a great flair for comedy, that's how Lechuga handles the art. His facial expressions and exaggerated contorted bodies get the most out of the jokes aided by bright and clear colouring. It's nothing spectacular or new but it's solid craftsmanship and perfect for the material.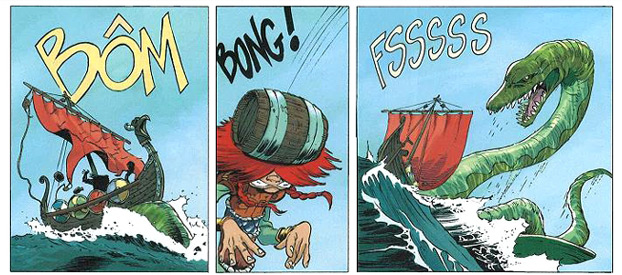 Pothier & Lechuga's viking comedy Walhalla is definitely a winner at a solid laugh per page. The juxtaposition of contemporary humour in a classical setting is straight out of Asterix but it manages to avoid the big shadow Goscinny's creation throws on the genre by unapologetically just being its own thing. I'd love to see more of this.
Walhalla Volume 1 by Pothier & Lechuga is published in French by Glénat. It is a full colour softcover counting 48 pages and retails for €11,95. This review was based on the Dutch edition published by Ballon Media.

Hotel Sinister by Mark van Herpen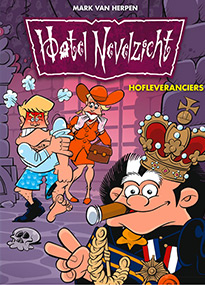 I covered them before but it bears repeating that Strip2000 inhabits a very specific niche into the Dutch comics market: humorous comics aimed unapologetically at the pre-adolescent and this is another successful notch on their belt.
The rambunctious Nero Nevel, master decorator and hotel d'maître, is tricked by the castle's owner into turning this dusty, haunted castle into a 5 star hotel. Hilarity ensues as Nero tries to wrestle with witches, monsters and slapstick jokes in his never ending battle for obtaining the necessary stars to get out from under his contract.
Drawn by van Herpen in a typical Dutch style mixing Hanco Kolk's fluid line with Henk Kuijpers' more angular style. van Herpen ups the ante a bit and concentrates on facial features by enlarging the heads and facial expressions. It's a good move for the targeted audience of 8-12 year olds in which expression is the key. Good stuff for who it is intended for but it lacks a bit the extra panache of a more distinct drawing style.
Hotel Nevelzicht : deel 1 Hofleveranciers by Mark van Herpen is published in Dutch by Strip 2000. It is a full colour softcover counting 48 pages and retails for €8,95.