As the cold and snow creep in, it's time to snuggle up with the kids on a sheepskin with these all ages releases starring Gaston Lagaffe and the kids from the JUMP series.
The simple joys to be had from sharing quality comics with kids, lying on the rug in front of the fireplace, leafing and reading comics while lying side by side. Case in point being the all-ages Gaston Lagaffe from Franquin and Jidehem and JUMP from Charel Cambré.

Bloopers & Blunders by Franquin and Jidehem
A comical evergreen, the hilarious capers of Franquin's Gaston Lagaffe should be on the bookshelves of every self-respecting comic lover with kids. Dupuis is releasing 5 beautiful hardcovers in the Italian format measuring 6 inches by 8.5 inches in a landscape format. These small hardcovers collect the first adventures of Gaston as they were published, two strokes on a page, one page being one gag. The digital remastering is respectful of the colours as they were when published and the colour of the paper is slightly off-white and textured, giving it an old-fashioned look and feel.

I enjoyed these publications tremendously and appreciated them even more than the classic 'full page' treatment the gags usually receive in the classic album format. The energy and manic speed of Franquin's drawings and timing are perfect for the 2 row stroke treatment as to where some gags are clearly spun out in the full albums.
They did a great job on these reproductions and will look even greater in your bookcase. Relive your youth with the marvelous inventions of Gaston as he pushes Fantasio and the entire staff at the Dupuis publishing house to the end of their nerves (except for the ever gullible miss Jeanne of course).
Gaston Lagaffe vol. 1-5 by Franquin & Jidehem is published by Dupuis. Al are full colour hardcovers in the Italian format, newly remastered and counting 64 pages. All albums retail for €10.90.

JUMP by Charel Cambré
We have touched upon the genius of Charel Cambré before in the review of Streetkids and The Isle Of Amoras but JUMP is his all-ages solo series. JUMP grew out of his frustrations in trying to break through in the animation scene. Hitting wall after wall, Cambré decided to go all out on a comic series. He went back to the classics and came up with dumb skater Dweezill, sassy and all-round cool girl Lisa and the nerdy inventor Brains with the pet armadillo Armando. They  meet at their clubhouse in a junk yard and live through one wacky adventure after another. JUMP is a canvas for Cambré to explore various genres like horror, comedy, superheroes, etc., within the safe trappings of a kids adventure comic. Publishing JUMP was a rocky road, going from Dupuis to Glénat to Standaard Publishing but he finally found a solid home in the shape of Dutch publisher Strip2000 who re-released all albums with a new cover design and new packaging. JUMP is up to number 17 now with the latest being a special inside look with unpublished cover designs, sketches and bonus stories.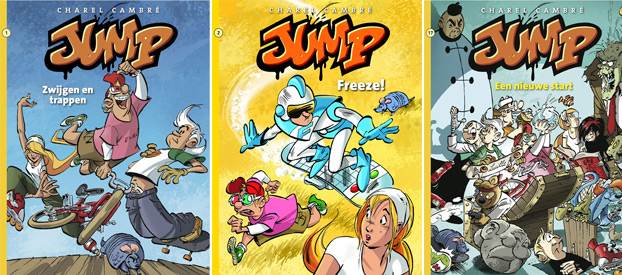 As in his other all ages work Streetkids, Cambré's art is still solidly embed in the Franco-Belgian style. JUMP is a bit more licked and refined but Cambré always manages to put out energetic work with a dynamic line and solid storytelling. JUMP is a definite winner in the all-ages category and I can tell you right out that your 6 to XX year old will love the adventures of the charismatic trio while they compete with vampires, BMX racing, supervillains, etc., which is all just another day in the life of … JUMP.
JUMP by Charel Cambré is published by Strip2000. Al are full colour softcovers, newly remastered and counting 48 pages. All albums retail for €7,95.