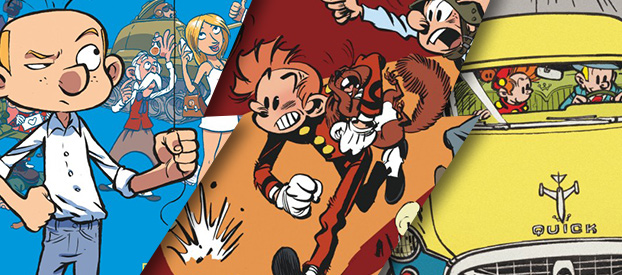 Despite the lack of a solid presence in the US and UK (although the publisher Cinebook has published seven books from Franquin's original series), Spirou remains as popular as ever in Europe.
Currently there are three series running:
the regular Spirou series, by the creatively stunning team of Yoann & Vehlmann;
the Spirou by… series, featuring album-length stories by rotating all-star creative teams (Crossing Borders review); and
the deluxe series, restoring lost Spirou treasures by Franquin, accompanied by the original pages and contextual text pieces (Crossing Borders review).
So let's take a look at the latest albums from these series.
Spirou by… vol.8 –  'The Big Head' by Tehem and Maky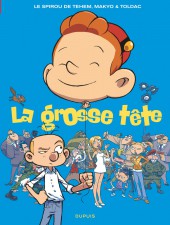 The latest album in this series of interpretations of Fantasio and Spirou by famous creators is least of the bunch. Tehem and Maky are solid creators but not that well known outside of France.  Their Spirou by… album is a bit of a mess, I'm sorry to say. While trying to pay hommage reference to two famous Spirou albums Watch out, Fantasio and QRN at Bretzelburg they have totally lost themselves into the joke making it too obvious that having read the two mentioned albums will add to the reader experience enormously.
It's a shame because it starts out well with Fantasio writing a book about his exploits with Spirou who anxiously tries to uncover its contents. After the book is published, a movie is set to be made and then the plot spirals out of control with far off Bretzelburg suffering another grab for power by the military who uses the national dish to keep the people fat and happy. Our duo gets involved through various contraptions that I can't even remember (never a good sign) and the story spirals downward ever more.
With 72 pages it just goes on too long and it seemed like the creators had just too much space. The main fault though is that they never really grab the spirit of the characters. The duo's friendly bickering comes off as snarky and bad-intentioned and even when they put aside their differences, Tehem never succeeds in capturing the nature or dialogue mode of this historical duo.
The drawings by Maky fare much better with dynamic cartoony work and at times almost feels like watching a cartoon in motion. It can not save the album though since by the end you're suffering from too much of a bad thing. A missed opportunity, I'd say.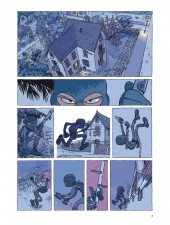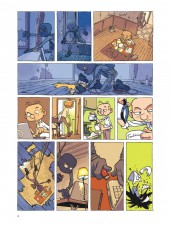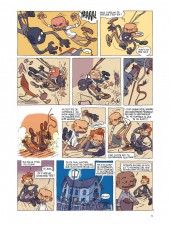 Spirou & Fantasio n°54 A Piccolo in Sniper Alley by Yoann and Vehlmann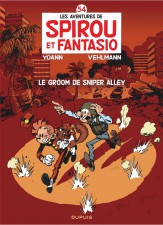 Ever since they started out in n°51 of the regular series, I really have grown into liking Yoann and Vehlmann's interpretation of our dynamic duo. The fantastic drawing style of Yoann fits Spirou perfectly: it is dynamic, has big noses and a lot of attention for detail including exquisite backgrounds and scenery.
Accompanied with Vehlmann's fast paced scripts that manages to honor the rich history of Spirou  while firmly embedding Spirou in the present, you have a winning combination.
In this full length album, Spirou and Fantasio tackle the hidden treasure of the library of Alexandria. As a drone missile takes out the hidden dictator of an Arabian country, viscious criminal elements decide the country is ripe for plundering. An old familiar maffioso blackmails our duo into going after the famous treasure of Alexandria that is protected by numerous ingenius traps.
Comedy, action and top topical items swerve around each other in a rollicking story that only suffers from a too quick resolution. Well done.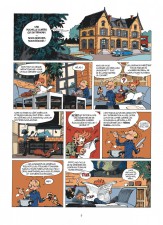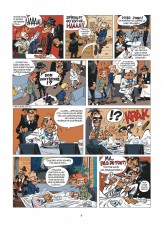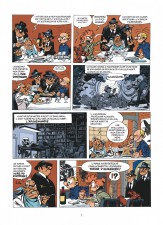 The Super Quick by Franquin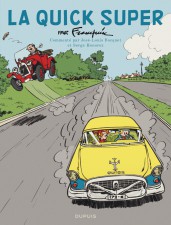 The before last edition of a series of deluxe albums, restoring inbetween stories of Franquin's Spirou meaning shorter tales as published serially in the weekly Spirou Magazine serving as a bit of a break between album length stories. I covered a previous album in Crossing Borders.
One of the shortest stories in this series, 18 pages, The Super Quick lets Franquin cut loose on his favorite subjects: cars and the city of Brussels.  Spirou and Fantasio are tasked with testing out a new type of car. The car dealer seems plagued by mysterious car thefts though and Spirou is quickly sucked into the mystery as the solution appears to involve someone from his past.
The story is almost an aside to the artwork. Franquin obviously is making this one up as he goes along hence the rather lengthy expository explanation to the mystery at the end which is rather unique for Franquin. Make no mistake, it is a fun and fast little tale and the enjoyment lays in Franquin's use of dynamism and his sheer delight in putting the design of the car and their movements to paper. This is ever more present in the back pages that as usually provide insight information on the left page with a reproduction of the original inked pages on the right.
Highly recommended.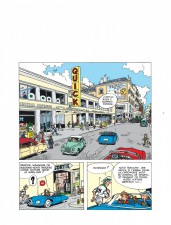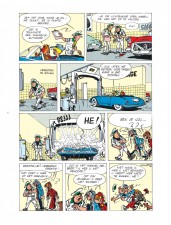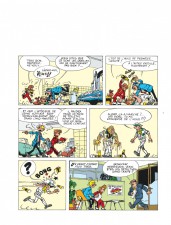 Spirou by… vol.8 'The Big Head' by Tehem and Makyo is a full-color softcover. It counts 72 pages and retails for €14.50.
Spirou & Fantasio n°54  'A Piccolo in Sniper Alley' by Yoann and Vehlmann is a full-color softcover. It counts 48 pages and retails for €6.95.
The Super Quick by Franquin is a full-color hardcover. It counts 68 pages and retails for €24.
All comics are published by Dupuis and all reviews are based on the Dutch editions published by Ballon Media.
For more news and info from Europe's comics community, follow me on Twitter right here.