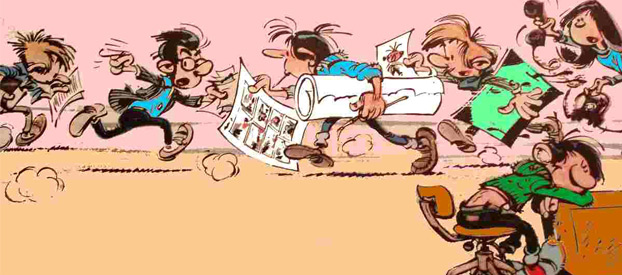 One of the most recognizable and alluring goofs of time immemorial, Gaston Lagaffe turns 57 today and Google joins the celebrations! In the English language market he is mostly known as side figure in the Spirou series by Franquin as published by the ever excellent Cinebook but he has spawned his own series which clocked in with over 20 issues and re-issues still being published in Europe today. On top of that he generated a whole merchandising empire which is still going strong. Created in 1957 in Spirou magazine #985 to fill up some empty spaces in the magazine, he is a lovable doofus and the ultimate procrastinator and the anti-hero of the typical working-joe.
The Google image of February 28th 2014


He has been featured in two Crossing Borders and will be the subject of third one coming soon.
So happy birthday, Gaston Lagaffe! Break a leg!