Though the regular Spirou series is still going strong with their all-ages action-adventure approach, for older readers the real fun lies in Spirou by… , a new creator-driven series.
Each album contains a single story by a famous writer and/or artist, and some great albums have already been released by the likes of Trondheim, Le Gall, Vehlmann & Yoann and Emile Bravo. The seventh book in the series is created by the returning duo of Schwartz and Yann, who previously produced the rather splendid fifth entry, Piccolo in a Khaki Uniform.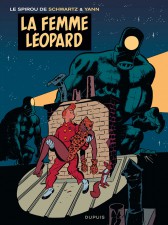 Brussels, 1946. The Belgian capital is plagued by a relentless heatwave while still suffering from the aftereffects of World War II. While Spirou is haunted by the spirit of an impossible love and withdraws into an alcoholic slumber of forgetfulness, a strange woman in leopard garb traverses the roof tiles of the city, chased by sinister robots.
When she crashes into the Moustic Hotel – Spirou's place of employment – he is shocked out of his alcoholic stupor and dragged into an adventure that crosses continents, involving magic, Nazi scientists, a tribal leader turned genocidal madman, the cult of the Black Wafer and a mystical statue.
Spirou and the Leopard Woman is a return to the world Schwartz and Yann created in the fifth album, but you do not need to have read its predecessor to follow the story. It's a fast-paced, mystical adventure tale in which writer Yann seems to inject the story with as many ideas as possible in order to tie it all together in the next album (since this is a two-parter). And it sure is a wonderful ride.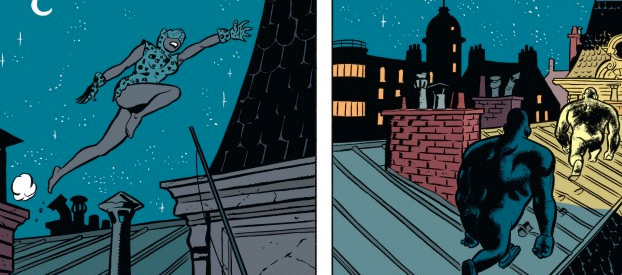 Yann's scenario is a roller coaster of innuendo and inside jokes, peppered with extensive historical research. While in Piccolo in a Khaki Uniform  Yann seemingly wanted to chase Alan Moore from the Throne of Annotations, what separates this album from their previous collaboration is that instead of peppering the album with a lot of European and US comic references, Yann references more the cultural context of the forties with its many American influences.
However, it is not detrimental to the story, and Spirou and Fantasio keep rolling into one situation after another, culminating in… well, we don't know what, exactly, because The Leopard Woman provides no answers, only questions.
But at least the questions are pretty intriguing, and I am really wondering how Yann will tie up all the story threads and bring them together in part two. He succeeds in elevating Spirou beyond his iconic status and turns him into a man, haunted by his own demons. Superb.
Both creators have been highlighted in Crossing Borders before, with their controversial Gringos Locos comic book (definitely worth reading if you are interested in Franco-Belgian comics), and artist Schwartz's drawing skill seems to have only grown since that time.
From his fluid figure work and attention to detail, it is clear that he is having a ball illustrating Spirou. He builds on the atomic style popularised by Yves Chaland, but ups the ante on movement, with a looser line and spotted blacks.
His attention to the environment makes his set-ups busier than one is used to from the rather squeaky clean atomic style, but Schwartz's ability to draw the eye where it needs to be is unsurpassed, so nothing ever gets lost in the storytelling. I especially admired his city scenery of Brussels in the forties.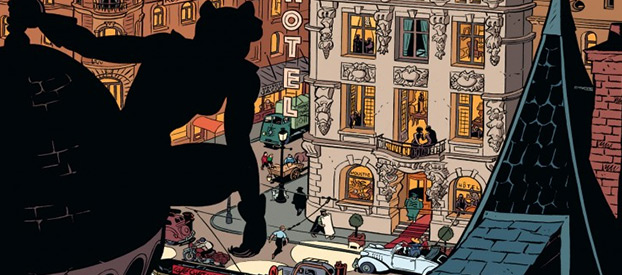 In Spirou by… No.7: The Leopard Woman, it is clear that Schwartz and Yann are not only creating a love letter to Franquin's Spirou and Fantasio, raising the stakes on the zaniness and radically humanising them, but are also showcasing a clear affection to a specific timeframe.
They manage to integrate their obsessions into a post-WWII setting where the world seems clouded by darkness while bright new horizons and strange threats and mysteries emerge from the gloom. I am eagerly awaiting the second part of this intriguing tale!
Le Spirou de… No.7 –  The Leopard Woman by Schwartz and Yann is published in French by Dupuis. It is a full-colour softcover counting 64 pages and retails for €9.50. This review was based on the Dutch edition published by Ballon Media.