One of the most recurrent pre-adolescents fantasies must be having the ability to read minds. (Another one is probably X-ray vision, but for an entirely different reason…) French creator Lewis Trondheim has found a way to subvert this fantastical cliché – a staple of superhero comics and escapist literature – in an unpredictable and uproarious graphic novel collaboration with artist Matthieu Bonhomme.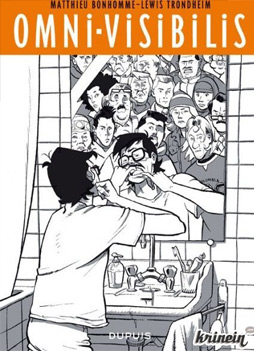 Omni-visibilis is the story of Hervé Boileau, a misanthropic loser with an obsessive compulsive disorder.  When one morning he keeps meeting strangers who seem to have an intimate knowledge of his day-to-day life, he discovers that everyone in the world can feel, smell, see and taste what he does.
Haunted by wannabe actors, psychopathic salesmen, the government and everyone who sees a profit in him, he starts to run. But how can you run away if everyone can see where you are running to? And, come to think of it, how do you even take a pee?
As you can tell, this is no ordinary tale of mind-reading but an inversion of the same principle: everyone in the world can read minds – and, more specifically, one mind.
Trondheim drops this one simple fact into the real world and rolls with the consequences. What it turns into is a smart and funny rollercoaster ride, as humanity is not exactly shown from its best side.
There is, of course, the government, which is pretty pissed that Boileau and his friends naively came up with the idea of renting out this new-found talent to whoever bids the highest amount. There's the girlfriend who keeps spouting lines from famous plays to transmit her acting skills to the world (and, more specifically, any directors who are tuned in). And there's the proprietor of the local diner, who – in a bid for some clandestine advertising – serves Boileau bigger sandwiches than normal. The list just seems to keep growing as the graphic novel advances. Run, Boileau, run.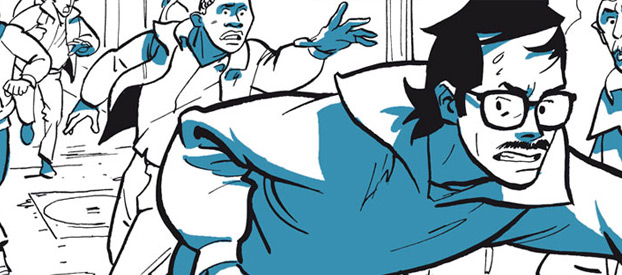 Trondheim focuses squarely on the hypochondriac Boileau and his friends, and even though theoretically the whole world is involved, the writer still manages to approach this as a small story of one man, while incorporating a broader vision of humanity.
The only thing I found lacking was the resolution: it was fitting in a sense, but Trondheim failed to derive any meaning or real-life consequences out of the ending, although there is clearly a lot of potential.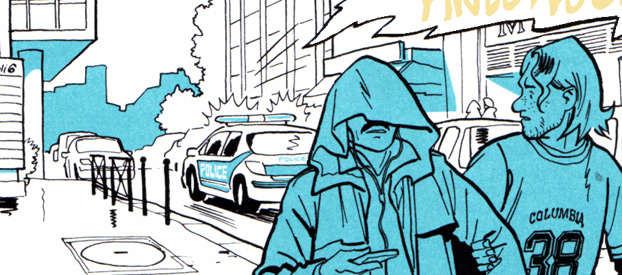 While I wasn't that enamored with Trondheim previous collaboration with artist Matthieu Bonhomme, Texas Cowboys, the latter's approach to Omni-visibilis is much more appealing. His tighter linework and strict use of light blue as a supportive colour truly makes his art shine.
His more than excellent figure work stands out, and his character designs are just plain formidable, infusing life into Trondheim's writing. Although not really known outside France, Matthieu Bonhomme really is one of the greats of a new crop of artists.
Omni-visibilis is a fast and captivating read due to an innovative reversal of the mind-reading principle, a cinematic script and dazzling yet grounded visuals. Highly recommended. Self Made Hero, are you reading this?
Omni-visibilis by Lewis Trondheim &  Matthieu Bonhomme is published in French by Dupuis. It is a duotone hardcover counting 160 pages and retails for €20.50. This review was based on the Dutch edition, published by Ballon Media.