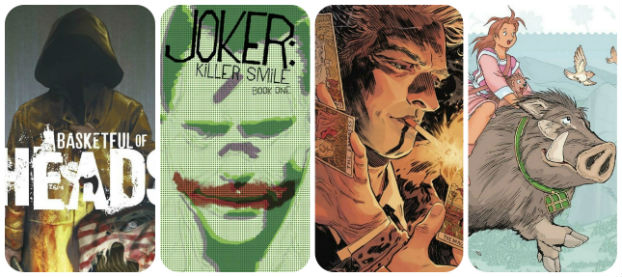 It's Wednesday, and you know what that means: a fresh load of comics and graphic novels! With so many publications hitting your local comics store, comics event or digital storefront, the BF team are here to lead you through the woods with our weekly staff picks. Satisfaction guaranteed!
Comic of the Week
Basketful of Heads #1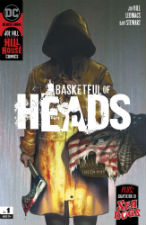 Earlier this year saw Joe Hill (NOS4A2, Locke & Key) and DC join forces to launch Hill House Comics; a new pop-up line of creator-owned horror comics featuring five original limited series, attempting to step into the void left by Vertigo's closure. They'll all be released under DC's Black Label, meaning they're not intended for younger audiences. To that effect, this week marks the debut of the first series, Basketful of Heads, written by Joe Hill with art by Leomacs.
The story follows a young woman armed with an axe so sharp it leaves its victims' severed heads still conscious and capable of speech, and a basket in which to collect said disembodied crania, each of which has its own haunting tale to tell. Fans of Hill's know to expect smart and subversive horror, with nods to more fantastical elements – perfect for a genuinely ghoulish Halloween read. Forthcoming titles in the Hill House line include more work by Joe Hill, as well as from fellow multimedia creators including Mike Carey (Lucifer, The Girl with All the Gifts), Laura Marks (TV's The Exorcist, BrainDead) and Kelley Jones (Swamp Thing, The Sandman).
Joe Hill (W), Leomacs (A), Dave Stewart (C), Deron Bennett (L) • DC Comics/Black Label, $3.99
– Ally Russell
Sandman Universe Presents Hellblazer #1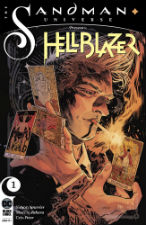 After rebooting three DC Vertigo titles and launching a fourth (House of Whispers – arguably the best of the bunch) last year under the Sandman Universe umbrella and with those titles now happily collected in first volumes, another 90s favourite returns in the form of John Constantine – Hellblazer himself! This deluxe one-shot launches the new series coming in November and straddling some somewhat contradictory timelines of previous and present stories.
Classically more upsetting than many of its Sandman Universe siblings, it should prove interesting to see where on the appropriate audience spectrum this new book lands – both in terms of strength of stomach and weight of previous reading. Whether you're a seasoned scaler of terrifying heights or a curious Keanu fan, there'll definitely be sarcasm and monsters. Yay!
Simon Spurrier (W), Marcio Takara (A), Cris Peter (C), Aditya Bidikar (L) • DC Comics/Black Label, $4.99
– Jenny Robins
Ghosts Giant #1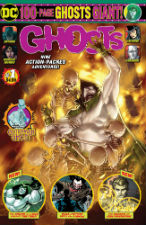 Back in the 1970s through to the early '80s, DC's monthly anthology series Ghosts was one of the more focused of their non-super-hero genre offerings and, especially in its early years, had some truly memorably macabre covers.
Sadly this latest edition in DC's bumper Giants series is simply appropriating the name of its inspiration because this is standard super-hero fare albeit with a supernatural twist, and the vast majority of it is reprints from similar-sized and very recent DC Halloween and horror specials. A strange decision as it wouldn't have been that hard to source classic material instead.
But if you haven't read the reprinted material then this is a lot of festively frightful material and there's three new stories as well featuring the Spectre, the Gentleman Ghost and John Constantine, from creators like Dan Jurgens, Scot Eaton, Keith Giffen, Priscilla Petraites, Andy Clarke and John Layman. There's a lot of reading for relatively little layout between these covers and it's another suggested pick this week for some easy, undemanding Halloween "comfort" reading.
Anthology – Various creators • DC Comics, $4.99
– Andy Oliver
Hellboy and the BPRD: Long Night at Goloski Station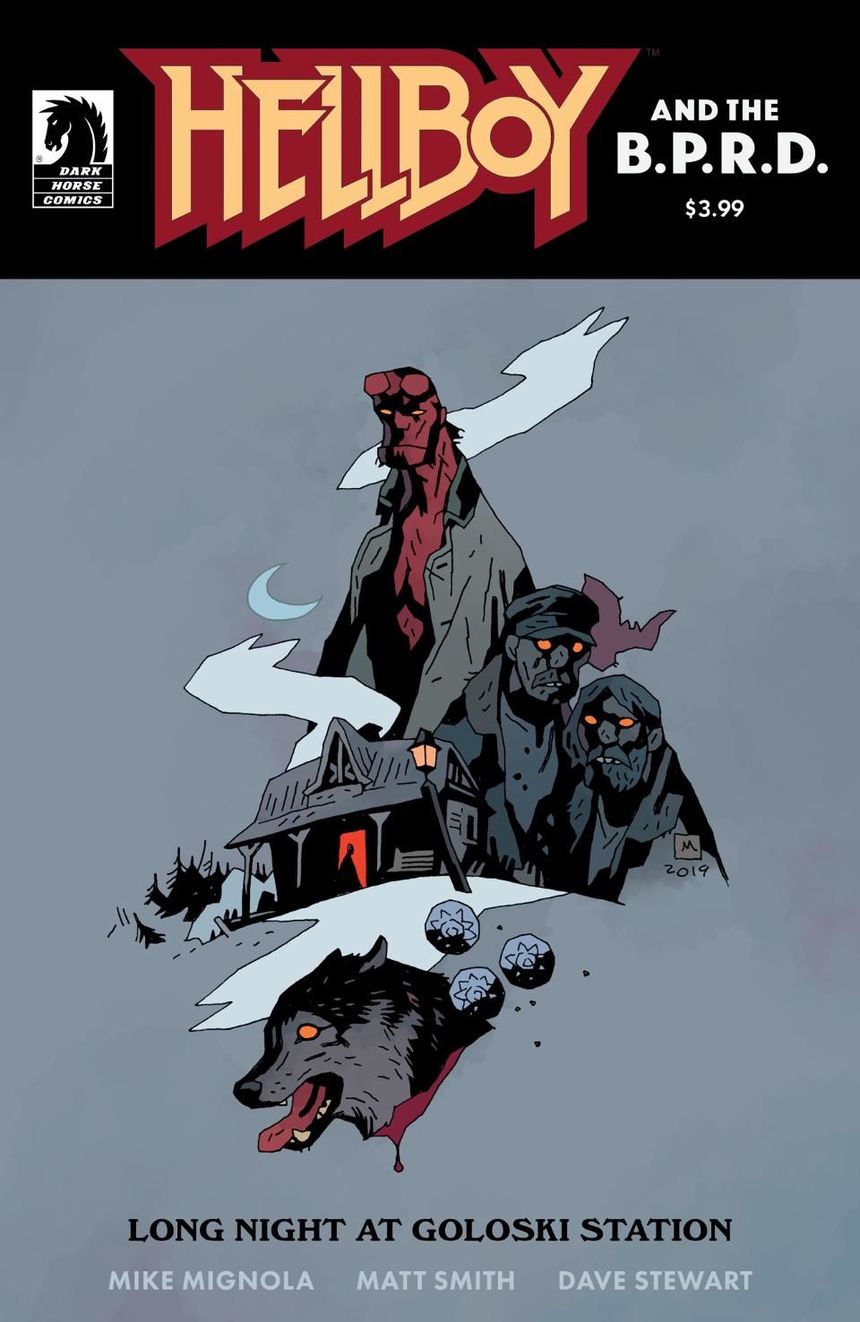 It's Halloween horror Hellboy-style as writer Mike Mignola is joined by artist Matt Smith (Lake of Fire) and veteran Mignolaverse colorist Dave Stewart for a wild-west worthy standoff at a remote train station in Russia. Ruining what would have been a quiet night at the dilapidated station, Hellboy faces off against three evil intruders in a supernatural clash.
This is another outstanding Mignolaverse one-shot from Dark Horse Comics. If you're handing out comics this Halloween, this is not the title to add to that stack. It is definitely the book you reserve for yourself to enjoy after all the Trick-or-Treaters are gone. But you may want to make sure all the lights in the house are still on!
Mike Mignola (W), Matt Smith (A), Dave Stewart (C) • Dark Horse Comics, $3.99
– Karen O'Brien
Fantastic Four: Grand Design #1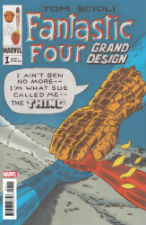 I'm the one person in all of comicdom, apparently, who was not a fan of Ed Piskor's X-Men: Grand Design. While I appreciated the remarkable sense of artistic design and the visual aesthetic, some of the liberties taken with continuity didn't tie decades of stories together for me so much as tear them apart.
Still the concept is a neat one so let's see if the Kirby-inspired Tom Scioli can work some magic with his retrospective pulling together of the Fantastic Four's continuity. Time will tell if this exercise in comics nostalgia will be a Waid-Rodriguez History of the Marvel Universe or a John Byrne-style Spider-Man: Chapter One. But either way, for the super-hero crowd, it's definitely one of the key releases of the week.
Tom Scioli (W/A) • Marvel Comics, $5.99
– Andy Oliver
Courageous Princess Vol. 1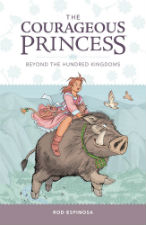 "Long ago there was a place called the Land of the Hundred Kingdoms. It was a magnificent world filled with great nations, diverse people, and touches of true magic here and there." Rod Espinosa's stories for Dark Horse inhabit this place through the eyes of Mabelrose, a princess that has to rely on her own resourcefulness and (obviously) courage to escape from dragons and face various other fairy tale inspired adventures.
Accessible to all ages the Courageous Princess draws on influence from many levels of fairy tradition from the ancient to the cheesy – an unpretentious and cute, vaguely Christian, feminist update rather than a particularly satirical one and the aesthetic is somewhere between manga and Disney. There's a healthy helping of imaginative quirkiness still – Mabelrose's sidekicks include a talking hedgehog and magical anthropomorphic rope – excellent choices. Three volumes were previously published in hardback in 2015 and Dark Horse are set to release all three over the next six months in paperback.
Rod Espinosa (W/A) • Dark Horse Comics, $14.99
– Jenny Robins
Joker: Killer Smile Book One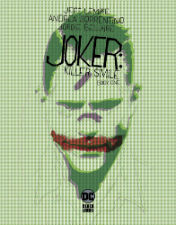 At this point in the post-New 52 era of DC Comics, continuity is such an irredeemable mess that it's beyond salvaging. But there's some interesting work still coming out of the standalone projects that are more about the craft of comics narrative than the now incomprehensible DCU. A storytelling environment that seems to soft reboot every other month and hard reboot every two or three years. The Black Label titles look set to be a decent starting point if you're looking for more accessible super-hero reading matter and, while Joker: Killer Smile is no doubt released at this point in time to milk the relative success of the new film, it has a top-notch creative team.
The premise is a simple one – renowned psychotherapist Dr. Ben Arnell attempts to get into the mind of the Joker but finds that it's more a case of the Joker getting into his. But it's all in the tense execution. Writer Jeff Lemire is joined by artist Andrea Sorrentino, colourist, Jordie Bellaire and letterer Steve Wands for this intriguing new psychological thriller.
Jeff Lemire (W), Andrea Sorrentino (A), Jordie Bellaire (C), Steve Wands (L) • DC Comics/Black Label, $5.99
– Andy Oliver