Artwork by Chris Peterson and Eric Zawadzki treats Ryan K. Lindsay's mind-bending concept to a visually impressive debut in the première issue of Headspace from Monkeybrain.
In Headspace, writer Ryan K. Lindsay takes us on a journey into Carpenter's Cove – a surreal mental landscape that is equal parts nightmare and acid trip. Here be robot-dog bartenders, monsters worthy of the weirdest Lovecraft tales, and dragons out of a medieval fantasy world.
Against this backdrop we meet Shane, who happens to have been unlucky enough to wind up sheriff of Carpenter's Cove (though he's a bit fuzzy on the details of how exactly that happened.)
The reason his memories aren't quite in order, it turns out, is because Shane is stuck inside someone else's head, and many of the town's denizens are in fact psychological constructs. That bit of information goes a long way towards justifying, if not exactly explaining, the thorough strangeness of Carpenter's Cove.
So whose head, exactly, is Shane in? The answer to that question is as unsettling as it is intriguing: Shane is living in the mind of a man known only as Max – a wanted killer whose every move is guided by the voices in his head.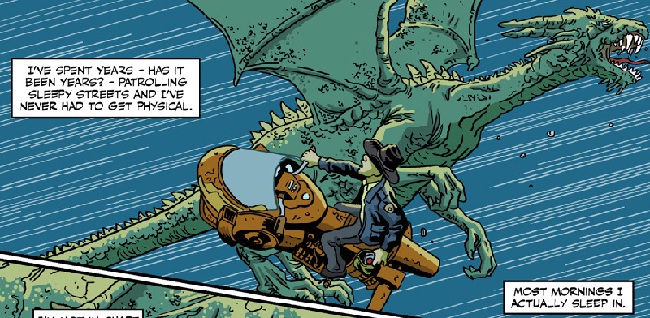 Artists Chris Peterson and Eric Zawadzki split illustration duties for this issue, Peterson handling the unearthly realm of Carpenter's Cove, and Zawadzki tackling the "real-world" scenes that introduce us to the character of Max. This division of labor allows the two worlds of Headspace to be developed independently of one another, but the styles of Peterson and Zawadzki are similar enough that the flow of the story is never broken.
Both artists have a dynamic style that favors an energetic feel over strict realism. While Peterson occasionally struggles with awkward construction or perspective, the problems are minor overall and can, in fact, be chalked up easily to the otherworldly aspects of Max's mindscape, if you're so inclined.
In case you can't tell, Headspace is more than a little trippy. A psychedelic and cerebral tale in the vein of Dark City or the more out-there episodes of The Twilight Zone, it does as good a job as those stories at laying the foundations of an interesting story with an engaging, high-concept premise.
While it might be too early to tell if Lindsay will follow through with a well-developed story and dynamic characters, the promise of an original take on a somewhat familiar concept should be enough to gain the attention of even the most skeptical genre fan, if only for the next few issues. At ninety-nine cents, there's no good reason not to give Headspace a chance.
Ryan K. Lindsay (W), Chris Peterson (A), Eric Zawadzki (A/C/L), Marissa Louise (C) • Monkeybrain Comics, $0.99, March 5, 2014