De Campi gleefully tests the boundaries of good taste in the best possible way. Sexy, violent, and perfectly cheesy, here's hoping these grindhouse doors never close!
Alex De Campi knows more about grindhouse cinema than I ever will. I don't know why I should be so surprised by this. Her work on the seminal Smoke and its most welcome follow-up Ashes, is unflinching, often violent in its depiction of a dystopian near-future London. From the opening pages of her latest offering from Dark Horse though, one gets the sense De Campi's been – ahem! – lusting after the chance to tap into her passion for 1970s genre cheese. 
Solicited as an eight-issue series comprising four separate two-issue tales of lurid horror and unapologetic sexuality, Grindhouse: Doors Open at Midnight is a celebration of B-movie excellence without peer. De Campi and collaborator Chris Peterson start the quadruple-feature bill with a wild, sexy romp appropriately titled "Bee Vixens from Mars!"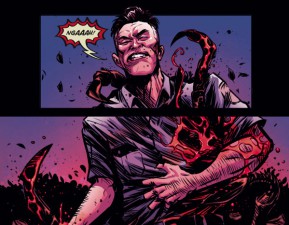 Perhaps the best thing about this book is that one only needs a superficial understanding of what grindhouse movies are all about to have an enjoyable reading experience. De Campi smartly refrains from going too over the top with genre in-jokes and references, allowing for an easy accessibility for connoisseurs and neophyte readers alike. Tapping into familiar grindhouse hallmarks such as an abundance of tits and ass, a hard as nails female protagonist, and gore by the gallon, De Campi builds a sleek, sexy, lean, mean cheese machine that never fails to suck the audience into its slipstream. With its breakneck pace, witty dialogue, and simple straightforward plot, De Campi's romp through the alluring gutters of her imagination is as entertaining as it is visceral and bloody.
Chris Peterson's art compliments the exuberant, overt sexiness of De Campi's fun, fast-paced script. Smooth and slick in his depiction of the book's bevy of beauties, Peterson isn't afraid to follow De Campi into the trenches and get his hands dirty. Scenes of mutilation and impalement feel appropriately gritty and textured, as Peterson abandons refinement in favor of gobs of black ink and scratchy linework. The overall effect is one of well-crafted, robust visuals that helps take De Campi's story to the next level with flare and confidence.
Easily one of the funnest reads of the year, Grindhouse: Doors Open at Midnight lures the reader in with its cheesy, charm and good-natured violence. De Campi's versatility and passion are on full grisly display here and it's well worth the price of admission.
Alex De Campi (W), Chris Peterson (A)  • Dark Horse Comics, $3.99, October 2, 2013.