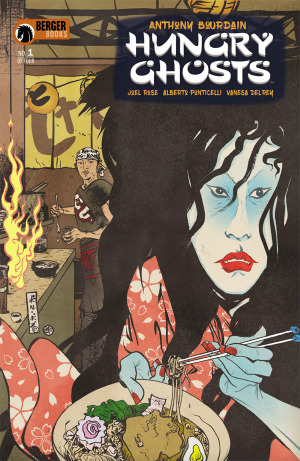 Celebrity chef Anthony Bourdain and his Get Jiro! co-writer Joel Rose reunite to cook up Hungry Ghosts #1; the first instalment of a four-part miniseries via new Dark Horse imprint Berger Books. The issue comprises two cautionary fables, illustrated by Alberto Ponticelli and Vanesa Del Rey respectively, set within a unique framing narrative from which the anthology takes flight. On the night of a full moon, a Russian billionaire of morally questionable means gathers a handful of top international chefs at his Long Island mansion.
After a world class meal, the mysterious host challenges the chefs to join him and his guests for a game of Hyakumonogatari Kaidankai. Popular in the Japanese Edo period as a test of courage among samurai, the game – translating to mean '100 Candles' – invites its players to recount increasingly terrifying tales of yurei (ghosts), yokai (apparitions, spirits and demons) and reikon (inner beings that reside within us, only to surface upon death), blowing out a candle for each story told, until none remain.
In Bourdain and Rose's reimagining of the Kaidan tradition, the chosen stories find common ground in their themes of the supernatural, violence, and of course, food. 'The Starving Skeleton' is a simple parable around the gashadokuro, or, as the series takes its name, 'hungry ghosts'. At only six pages long, the narrative is somewhat limited, however Alberto Ponticelli's use of colour and perspective packs a fearful punch. 'The Pirates' receives a more developed treatment, with a humorous twist and Vanesa Del Rey's heavy brush tones creating atmosphere befitting of the genre.
How the series creators aim to take on up to 98 further ghost stories in just three remaining issues is yet to be seen, however Rose's afterword promises the tales to come will be set around the world and obsessed with love, gluttony, erotica and revenge. Outweighed by the carefully detailed exposition, the short stories contained within this slim issue do read a little thin. Yet we have seen from the likes of horror masters Archie Goodwin, Larry Ivie and Richard Corben that page length need not be an obstacle to a drop dead campfire yarn; conciseness being an art that takes practice. With this debut issue largely – and effectively – spent setting the scene, it serves primarily as a 30-page amuse bouche, with further horrors still to be tasted and Bourdain and Rose's storytelling chops still to be tested.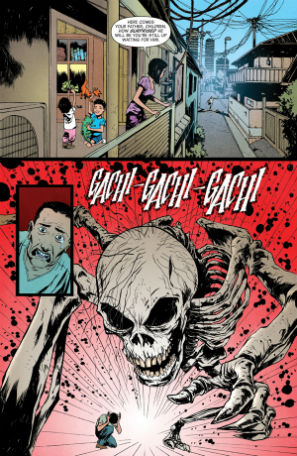 The concept of this anthology, along with the intrigue surrounding its elusive host, certainly holds promise for subsequent instalments. A final thought on the Hungry Ghosts conceit, however; Bourdain and Rose have clearly done their research, approaching their Kaidan subject matter with reverence and respect, and attempting to give it an authentic spotlight in the western world. Every detail down to Paul Pope signing his striking cover image in Japanese characters looks to pay homage to traditions within eastern culture. However, it will be important that comics creators of Asian descent, and not only western artists paying tribute to that culture, might have a seat at the table in the issues to come.
Anthony Bourdain and Joel Rose (W), Alberto Ponticelli and Vanesa Del Rey (A), Jose Villarrubia (C), Paul Pope (CA), Sal Cipriano (L) • Dark Horse Comics/Berger Books, $3.99 
Review by Ally Russell