It's almost Wednesday, and you know what that means: a fresh load of comics and graphic novels! With so many publications hitting your local comics store or digital storefront, BF is here to lead you through the woods. These are the books that need to be on your pull list this week.
Comic of the Week
Detective Comics #30
Change is coming to Detective Comics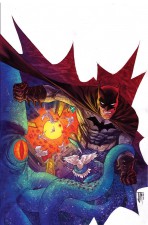 – the stellar run of John Layman and Jason Fabok is no longer: enter Brian Buccellato and Francis Manapul, the new writers and artist responsible for what is, in essence, Batman's oldest title.
This Wednesday is significant because it marks the first new comic book day after Batman's 75th birthday on 30 March 2014. Therefore, Buccellato and Manapul are also the first team to lead Batman into the next 75 years of his being. Are they strong enough to take this responsibility on? Well, anyone who has read New 52 Flash can attest to them nailing that title to the wall, trophy-style. Their story is a riot, moving as fast as the Flash himself. Manapul's bright, comic style may not be to everyone's taste, but the cover preview excites me. The Dark Knight needs colour and movement to frame him – just look at the impact of Capullo and Plascencia on Batman to emphasise that.
And besides – Detective Comics is where Bruce still gets to have a bit of fun. It takes him back to where he belongs, to the pulp-heart of 1939. Messrs. Buccellato and Manapul – let your riot commence.
Brian Buccellato (W), Francis Manapul (W/A) • DC Comics, $3.99
– Joe Krawec
Dead Letters #1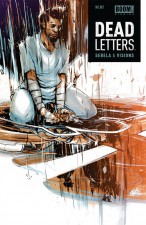 Waking up in a fleabag motel with bandaged arms and a revolver on his desk, Sam doesn't remember a thing – not how he got here, where here is, or who he is. But the armed men knocking on his door do and Sam will have to use every trick from his forgotten repertoire to outrun and outsmart his way through a hard-boiled wonderland of gang wars, femme fatales and big secrets.
This fast-paced new crime series is a nice follow up to High Crimes (Monkey Brain) for writer Christopher Sebela, and the art by relative newcomer, Chris Visions, is both gritty and kinetic. This title is a perfect fit for two creators you'll be seeing a lot more from in the future.
Christopher Sebela (W), Chris Visions (A) • Boom! Studios, $3.99
-Tyler Chin-Tanner
Inhuman #1
After a three-month delay, it's finally here. This was the book Matt Fraction was supposed to write, until he unexpectedly dropped out because he and Marvel didn't see eye to eye on the direction to take the book in. Charles Soule picked up the gauntlet, and will now chronicle the reestablishment of the Inhumans as a force to be reckoned with.
Outcasts in recent years, the people led by Black Bolt will see their numbers multiply exponentially, as the Terrigen Mists hit the earth big time, activating Inhuman genetic code in unsuspecting people all over the globe.
Inhuman is the precursor of the further evolution of the Marvel Universe, the book that will plant the big seeds of where things are headed over the coming years. And it's featuring art by Joe Madureira, the artist at the forefront of the X-Men domination in the 90s. Yeah, you know who we're talking about.
Charles Soule (W) Joe Madureira (A) • Marvel Comics, $3.99
– Frederik Hautain
Edgar Allan Poe's Premature Burial One-Shot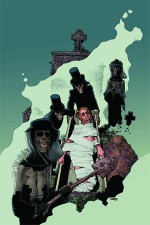 Master of the macabre Edgar Allan Poe made a massive impact on horror as a genre with his chilling and sometimes downright creepy short stories. Now two of those stories – 'A Premature Burial' & 'The Cask of Amontillado' – are being re-imagined by writer & artist Richard Corben in this new one-shot. Both stories have the exceptionally horrific theme of being buried alive – quite a common subject matter for Poe I believe.
Comic book adaptations can sometimes be a love-or-hate affair, so it will be interesting to see what new life Corben can bring to the classic tales, and what the verdict is on his efforts.
Richard Corben (W/A) • Dark Horse, $3.99
– Conori Bell-Bhuiyan
Aquaman and The Others #1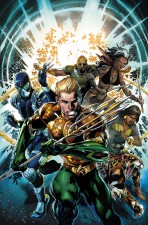 Is the comics-buying world ready for two Aquaman books on the shelves? DC thinks so, and it's launching Aquaman and The Others #1 this Wednesday. The Others were Aquaman's team before his days in the Justice League, and the flashback sequences were well done and well received in the pages of Aquaman.
If you're wondering whether or not to give it a try, did I mention that veteran comics scribe Dan Jurgens (Superman, Thor) is writing? I have no doubt that he'll keep the action flowing in this title while giving us strong characters who are interesting and capable of causing each other endless amounts of mayhem. Bring it on!
Dan Jurgens (W), Ed Tadeo and Lan Medina (A) • DC Comics, $2.99
– Karen O'Brien
Fatima: The Blood Spinners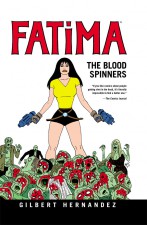 More than 30 years into his career, the work-rate of comics maestro Gilbert Hernandez seems to be growing exponentially. His output has already burst out of the constraints of the Love and Rockets format, and the past few years have seen an explosion of mini-series, graphic novels and new collections. This hardback edition of his four-part mini-series from 2012 is Beto's characteristically freewheeling take on the ubiquitous zombie story.
In the near future, a drug called 'Spin' offers the ultimate trip – but at the price of becoming a lumbering undead flesh eater. The Amazonian lead character is part of a team tasked with stopping the epidemic, but where the story goes from there is waaay beyond the scope of this preview. Fatima represents Beto turning his penchant for Grindhouse splatter up to 11, in a way that famously – and probably intentionally – troubles some fans of his more 'mainstream' work.
Gilbert Hernandez (W/A) • Dark Horse Comics, $19.99
– Tom Murphy
Classics Illustrated Deluxe Vol 11 Sea-Wolf HC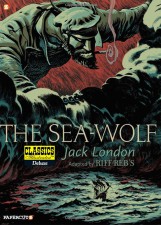 Men of the sea are a hardened lot so what happens when intellectual Humphrey van Weyden is lost at sea and rescued by Captain Wolf Larsen? He thinks he's been saved, but his troubles have just begun. Forced into a brutal life of hard labor and bare knuckle brawling aboard the seal-hunting schooner, Ghost, van Weyden must learn how to survive as quickly as he can.
Jack London's classic adventure is lavishly illustrated by French artist Riff Reb whose fascination with the sea (check out his intense pirate comic On Board the Morning Star) and rough and dynamic graphics seem perfect for this psychologically tense seafaring tale. Under his guiding line work and energetic cross hatching skills, the schooner and the ocean are as much of a character as the people inhabiting the story. So batten down the hatches  and grab hold for a rollicking interpretation of this classic tale.
Jack London (W), Riff Reb (A) • Papercutz, $17.99
– Bart Croonenborghs