Veteran comics scribe Dan Jurgens (Superman, Thor) takes the helm for Aquaman's first leading role in a team book, and he's off to a great start.
Springing from the pages of his monthly book, The Others is a loose-knit team of heroes with whom Aquaman was associated before he joined the Justice League.
Showing the capabilities of each member is always a challenge when introducing a team, and most writers simply hit readers over the head with extraneous dialogue along the lines of "I can do this," and "I can do that."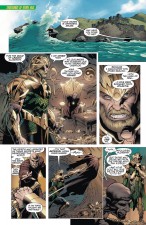 Jurgens, however, deftly spares us that boredom, and with his first panels he launches attacks against each member. Seeing what they can do against their unknown assailants makes them immediately likeable.
The Atlantean artifacts possessed by The Others are the targets of the attacks, but as each member attempts to use them to assist in their fight, the artifacts fail to work as they should: the manacles of force don't produce a shockwave for Prisoner of War; the globe of transportation won't teleport Ya'Wara to safety; Sky Alchesay can't get the seal of clarity to work; and the Atlantean key isn't pointing The Operative to his objective.
Along with Aquaman, they agree to work together to solve the mystery of the attacks and the failing artifacts. Jurgens builds in some delightful tension through Ya'Wara, who has a quick temper and a past with Aquaman that will cause her to challenge him at every turn.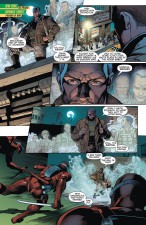 Lan Medina's artwork is solid and expressive. The action sequences are vibrant, and the lighter moments – like Ya'Wara with the monkeys and Sky talking with her grandfather in the Ghost Lands – add humor and humanity.
At this point he is relying more on body language than facial expressions to make the characters unique, but that's fine because each character is well thought out and carefully constructed.
Upon learning that this title was coming, I think we all asked if the world needed another Aquaman book. It's refreshing to place him in another context, where the weight of being King of Atlantis won't be his prime motivation or source of tension.
This is a straightforward adventure comic, a good read with thoughtful art, and a book that should take readers on an enjoyable ride.
Dan Jurgens (W), Lan Medina (A) • DC Comics, $2.99, April 2, 2014