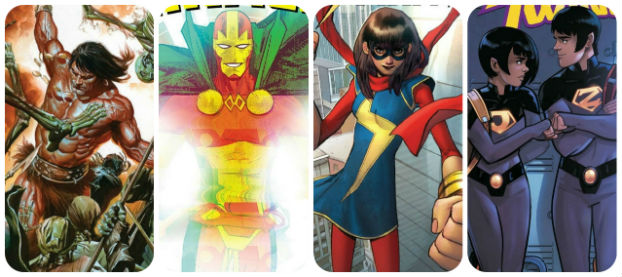 It's nearly Wednesday, and you know what that means: a fresh load of comics and graphic novels! With so many publications hitting your local comics store, comics event or digital storefront, the BF team are here to lead you through the woods with our weekly staff picks. Satisfaction guaranteed!
Comic of the Week
Mister Miracle TPB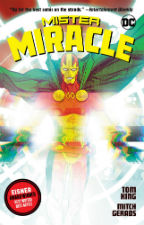 Tom King and Mitch Gerads' Eisner Award-winning (and Broken Frontier Award-winning too let's not forget!) series is collected in trade paperback format this week, giving those readers who inexplicably like to buy the same comics twice and those who somehow neglected to pick up this acclaimed run the first time round the chance to grab all twelve issues in one collection.
Mister Miracle is an object lesson in how to utilise the unique storytelling tools of the form to startling effect in manipulating comics' particular relationship with the passage of time and the reader's between-the-panels interpretive comprehension. Mixing graphic medicine with meta commentary it's every bit the masterpiece it's been made out to be, taking Kirby's costumed escape artist on a journey of self-discovery quite unlike any other you've seen in super-hero comics and giving us a version of the Fourth World mythos that is both reassuringly familiar and yet distinctively different.
Tom King (W), Mitch Gerads (A), Clayton Cowles (L) • DC Comics, $24.99
– Andy Oliver
Strangers in Paradise XXV #10
The 25th anniversary celebration of Strangers in Paradise concludes this week with issue #10. (Honestly Terry, you could have gone another ten issues with this one, we wouldn't have minded at all!) After the combustible events last issue, Katchoo is racing across the country to save Francine and the kids from the gunmen in their home, but Tambi and Sam (Motor Girl) are already there and diving head-first into action. It seems like a couple of brave little girls will be lending a hand, as well.
This series richly deserves the critical acclaim it's received, and I do hope the Eisner Awards nominating body is taking note. Obviously, as this is the last issue in the series, it's not a jumping-on point. However, there is a trade collection of the first five issues available (Strangers in Paradise XXV The Chase), and I highly recommend you begin there. The second trade is in the works and an Omnibus edition containing all ten issues is due at the end of April.
Terry Moore (W/A) • Abstract Studios, $3.99
– Karen O'Brien
Wonder Twins #1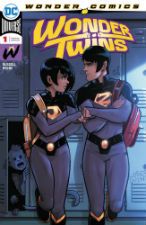 Mark Russell is one of comics' rising star writers at the moment with much praised runs on The Flintstones (with a line in bleakly humorous satire that was positively Gerber-esque in its brilliance) and last year's re-imagining of another cartoon property in the socially aware Exit Stage Left: The Snagglepuss Chronicles. And, while super-heroes aren't usually our thing here at Broken Frontier, his take on these '70s creations ensures our interest in the series.
Part of DC's new Wonder Comics imprint Wonder Twins follows the adventures of the alien super-heroes-in-training who first appeared in the animated Super Friends TV show in 1977. Their comics appearances in DC continuity-proper have been limited over the years and largely situated in the pages of Extreme Justice in the 1990s (a comic with a title that perfectly epitomised the excesses of the decade in which it was published!).
In this version the twins, exiled from their home planet, must juggle life as high school students in Metropolis with their more fantastic other lives. Expect the unexpected from Russell in tandem with the slick cartooning of Stephen Byrne.
Mark Russell (W), Stephen Byrne (A) • DC Comics, $3.99
– Andy Oliver
Savage Sword of Conan #1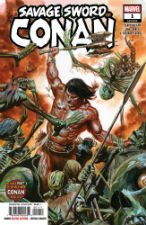 Conan the Barbarian is back in the Marvel fold and the publisher is celebrating with the resurrection of two classic Conan titles. Jason Aaron's and Mahmud Asrar's terrific Conan the Barbarian debuted last month, and this week the sword and sorcery genre takes center stage as Savage Sword of Conan arrives on the shelves. It won't be there for long. With stunning covers by Alex Ross, story by comics veteran Gerry Duggan (Deadpool, Uncanny Avengers), and art by the incomparable Ron Garney (Daredevil, Thor: God of Thunder) the Hyborian Age is about to hack its way onto your pull list.
Imprisoned aboard a pirate ship, Conan "unleashes his might on an unsuspecting pirate crew… one whose dark secrets will plunge Conan on the trail of an ancient treasure that may prove to be his undoing." Savage Sword of Conan is a straight-forward adventure book, so if you're into super-deep characters that specialize in a lot of angsty introspection on their journey to self-fulfillment, this is not the title for you. However, if fast-paced action, free-swinging swords, and blood-splashed panels are your thing, you don't want to miss this! Conan has been portrayed in past iterations as a clever thief, a just ruler, and an unmatched fighter. I'm looking forward to Duggan's version—he knows how to deliver a fun adventure and how to balance gritty bits with endearing wit.
And as a collector's note, I should mention that one of the variant covers for this issue is by comics legend George Perez, who recently announced his retirement from comics. He's doing limited appearances in 2019 and has said that's it. If you're a fan, I highly recommend you seek out his cover for this issue.
Gerry Duggan (W), Ron Garney (A), Alex Ross (CA) •Marvel Comics, $4.99
– Karen O'Brien
Ms. Marvel #38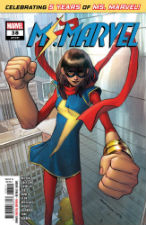 This very special issue celebrates five years of Kamala Khan – the first Muslim character to headline a Marvel book – and also bids a fond farewell to writer G. Willow Wilson at the same time, with a whole host of creators joining in the fun.
We're promised a fitting finale to Wilson's long run on the book with a story that focuses on Ms. Marvel's beautifully observed cast of characters and their Jersey City environment. And that's only right. At its heart Ms. Marvel is less a super-hero comic and more a slice-of-life drama that just happens to have super-powered exploits thrown into the mix.
Ms. Marvel will be relaunched with a new creative team and the seemingly obligatory new #1 (this is Marvel after all!) in due course but for the moment this really does feel like the end of an era. Hearkening back to a classic Marvel approach of yesteryear this was a comic that gave us a richly defined group of very human players to empathise with and a title character it was impossible not to feel deeply invested in.
G. Willow Wilson et al (W), Nico Leon et al (A), Sara Pichelli (CA) • Marvel Comics, $3.99
– Andy Oliver
Submerged TPB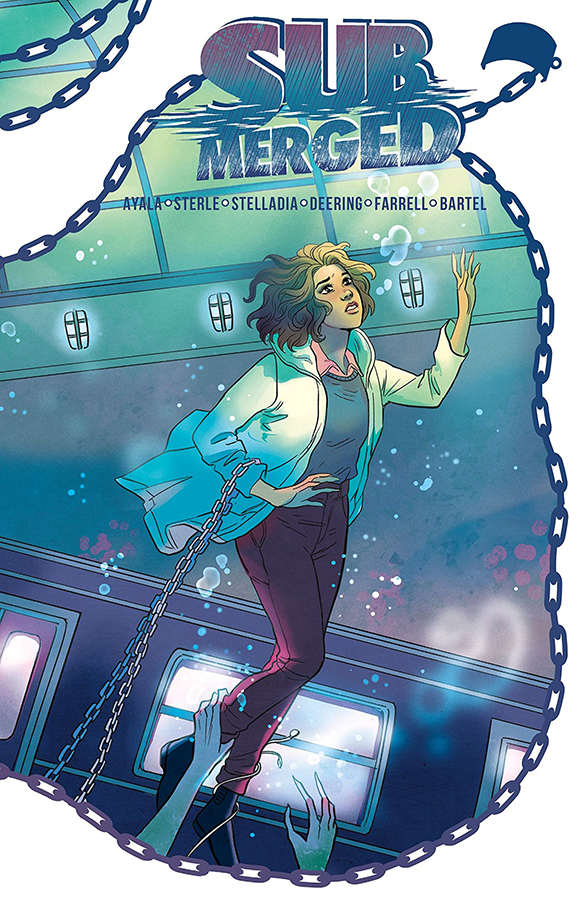 In this modern take on the Orpheus myth, Elysia Puente plunges into the Underworld (underground railway system) during the biggest storm in NYC history in order to rescue her brother.
As Elysia's quest takes her deeper into the unknown, she faces an increasing number of challenges and supernatural beings which force her to confront issues below the surface of family dynamics and personal acceptance.
Adeptly mixing classic mythology, urban fantasy, and cultural traditions, Submerged weaves a very human tale that's very relatable no matter what your background
Vita Ayala (W), Lisa Steele (A), Stelladia (C), Rachel Deering (L) • Vault Comics, $14.99
-Tyler Chin-Tanner