The must-read comic of the summer delivers again. Superman Unchained #3 is a punch in the face that you saw coming but couldn't prevent.
Courtesy of an ass-whipping that is at once humiliating, humbling, and a little bit horrifying, Superman learns the hard way that he isn't Earth's mightiest being. And it's not sitting well with him.
When the alien beating you up says "They simply want to see you subdued. Believe me, it's better this way. You should submit," you know it's not going to be a good day. General Lane's secret weapon has been on Earth since the late 1930s, and he's stronger and faster than Clark.
Writer Scott Snyder offers up another action-packed chapter as issue #3 takes Superman into The Machine, a secret government division devoted to Wraith and the eight decades worth of covert missions he has performed in "service" to the world. The Man of Steel learns that Wraith's missions have achieved a better world at the cost of countless lives. As General Lane proudly explains, when we only had one H-bomb in World War II, it destroyed Hiroshima while Wraith took out Nagasaki to make the world believe we had a nuclear arsenal. Great. Aren't you glad he's on "our" side?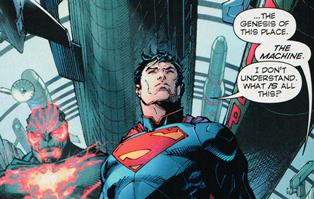 Don't let all of the action in this issue lull your perceptions like a good Thanksgiving Day turkey coma. Snyder's intricate plot is thickening, and things will get worse before they get better. Lois proves herself to be capable but is still in danger, Jimmy Olsen isn't going to get his pad Thai noodles, and Superman has a "Kick Me" sign on his back.
Jim Lee's fight sequences are outstanding, but it's the subtle facial expressions of disappointment, anger, and surprise that sell the story and reveal that there is so much more going on than we know just yet. It's not every artist who gets to draw Superman getting kicked across three states, and Lee is conducting a clinic on proportion, shading, and the joys property damage. While it's tempting to focus on the Superman story, Lee doesn't shortchange a single panel of Lois' story. She's crash-landing a plane into the water, and through Lee's imagery you can almost feel the impact and the ice-cold water. Scott Williams has to be working overtime on these gorgeous inks, and it shows. Alex Sinclair and Jeromy Cox are working with a lot of blues in this issue and use them to establish a suitably forbidding tone.
Scott Snyder (W), Jim Lee and Scott Williams (A) • DC Comics, $3.99, July 21st, 2013